Northstar Realty Finance (NYSE:NRF) is a small cap REIT ($743.18 million) that has historically been one of the most successful for its size. It has 7B of commercial real estate assets under management. It has increased its common dividend for four consecutive quarters, beginning with Q3 2011 for an almost 60% total increase in that time. It must be doing a lot right to be able to do that. Its business falls into four categories: commercial real estate debt, commercial real estate securities (CMBS, unsecured REIT debt, and CDO notes) , net lease properties -- both healthcare and corporate, and asset management. It pays an impressive 11.49% dividend. It has no PE, but it has a great FPE of 4.32.
The chart of NRF's projected cash earned from investments is below.
Click to enlarge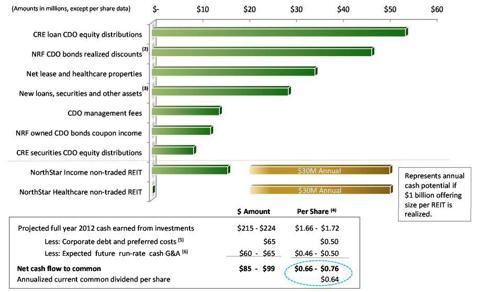 Click to enlarge
NRF has made many opportunistic investments such as deeply discounted CMBS purchases. Plus NRF acquired $1B in CRE CDOs (Collateralized Debt Obligations) for $7 million. These are now generating great income for the company and the stock/unit holders. Yet despite all of these highly discounted purchases, it currently has (as of June 30, 2012) only two NPLs (Non-performing Loans). These have just a $4 million carrying value. The overall portfolio is worrisome with a possible new recession looming, but NRF has shown that it can navigate hard times as well or better than most of its peers. Management's past history is at least a partial predictor of future performance. The chart below shows how NRF's performance has compared to its peers since 2004.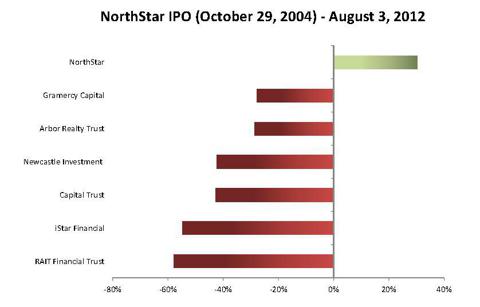 Click to enlarge
When you beat your peers by as much as Northstar has in the recent past, it argues well for future out performance. Lest you think the chart above is hiding lesser recent performance. The chart below compares Northstar's post recession returns to a few of its peers.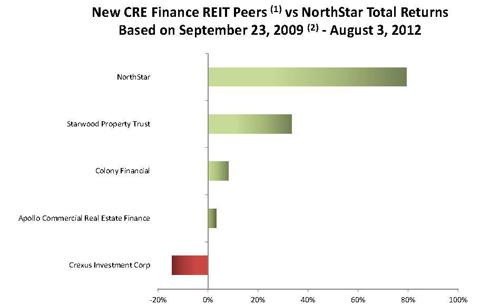 Click to enlarge
NRF is a leader in this recent performance comparison too. Further, this is not just my opinion, it is the opinion of institutional investors. They have purchased 4.86 million (8.15%) more shares from the prior quarter to this quarter. The short interest of 10% of the float is a negative, but it probably reflects the risk in investing in commercial real estate and commercial real estate loans, when the U.S. may be nearing a new recession. It is less likely to reflect lack of faith in the company's management.
The two-year chart of NRF gives some technical direction to this trade.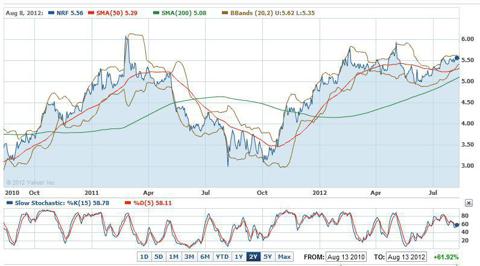 Click to enlarge
The slow stochastic sub chart shows that NRF is neither overbought nor oversold. The main chart shows that NRF is in an uptrend. Recently, it has been consolidating. It missed on earnings in the most recent quarter. However, its beats in the last year have slightly more than balanced out its misses. If you own this now, you will probably want to keep it for the near term. If you think you might wish to buy it, you should consider that it is in the commercial real estate business. This business is negatively impacted by recessions.
U.S. economic growth has been slowing lately. The Q2 GDP growth was only 1.5% versus Q1 GDP growth of 2.0%. If the U.S. continues to slow, it may move back into recession. This would not have as drastic an effect on NRF as the last one did. However, the effect would not be good.
If you are interested in buying NRF to get the increasingly large dividend (11.49%) as many institutional investors already have, you want to keep a sharp eye on the fiscal cliff / tax-maggedon issues in the U.S. and any dramatically bad events in the EU and China. Any or all of these could make NRF a bad risk for the near term. It may turn out that the fiscal cliff / tax-maggedon problems are kicked down the road a bit. Then you might want to continue to own NRF. If they are not, I would be inclined to sell it. I point out that the stock price at the close on Monday, August 13, 2012, of $5.57 is still below the book value per share of $6.21 from the most recent quarter. It is a good value, but I might prefer to buy it at the bottom of a recession rather than own it as a recession worsened. For now, it should be able to continue to do well. NRF predicts that $2T in CRE maturities are expected in the next six years. A sharp management team such as NRF's should be able to take advantage of these huge amounts that recently constrained banks do not want to handle by themselves. The plethora of bargains should help to make NRF a good investment. JMP Securities on August 9, 2012, issued an outperform rating on NRF.
If you think you might be interested in other mortgage REITs, you might want to look at American Capital Mortgage Investments (NASDAQ:MTGE), American Capital Agency Corp. (NASDAQ:AGNC), Annaly Capital Management (NYSE:NLY), and Cypress Sharpridge Investments (NYSE:CYS).
Note: Some of the fundamental fiscal data above is from Yahoo Finance.
Good Luck Trading.
Disclosure: I have no positions in any stocks mentioned, but may initiate a long position in NRF over the next 72 hours.