Orient-Express (OEH) owns the legendary Venice Simplon-Orient-Express train, along with 40 of the most prestigious hotels in the world, including Hotel Cipriani in Venice. The old-world glamour and opulence is not just appealing to travelers willing to pay a premium over other luxury hotels; it's also appealing to major hedge funds and hotel chains like Indian Hotels and Jumeirah Assets, who have amassed large stakes in the company. Barron's says some are looking for a buyout to happen; some just covet a piece of the chain's unique, often historical properties that attract wealthy, seemingly recession-proof customers; and some would like to change the preferred-share voting structure which gives Chairman and former CEO James Sherwood and his family the power to reject buyout offers.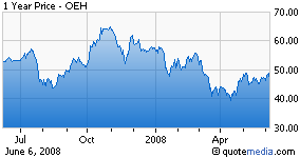 Shares have slumped from a high of $65 to $49 recently, as investors fear that Sherwood won't sell as well as on general economic malaise. But this is an opportunity for investors to buy shares that analysts say should be worth $51-$67 just on the value of its extraordinary assets. And if a bidding war on a buyout ensues? Well, that's the 25% premium on top.
=============
Lon Juricic has chronicled SEC filings from hedge funds like D.E. Shaw and and Steve Cohen's SAC Capital as well as Indian Hotels and and Dubai Investments' attempts at takeovers. All noted carefully that the company was uninterested in changing either management or voting structure. D.E. Shaw complained it was affecting the company's valuation.
F.P. Trading Desk included Orient-Express in a list of high end stocks that had tremendous upside potential because the wealthiest U.S. consumers continue to be unaffected by the housing slump or the general economic slowdown. F.P. Trading Desk cited Tobias Levkovich, chief U.S. equity strategist at Citigroup, who said the top 20% of U.S. consumers in terms of income earners account for nearly 40% of all American consumer spending. This group, Levkovich said, spends more annually than the bottom three-fifths of income earners combined. They are also less affected by the housing slump as their portfolios are diversified away from their homes.