Shares of Alcoa (NYSE:AA), the worlds largest aluminum producer, have way underperformed those of other global miners like BHP Billiton (NYSE:BHP), Rio Tinto (RTP) and Vale (NYSE:RIO). Barron's thinks the Street is underestimating its potential, especially if a buyout bid materializes.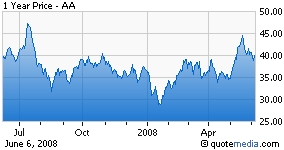 Aluminum prices are up about 20% YTD to $1.30/pound. They could hit $2 by early 2009 amid tightening supply of bauxite (the key raw material in aluminum production) and higher energy costs. That's good news for Alcoa: EPS could easily jump from an estimated $3.80 to $4.79. Even at the former price, shares trade at a reasonable 10x estimated earnings.
Investors have in the past been unhappy with Alcoa's consumer units. It recently sold its consumer division for $2.7B.
Citigroup mining analyst John Hill has a price target of $50 on the $39 shares. If a takeover comes into play, $60 is more likely. Four reasons Hill thinks that's a likely scenario: 
A defining global franchise... lack of a controlling shareholder, growth potential from properties that would be difficult to duplicate, and a non-Himalayan stock chart.
 ================================================
Chinalco (NYSE:ACH) and Alcoa recently took a 9% stake in Rio Tinto, subject of an aggressive courtship by rival BHP Billiton (BHP). If you want to bet on a higher bid, Stephanie Grimmett likes Chinalco...