Google's (NASDAQ:GOOG) stock has a strong history built upon its ability to provide information at the tap of a few keys. But Google is much more than a search engine. Google is many things. It is social networking. It is a targeted advertising powerhouse. It is android phones. In providing this innovation, Google's equity has not suffered a roller coaster ride of price trading in conjunction with speculation on the success or failure of new product offerings. Looking forward, I am examining what innovation will do to the price of Google's stock.
After Google went public in 2004, it did what many public companies do and made acquisitions using its stock as currency. It has acquired online payment and instant messaging systems, loyalty programs, facial recognition software, all in all over 100 acquisitions to add to its tentacle spread of internet domination. The recent acquisitions of Motorola, Double Click and Android stand out in what makes Google so great; however, there is one thing that Google is growing organically that really makes it interesting for the future. It is a product developed internally by Google, Project Glass.
Sergei Brin is quoted during a demo of Project Glass saying: "The charter of Google X is to take bold risks and push the edges of technology beyond what they have been to where the future might be, we want you to be less of a slave to your devices. It's been really liberating and I'm really excited to share it with all of you."
The Co-Founder of Google, wants us to be less of a slave to our devices? Google and its peers Apple (NASDAQ:AAPL), Microsoft (NASDAQ:MSFT), Research in Motion (RIMM), Nokia (NYSE:NOK), and Samsung (OTC:SSNLF) exist because of our need to be slaves to our devices or at least the programming that drives our home and mobile devices.
Brin noted that Project Glass the next form of computing. What Google seems to be aiming to do is place important technology into our lives, make it essential and make it feel like a natural extension of ourselves. What Glass currently is, doesn't look seamless, it actually looks kind of awkward, but it is just so new and different. Glass is outside of what Google is immediately recognized for and it will make consumers sit up and take notice because it is innovative to the degree of being one of those thing you look at and go huh?
In its current form, Glass is a pair of glasses that relays information, takes photographs, downloads information and content, stores everything on the cloud and has the capacity to do so much more in communication and social networking. I don't believe Mr. Brin when he says he wants us to be less of a slave, I believe he is making an attempt to make Glass an extension of ourselves, not just a gadget or toy.
Google has said that it will not integrate its advertising platform into Glass. I think we should add the word "yet" to that, as I don't believe Google will change its entire business plan to sell hardware. Techcrunch describes Glass as the future of Google. It doesn't look great. Those who wish to experiment and are willing to look a little nerdish can use a device that does not hinder your ability to see and information only appears when you need it. The article states that Google is now talking to several eyeglass manufacturers to tie in sales for custom frames for Glass. You can access information with a voice command. The prototype can get up to six hours on the current battery which will change with usage, as uploading photos and video will tax the battery life.
Google has been quietly building Glass, and the cost of the build has done nothing negative to the stock price. In looking at Google's stock over the past five years, the only time the price suffered was in 2008 when everything went dark. It has continued to offer superior web browsing, utilities such as maps, android services, apps and has integrated an advertising model that keeps the value proposition of owning Google stock on the positive side of the balance sheet.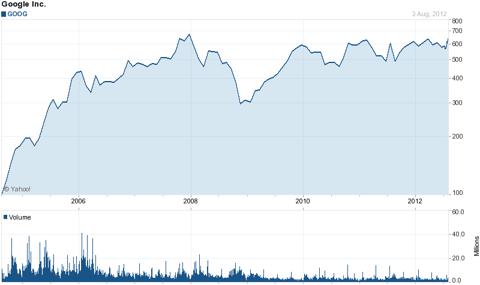 This is a ground breaking and amazing new angle, that is decidedly un-Google like, but Google made a calculated move to push a product so far off the current curve of products out there, it will change the face of personal devices for many years to come. Apple had the iPod, the iPhone and the iPad. Motorola, recently purchased by Google, had amazing handsets. Samsung has the Galaxy handset and tablet, meant to rival the iPhone and iPad, and these products do a good job of offering an alternative to Apple's cool but pricey offerings. Glass is a product that will spawn a lot of imitators, and Google got there first.
Google is a behemoth at this stage of its corporate life. It is positively the best time for it to bring a product such as Glass to the market for the simple reason that it can afford it. Unlike Yahoo! (NASDAQ:YHOO), which is deliberately cagey about what its corporate direction is, Google has made it very clear with Glass that it is an innovator and not afraid to provide a product that is completely different from its core business. A product like Glass has many applications practically. The medical technology and military fields come to mind.
Google Glass will be made available for $1,500 to those that attended the Google I/O event in June. The product presently looks like a pair of awkward glasses. Glass will offer Google standards like Gmail and Android apps. After this test run, and gathering product feedback, Glass will become available next year around the same time as the new Explorer editions. Apple just announced that the YouTube app will not be available on the new iPhone, my guess is to give Google exclusivity with that product on its Glass and handheld products in the future.
83.3% of Google stock is owned by institutions. 0.43% is owned by insiders. Only 2% of the entire float is short. The company has cash of $41.72 billion and debt of $8.21 billion. It has a current ratio of 3.84 meaning it has over $3 to cover every one dollar of debt it currently has. The year high is $670, and the low is $480.60. It has a price earnings ratio of 19.06 and the earnings per share are $33.73. Google does not currently pay a dividend. My feeling is that Google will either start paying dividends, it will split the stock to award investors or it will spin off different divisions into separate public companies. I believe Google is a good place to put investment dollars at this point in its life.
Disclosure: I have no positions in any stocks mentioned, and no plans to initiate any positions within the next 72 hours.