By: Brendan Gilmartin
Overview
Wal-Mart Stores (WMT) is scheduled to report 2Q 2013 earnings before the opening bell on Thursday, August 16. The release is typically available at 7:00 a.m. EST. Results from the world's largest retailer and constituent of the Dow Jones Industrial Average tend to heavily influence the direction of the equity index futures.

Outliers & Strategy
Key measures:
EPS: The value for this measure is most often the figure that compares with consensus estimates. Wal-Mart indicated back in May that, "based on our current trend in performance, along with seasonal impacts and the current economic and sales environment, we expect second quarter fiscal 2013 diluted earnings per share from continuing operations to range between $1.13 and $1.18. " The current Street estimate of $1.17 is at the high end of the range. (Source: Yahoo! Finance).
EPS Guidance (3Q 2013): This is a crucial forward-looking measure for Wal-Mart. The current consensus estimate for 3Q 2013 is $1.05.
EPS Guidance (FY 2013): For the full year, Wal-Mart previously indicated it sees diluted EPS from continuing operations in a range of between $4.72 and $4.92. Look for a possible adjustment to this outlook. The Street estimate is $4.92.
Revenues: Revenues are seen rising 5.70% Y/Y to $115.56 bln.
Comparable Store Sales: Back in May, Wal-Mart reported it expects comparable store sales to range from 1% to 3%.

Recent News
08/13: Jefferies reiterated a Hold rating on Wal-Mart and raised the price target to $74, according to StreetInsider.com. The firm noted the shares are now pricing in a comp at the high end of guidance.
08/06: Stifel Nicolaus upgraded Wal-Mart Stores from a Hold to Buy rating, according to Reuters.com. The firm suggested that a possible slowdown in consumer spending stemming from uncertainty ahead of the U.S. election and the looming fiscal cliff could put a dent in sentiment - an environment that tends to favor Wal-Mart.
07/20: Credit Suisse reiterated a Neutral rating and raised the price target on Wal-Mart from $58 to $75, according to a post on Benzinga.com. The firm cited valuation and solid U.S. sales for the boost in the price target.

Technical Review
Wal-Mart shares have been surging over recent months, adding more than 24% since the previous 1Q earnings release, en route to an all-time high of $75.24 on July 30. The peak is the initial resistance area in the event of a strong earnings release. Conversely, support is at the 20-Day SMA near $73.00, followed by $72.00 and the 50-Day SMA at $70.50. (Chart courtesy of StockCharts.com)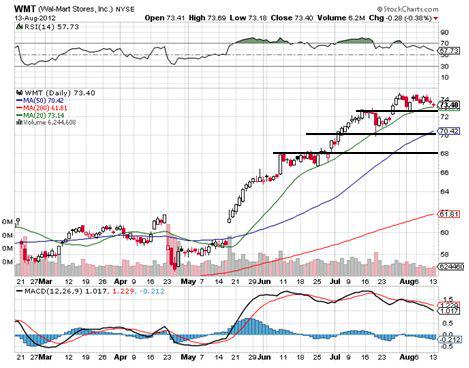 Summary
Wal-Mart shares have been surging over the past several months, recently touching an all-time high of $75.24, thanks in part to strengthening comps in North America as price-sensitive consumers seek out better value. The Commerce Department also reported on Tuesday August 14 that Retail Sales for July were up 0.8% when excluding autos, doubling most forecasts. Ahead of the earnings results, Wal-Mart guided for EPS from continuing operations of $1.13 to $1.18 on comparable store sales in the 1% to 3% range. Street forecasts are toward the upper end of those ranges and coupled with the improving retail backdrop imply a solid report may be price in at these levels. Should earnings and guidance fail to meet these lofty expectations, the shares face possible downside risk to $70.50.
DISCLAIMER: By using this report, you acknowledge that Selerity, Inc. is in no way liable for losses or gains arising out of commentary, analysis, and or data in this report. Your investment decisions and recommendations are made entirely at your discretion. Selerity does not own securities in companies that they write about, is not an investment adviser, and the content contained herein is not an endorsement to buy or sell any securities. No content published as part of this report constitutes a recommendation that any particular investment, security, portfolio of securities, transaction or investment strategy is suitable for any specific person.
Disclosure: I have no positions in any stocks mentioned, and no plans to initiate any positions within the next 72 hours.