The old Wall Street adage is to buy on bad news but lately for Chesapeake Energy (NYSE:CHK) it seems like the bad news never ends and the price is taking a hit. Right now it's about 43.72% off its previous 1 year high. Let me try and give you the facts on this depressed issue. During the last month the stock has come off its low but still doesn't seem to have found its legs yet. This hourly trading chart provided by Barchart shows how erratic the trading has been over the last month: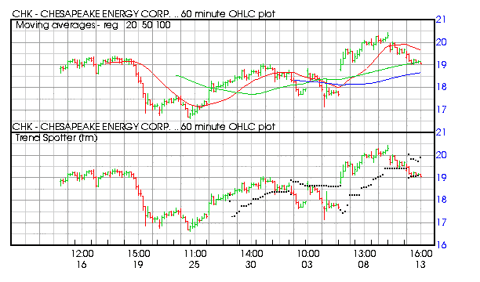 The stock can't blame its price troubles on the market. The market as measured by the Value Line Index was down about 4% over the last 6 months while CHK is still down 23% and at one time it was down 45%: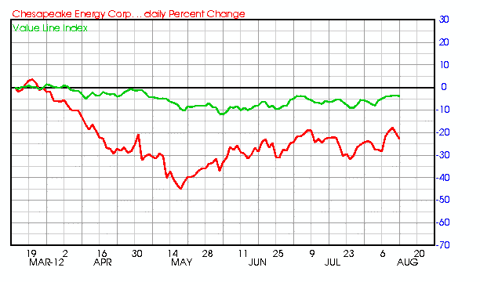 Chesapeake Energy Corporation engages in the acquisition, exploration, development and production of natural gas and oil properties in the United States. The company also offers marketing, midstream, drilling, and other oilfield services. It holds interests in various natural gas resources, including the Haynesville and Bossier Shales in northwestern Louisiana and East Texas; the Marcellus Shale in the northern Appalachian Basin of West Virginia and Pennsylvania; the Barnett Shale in the Fort Worth Basin of north-central Texas; and the Pearsall Shale in South Texas.
The company also holds interests in various liquids-rich resource plays located in Oklahoma, the Texas Panhandle, West Texas, southern New Mexico, and Wyoming. As of December 31, 2011, it had interests in approximately 45,700 gross productive wells. The company''s proved reserves comprise approximately 18.789 trillion cubic feet of natural gas equivalents. Chesapeake Energy Corporation was founded in 1989 and is based in Oklahoma City, Oklahoma. (Yahoo Finance profile)
Factors to consider:
Barchart technical indicators:
56% Barchart technical buy signal - with all indicators seeming to be getting stronger
Trend Spotter buy signal
Trading above its 20, 50 and 100 day moving averages
12 new highs and the price has risen 28.78% this quarter
Still 43.72% off its high during the previous year
Relative Strength Index 52.88%
Barchart computes a technical support level at 18.67
Recently traded at 19.06 with a 50 day moving average of 18.37
Fundamental factors:
Large Wall Street following where 26 firms have assigned 33 analysts to run the numbers
Analysts project revenue will be down 13.60% this year but will increase again by 3.90% next year
Earnings are estimated to be down 85.40% this year and up 219.50% next year but average an annual gain of 8.90% over the next 5 years
These consensus numbers result in 7 strong buy, 7 buy, 18 hold and 1 under perform recommendations to clients
Because of the depressed price analysts think investors could see an annual rate of return in the 24% - 28% range over the next 5 years
The P/E ratio is 13.19 compared to the market P/E of 15.10
The 1.72% dividend rate is about 20% of projected earnings and below the market dividend rate of 2.30
The balance sheet rate a C++
TheStreet staff rate the stock a C
The company is in the process for changing from a natural gas company to a liquid oil company
Legal and regulatory problems will be with them for some time
Assets need to be sold but buyers are not standing in line
Short interest has been growing and isn't slowing down
Investor interest:
I gauge individual investor interest and sentiment by the readers of Motley Fool and 7,767 readers gave a 97% confidence vote that the stock will beat the market
The more savvy and experienced All Stars agree also with a 97% vote for the same result
Let's see how the market treated Chesapeake's price against its peers. While CHK lost 40% in the last year, EOG Resources (NYSE:EOG) was up16%, Devon Energy (NYSE:DVN) was down 14% and Encana (NYSE:ECA) was down 13%: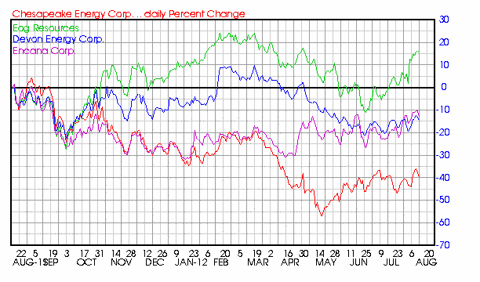 Conclusion: Chesapeake is no longer a dividend stock with only a 1.72% dividend rate and it sure can't be considered a growth stock with its depressed price. My personal opinion is any gains in the short run will only come from its depressed price returning to a more normal P/E and the short sellers eventual buys to cover. There are just too many problems to be worked out before any meaningful projections can be made about future revenue and earnings numbers. This is a speculative stock, not a stock of conservative investors to buy. Speculators should watch the stock price and turtle charts to see when the short sellers have placed their cover orders ( which may be soon):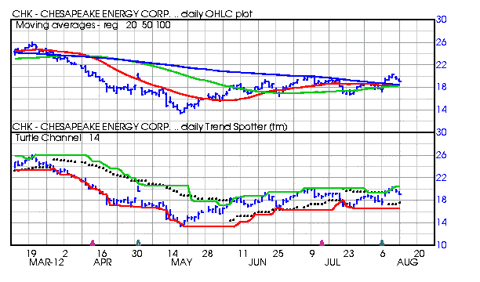 Disclosure: I have no positions in any stocks mentioned, and no plans to initiate any positions within the next 72 hours.