Clayton Williams Energy, Inc (NASDAQ:CWEI) is an independent oil and gas company engaged in the exploration and production of oil and natural gas, primarily in Texas, Louisiana and New Mexico. CWEI's portfolio of oil and natural gas reserves is weighted in favor of oil, with approximately 77% of proved reserves at December 31, 2011, consisting of oil and natural gas liquids (NGLs) and approximately 23% consisting of natural gas. CWEI has two reportable operating segments, which are oil and gas exploration and production ($408MM in revenue for FY11) and contract drilling services ($6MM in revenue for FY11).
CWEI's security price has taken a beating in 2012, declining 52% from a closing price of $95.88 on 2/27/12 to a closing price of $46.01 as of 8/10/12. To figure out if the decline fairly represents a decline in the actual value of the company, let's consider the principal discounted cash flow (DCF) variables that impact this security's value. We will later take a look at some comparable analysis variables to figure out whether or not the price as of 2/27/12 was overstated in the first place, thus bringing the correction more in line with fair value.
Revenue is a product of price and quantity. CWEI sells crude oil and NGLs (~76% of 2012 projected revenue) and natural gas (~24% of 2012 projected revenue). Oil, NGL, and natural gas sales comprise 99% of the 2012 projected revenue with the remaining 1% due to drilling rig services and natural gas services. We will focus on the 99% core business of selling oil and natural gas. WTI crude prices have been volatile in 2012, reflecting increased political tension in Iran, the continuing debt crisis in the eurozone, and a sluggish macro economy in general, with the second two reasons outweighing the first in recent months pushing crude oil prices lower. As reflected in the below chart, price can rationally explain about 14% of the security price decline. Aside from hedging production, there isn't much management can do about price variance impact to revenue.
Click to enlarge images

Click to enlarge
As for product sold, which is something management is able to control over the long-term, CWEI has increased production of oil and NGLs while reducing its focus on natural gas, and rightly so given the oil price premium compared to natural gas that has held since December 2005. The four year price compound annual growth rate (CAGR) is (1.1%) for oil and (25.6%) for natural gas (using futures prices from cmegroup.com for the remainder of 2012). The four year average daily production CAGR for CWEI is 8.6% for oil and NGLs and (18.0%) for natural gas. What this demonstrates is management's long-term strategic effort to adjust production with the better priced commodity (refer to chart below for illustration). If the oil and gas price relationship were to change dramatically overnight and the change were viewed as long-term, management would need to figure out how to ramp up production of natural gas but in the current price environment, the company is selling more of the higher priced commodity.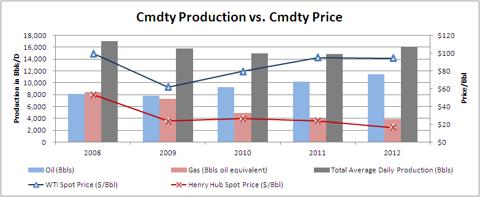 Click to enlarge
In addition, CWEI has increased proved reserves for oil and NGLs significantly more than natural gas. Growth in total production and reserves and just as important, the mix of that growth between oil and gas, is favorable. It appears that the product quantity and product quality would partially offset instead of contribute to the decline in price.

Click to enlarge
Based on CWEI's Q2 2012 earnings call that took place on 7/26/12 and updated guidance provided by management on 8/7/12, let's take a look at some other value-driving variables and how those impact the security price.
Q2 2012 Earnings Call & Updated Guidance Points of Interest:
Costs: Production costs have been steadily increasing as a result of higher lifting costs due to more producing wells and the rising costs of field services. According to CWEI's CFO Michael Pollard, the rising costs are a result of the lack of infrastructure in Reeves County in the Delaware Basin where the firm is principally focused on drilling. Pollard said "we're experiencing higher than normal lifting costs, particularly costs associated with salt water disposal. We're nearing completion of an SWD system, which should significantly reduce our costs in Reeves County as we go forward."
Using updated guidance provided by management on 8/7/12, the DCF valuation decreased by about $5/share due to the rising costs. I think the decrease in value from costs alone will be tempered with CWEI's forecasted reduction in costs due to its SWD system and renegotiation of fracking contracts. Nonetheless, the rising costs have a significant short-term impact to valuation and here's a summary of guidance changes since the last guidance cost numbers were issued.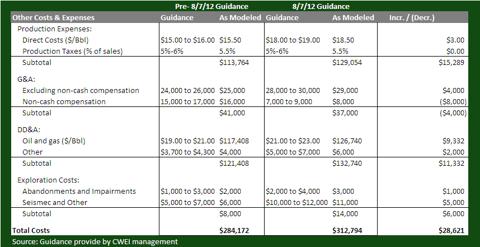 Click to enlarge
Liquidity: As a result of the company's aggressive drilling and lease acquisition capital program, CWEI's debt has increased with respect to proved reserves, proved developed reserves, EBITDA, and daily production. As long as management pulls back capital spend to remain within cash flows from operations over the long-run, I'm comfortable with the increase in debt in 2012.
CWEI's 2012 capital spend program is now at $429.3MM, an increase from $405.2MM previously modeled. The increase per management is primarily due to "higher drilling and completion costs in the Delaware Basin due in part to our bearing a higher percentage of drilling and completion costs in wells in which Chesapeake elected not to participate for its 25% retained working interest." Per my DCF model, CWEI will have about $65MM in revolver availability by the end of 2012. When asked if comfortable with the given level of liquidity with respect to its current drilling program, the Chief Operating Officer Mel Riggs voiced comfort with the current cash availability and is seeking ways to improve liquidity in 2013.
Operations: The primary wild card operationally is how successful CWEI is in the Eagle Ford shale, where the company has 120,000 acres. According to CWEI's CEO Clayton Williams, the early results are encouraging although there is not yet enough information to determine whether or not the wells drilled in the Eagle Ford are commercial. The main operational focus continues to be in the Delaware basin, specifically in Reeves County, where CWEI has drilled 63 vertical Wolfbone wells and eight horizontal Bone Springs / Wolfcamp wells.
Using updated downward revisions for 2012 production, CWEI's value decreased by about $3/share based on my DCF model. Here is a summary of the production change to guidance.

Click to enlarge
As part of my review practice, I assessed more than 30 valuation, efficiency, liquidity, profitability, capital structure, and industry ratios and compared CWEI to five of its peers. I won't go into the detail of each ratio but I will provide a few interesting observations gathered from a few ratios.
CWEI's P/E TTM ratio was the lowest among its five peers (as provided by cnbc.com) with a ratio at 5.6x. When looking at the P/E using 2012 analyst projected mean earnings, CWEI has a forward P/E ratio = 13.2x, with two peers with lower ratios and three peers with higher ratios. The company was not an outlier when looking at the other ratios, although it was clear CWEI carries the most debt with respect to enterprise value and EBITDA, an issue previously noted.

Click to enlarge
When viewing profitability ratios, CWEI was strong among peers with the highest net profit margin and ROE. I believe the company's strong earnings are in large part due to the high percentage of oil revenue as a percentage of total production. The strong earnings power is needed to offset the risk of carrying a high percentage of debt to equity.

Click to enlarge
Regarding capital structure ratios, CWEI carries more debt with respect to equity, capital, and assets than all but one of the five peers compared although interest coverage was favorable at 8.4x due to EBITDA equal to $284M for FY2011.

Click to enlarge
Based on the ratio analysis, CWEI is higher risk compared to each of its peers, given the level of debt, but I maintain that its earnings power from concentration on oil production provides enough of an expected return (probability of success multiplied by successful outcome), given the risk.
Investment Thesis
Using what I consider are reasonable assumptions, I believe CWEI's fundamental value per share is about $48 in the current price environment. Lower commodity prices, lower guidance, and lower economic growth expectations have certainly pushed this stock lower. CWEI was likely overvalued at the end of February 2012 and is likely undervalued as of the price on 8/10/12. However, the security has been volatile and waiting for a lower price than the 8/10/12 COB price of about $46/share provides a better margin of safety. Waiting for a lower price is realistic considering CWEI recently traded hands below $40/share and the security has enjoyed a recent run of 8%+ in the last five trading sessions. It's worth noting that Executive Vice President and COO Mel Riggs purchased 200 shares at $44.25 on 7/16/12.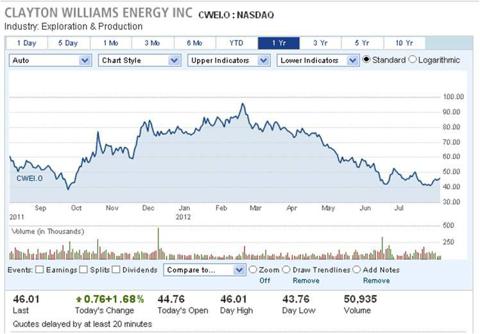 Click to enlarge
Source: cnbc.com
CWEI is a risky security given its level of debt combined with recent downward revisions to FY2012 production and upward revisions to FY2012 costs. The company still seems cheap compared to recent valuations in the low $40s per share considering its earnings potential, which is driven from one proven productive oil basin in the Delaware Basin where the company is currently focused and one high potential basin in Giddings (the Eagle Ford shale formation).
I am long CWEI and purchased at a price of $45.15/share.
You may find the appendix to this report, which includes many of the DCF model assumptions, here.
Disclosure: I am long CWEI.