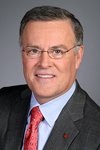 The New York Times
'
"Bank of America Is Firm on Countrywide Buyout"
reports that Bank of America (NYSE:
BAC
) CEO Kenneth D. Lewis is aware of the critics of the Countrywide Financial (
CFC
) deal. Lewis said the deal is "compelling" and "we don't have our heads in the sand."
The critics endlessly reiterate Countrywide's concentration in California and Florida, poor underwriting standards and high default rates, and the intense regulatory scrutiny. Analyst Paul J. Miller (Friedman, Billings, Ramsey (FBR, FBCM)) estimates that these problems will add $10B to $15B to the deal's $4B purchase price.
The critics are even attacking the $1.5T mortgage servicing business, which generated $1.4B in first quarter revenue. They contend the cost of dealing with problem loans is increasing. The servicer still has to forward investors up to three months payments on delinquent loans. Judges are making forecloses and evictions more difficult, and Countrywide's documentation has not always been in order. This has led to an $817M loss in servicing for the first quarter. Countrywide values its servicing business at $17B; Miller estimates its value at $3.5B.
Bank of America already told us it intends to replace Countrywide's leadership, and instill the Bank of America culture. In essence, Countrywide's culture is rotten to the core; but they have great technology and connections to the most productive real estate agents. Bank of America wants to use Countrywide's infrastructure to build a better "number one" mortgage company. Lewis said the Countrywide name will be dropped after the merger.
The New Times
reported on May 6, 2008 that
"Bank of America added a new paragraph to merger documents suggesting that it might not guarantee some or all of Countrywide's publicly traded bonds."
This statement and the recent insistence that the deal will close leads me to believe that Bank of America is going to separate the Countrywide savings bank from the mortgage company, and find a way to force bondholders into negotiations. The Countrywide bondholders might not be getting a Bear Stearns-like (NYSE:
JPM
) sweetheart deal.
Depending on how Lewis structures Countrywide after the purchase, he might able to substantially reduce debt and other liabilities. He might even send parts of Countrywide into bankruptcy. I think it's worth gambling on Lewis. I will buy Bank of America if panic ensues.
Disclosure: Author is long CFC, FBR and JPM (not by choice).