Although there are some good signs in the U.S. economy, namely those coming from lowered jobless claims and the ongoing recovery in the housing market, we can't say it's clear sailing from here on. The main culprit is the economic transition taking place in China. Recently, the market was comforted by a recovery in Chinese PMI readings, however there are still real time signs that say things aren't exactly cozy yet. This article will cover some of those signs.
Copper
Copper has been called "Dr. Copper" in the past for its supposedly uncanny ability to predict the economy's direction. Copper goes into thousands of different products, into construction, into electricity-bearing wires and motors. It's hard for the economy to expand much without there being an increased copper demand.
This is how a copper price chart looks (source: stockcharts.com):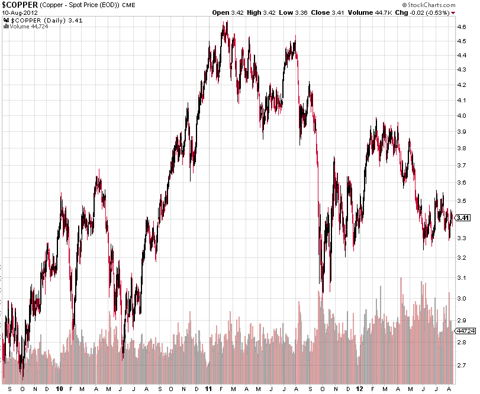 The recovery, which is slowly being priced into markets by way of higher optimism, hasn't reached copper. As such, one could probably say the market remains vulnerable to further retracement. And obviously, that's even truer for copper producers such as Freeport-McMoran (NYSE:FCX).
Iron ore
Iron ore is the basic component for steel. And China produces almost 50% of the world's steel. So any recovery in China would probably have some impact on steel and thus on iron ore. No such recovery is evident in iron ore's pricing, though (source: bloomberg.com):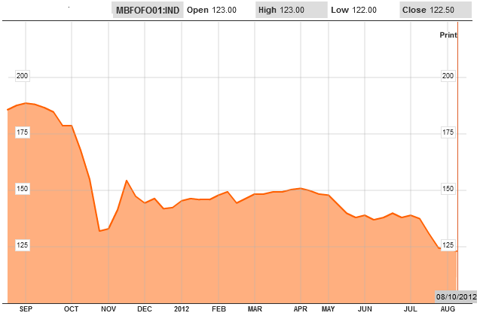 Indeed, real time news talk about deals taking place even lower, at $113.80 per ton. So the trend remains down for iron ore. The recent recovery of some producers' shares, such as Rio Tinto (NYSE:RIO), Vale S.A. (NYSE:VALE) and BHP Billiton (NYSE:BHP) might thus be temporary.
Steel
Iron ore can only be in such dire straits because steel is facing slow demand. With China holding almost 50% of the world's production capacity, any slowing of demand in China leads Chinese producers to try and offload part of their production elsewhere. That leads to pricing pressures all over the world. For instance, below we see a LME steel contract chart illustrating this for steel billet (source: LME):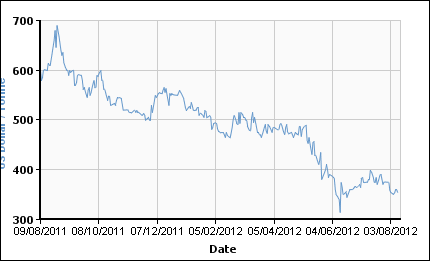 The recent speculative recovery on steel shares such as U.S. Steel (NYSE:X) and Nucor (NYSE:NUE) might thus be temporary. The same can be said about met coal producers as well as mining suppliers, such as Joy Global (NYSE:JOY).
Steel will probably remain pressured for as long as residential real estate remains pressured in China.
Baltic dry index
The baltic dry index covers freight rates for dry bulk carriers. These haul iron ore, grains, coal, cement and other generic cargoes. Although freight rates have been under pressure due to excess freight capacity, namely new ships that continued to be brought online into an already oversupplied market, the newest downturn in this index might also indicate demand problems (source: Bloomberg.com):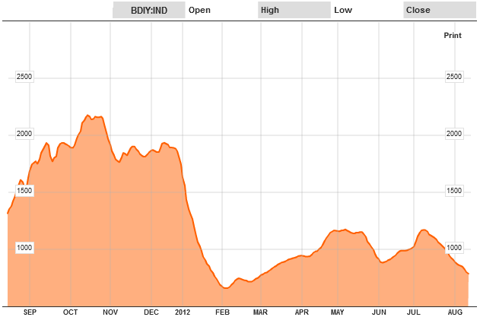 Conclusion
Many real time prices and indicators continue to show downward pressure that's inconsistent with a larger economic recovery. Those stocks exposed to these prices and indicators can still reverse course again - and since some of them are rather large capitalizations, they might still have some impact in the broader market. Given the nature of these indicators, stocks more attuned to consumption might be safer.
Disclosure: I have no positions in any stocks mentioned, and no plans to initiate any positions within the next 72 hours.