As a follow up to my blog entry Copter Crisis: Investment Opportunity?, which focused on the shortage of helicopters due to increased commercial use and by offshore drilling platforms, I wanted to focus on one of the six helicopter related companies listed in the blog. After considering various factors such as size of the company, operating margins, revenue growth rate, insider ownership and valuation metrics, I finally settled on Textron (NYSE:TXT) as the company with the most potential over the next few years.
Founded in 1923, Textron is an industrial conglomerate that makes everything from electric golf carts to the Cessna line of business jets and personal aircraft. The company operates as five different segments called Bell (helicopters), Cessna, Defense & Intelligence, Industrial and Finance. Cessna is the largest segment at Textron representing 38% of 2007 revenue and 35.42% of Q1 2008 revenue. Bell Helicopter, the third largest segment at Textron representing 19% of 2007 revenue, makes both commercial and defense choppers. The latest innovation from Bell Helicopter (in partnership with Boeing) is the Bell-Boeing V-22 Osprey, which according to the V-22 website is "the world's first production tilt rotor combining the vertical performance of a helicopter with the high speed and range of a fixed wing aircraft."
However the focus of this investment thesis was the shortage of commercial helicopters and it appears that demand for commercial choppers has indeed been strong at Bell with the segment delivering 268 orders in 2007, significantly higher than the 181 deliveries made in 2006. Demand seems to have softened in the first quarter of 2008 with revenue down $56 million on account of lower helicopter volume but the segment managed to post a $1 million increase in profit due to higher pricing and in the words of the company "favorable program performance".
While choppers may have lead me to Textron, I think the truly exciting part about the company is the potential growth in the Cessna segment and the defense side of the business. According to their website, the Cessna division has built "more business jets than the combined total of all competing aircraft" and in this case it looks like the future could very well be a repetition of the past with an order backlog of $14.5 billion, up from $12.6 billion at the end of 2007. Its latest and biggest business jet, the Cessna Citation Columbus appears to be off to a good start with 36 orders in the first quarter. The popular and smaller Cessna Mustang has an order backlog that extends all the way to 2011. NetJets, the leader in the fractional jet ownership segment, uses a number of Cessna aircraft in its fleet and interestingly Cessna also likes to play in the fractional jet ownership market with its CitationShares program.
Textron inked a muti-year contract with the Department of Defense in March to deliver 167 units of the V-22 Osprey over five lots. The first of these five lots was booked in the first quarter of 2008, helping nudge the overall order backlog at Textron to $26 billion at the end of Q1. This compares with an order backlog of $18.8 billion at the end of 2007 and $12.9 billion at the end of 2006.
Numbers and Valuation
In the first quarter of 2008 Textron reported revenues of $3.518 billion, up 18.7% from Q1 2007 and earnings per share from continuing operations were $0.93, up 19.2% from the year ago period. Free cash flow in the first quarter was $78 million compared to $28 million in Q1 2007. For the full year 2008, the company expects to book revenue of $15.265 billion, representing revenue growth of 13.36% when compared to 2007 revenue of $13.225 billion. Textron recently bumped up its full year earnings expectations to $3.80 to $4.00 per share, representing earnings growth in the range of 5.8% to 11.4% when compared to earnings of $3.59 in 2007.
The company expects to generate cash flow of $1.3 billion in 2008 and free cash flow of $700 to $750 million after capital expenditures.
Whether you look at Textron's financial metrics such as return on equity or the fact that the company ranked number 1 for the Aerospace & Defense sector in Fortune magazine's list of America's Most Admired Companies, it is evident that Textron is a well run company. Given its growth prospects, the company almost looks cheap with a forward P/E of 13.54, a P/S of 1.13 and a PEG ratio of 1.14.
 click to enlarge image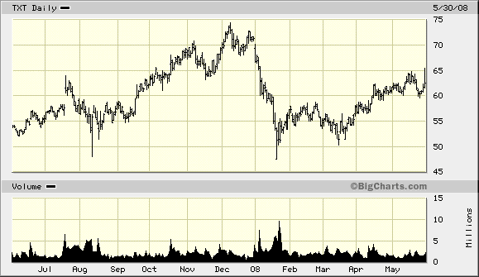 A couple of negative things to watch out for include problems in the finance division where revenue increased $4 million but profit dropped $10 million when compared to last year due to increased loan provisions and the higher cost of borrowing money. Non-performing assets increased to 1.84% from 1.34% at the end of 2007.
CEO Lewis B. Campbell sold $36 million in company stock in April and May. While insider sales may not necessarily be negative, the magnitude of these sales certainly caught my attention.
Conclusion
This company is firing (pun intended) on all cylinders and the drop in January that has left the stock down more than 10% year-to-date provides an attractive point of entry. In keeping with my policy of not investing in defense and sin (or vice) stocks and because I am actually scaling back on the stock portion of my portfolio in anticipation of a big purchase, I do not plan to add Textron to my personal portfolio.