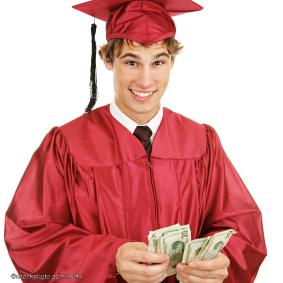 I think I finally understand why the "Smart Money" seems to do so poorly when it comes to predicting the direction of movement.
Do you remember the time when the largest sized drink you could get was called a "Large"?
How quaint. These days, a "Large" is one or two sizes away from the largest size available. Whether it's "Super", "Uber" or "Mega" or whatever imaginary names may appear at your local Starbucks (NASDAQ:SBUX), Large is for your toddler.
Remember when a college education was enough to rise to the top?
I think the designation "Smart Money" must now refer to some lower level of financial wizardry. I don't know what the highest level is called, but "Smart Money" just doesn't seem to be the place to hang your hopes.
Take this past Thursday and Friday (August 9-10, 2012) for example. During the late afternoon on Thursday, shares of Groupon (NASDAQ:GRPN) had sunk to $6.64.
Now that concerned me, because on Tuesday (August 7, 2010), I decided to increase holdings of my smallest position, Groupon, by nine fold. At that time, shares were $7.10. Not being a total lunatic, I sold $7 August 10, 2012 calls for a $0.34 premium.
Considering that earnings were due to be announced after Monday's close, I wasn't especially interested in holding shares beyond last Friday, but honestly, I expected an upside surprise.
I was feeling pretty smug and confident about things as Groupon seemed to be establishing a little floor at $7 in anticipation of earnings. I wasn't terribly happy about Wednesday's drop below $7.
The real surprise came on Thursday afternoon and then carried into Friday, as Groupon shares climbed as high as $8. News? What news?
Let's be realistic. Maybe in the after hours some drunken small investor can make a share's price climb inappropriately high on paper thin volumes, but this is Groupon, in the middle of the day. It wasn't you and me moving these shares immediately ahead of earnings.
Happily, my shares were assigned, because we all know what happened after Groupon released earnings. The fact that I purchased additional shares this morning and sold $6 calls is irrelevant, but it was surprising to me that the contract offered nearly a 3% premium for 4 days. But what do I know? I'm not part of the "Smart Money."
The historical examples of the "Smart Money" being terribly wrong are easy to find, but I'm too lazy to do the research, relying only on my memory to recall similar heavy action in other stocks only to see precisely the opposite occur.
Besides, who cares about the distant past. You can't predict the future, but at least the recent past may have some relevance.
Just last week a subscriber sent me a link to an article about heavy activity in MolyCorp (MCP) $13 August 10, 2012 Call options. I really don't read these kind of things as I have no desire to learn about things like "implied volatility" and interpreting "10 Day Put/Call Volumes."
MolyCorp has been one of my favorite stocks to recommend to subscribers. Happily, the past mixture of buying shares/selling calls and selling outs is currently only showing put sales in the portfolio, as MCP shares plummeted after earnings and some negative guidance.
Yet on August 8, 2012 the volume in the $13 August 10, 2012 call options skyrocketed in both absolute and relative terms. Shares closed at $12.35 on expiration day.
Was it the smart money that made the sudden surge in call purchases? I don't know, but I'm not a conspiracy theorist, so I don't believe that it was a concerted effort by lots and lots of individual investors who coincidentally decided all at once to show just how smart they could be if given the opportunity.
Of course, you rarely hear about the follow-up to those outsized trades. By the time the option contract has come and gone, it is old news. You do, of course, always hear about the success stories, as the Smart Money is certainly smart enough to know that there's really only one kind of publicity that will do them any service.
However, at this point, I'm convinced that the "Smart Money" is in no danger of being outlawed by Mayor Bloomberg of New York City, as it is clearly not the smartest option available.
Disclosure: I am long SBUX, GRPN.
Additional disclosure: I have sold put contracts on MCP