Thompson Creek Metals Company Inc.'s (TC) new stock issue will likely hurt the the moly miners earnings per share, but the company's production and price outlook continue to look strong, says UBS analyst Brian MacArthur.
Earlier this month, Thompson closed its bought deal equity financing for proceeds of $215-million. The company said it will use the funds to repay its debt.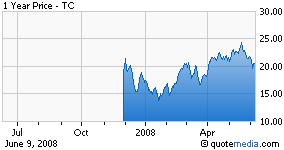 Mr. MacArthur said that when share dilution from the financing is offset with lower interest costs from debt repayment, Thompson's EPS can be expected to drop from C$2.60 to C$2.51 in 2008 and from C$3.80 to C$3.54 in 2009.
Nonetheless the analyst raised his price target from C$26 to C$27, and maintained his "buy" rating on the stock.
In a note to clients he said:
We continue to like Thompson Creek given our belief that the company could double production from 2007 levels around 16 million pounds to roughly 34 million pounds by 2009. Furthermore, we continue to like moly given strong steel production globally combined with production constraints, including Chinese production problems and export regulation.
Shares in Thompson Creek were up more than 6% in Monday morning trading to C$22.18.