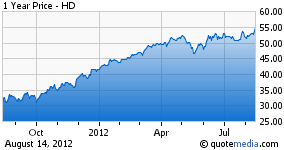 Home Depot (NYSE:HD) shares are hitting new fifty two week highs on an earnings beat and raised guidance from the home improvement retailer. Despite warmer weather and drought affecting outdoor projects on lawns, Home Depot saw increased demand for core products as people continue to fix their houses.
In the second quarter, Home Depot reported net earnings of $1.5 billion on sales of $20.6 billion. Diluted earnings per share were $1.01. Net earnings were $1.4 billion in last year's second quarter. Earnings per share increased 17.4% this year.
Comparable same stores for sales open more than a year increased 2.1%. The United States segment led the way with same store sales up 2.6%. The average ticket price inside Home Depot increased to $55.02, from $54.04.
With the strength of its first and second quarters, Home Depot raised its guidance for the rest of the fiscal year. Home Depot is calling for a 4.6% increase in sales. The company sees earnings per share increasing to $2.95. Analysts are expecting earnings per share of $2.92 on sales of $73.97 billion for the fiscal year.
At the end of the second quarter, there were 2,255 Home Depot locations around the world. The company has locations in all 50 states and the District of Columbia in the United States. Internationally, the company has locations in Canada, Puerto Rico, US Virgin Islands, Guam, Mexico, and China. For the fiscal year, Home Depot has plans to open 11 new stores including 2 in the United States and 9 in Mexico.
Recently, Home Depot announced plans to acquire U.S. Home Systems (NASDAQ:USHS). U.S. Home Systems is a Texas home improvement company focused on kitchen and bath re-facing, along with closet and garage organizational systems. Home Depot saw its acquisition approved with a purchase of $12.50 per share. The deal is expected to close by the end of the year. Home Depot had a long standing relationship with U.S. Home Systems prior to the deal.
Home Depot stores continue to be a destination for people seeking to make improvements on their home and yard. The stores also have repair and rental offerings inside. Only 2% of Home Depot's sales come from online orders. However, over 50% of purchases involve the internet in some point. Unlike video games and small ticket items losing retail sales to online giants, Home Depot has products that customers want to test and see first hand before making large purchases.
Home Depot continues to reward shareholders with a 2.2% dividend. Since 2009, the company has raised its payout every year. The company has plans to continue to pay out over 50% of earnings and will raise its dividend each year. Home Depot is also buying back large numbers of its stock shares to retire shares and increase the value of each outstanding share.
Shares of Home Depot are up 30% on the calendar year. The shares saw a new fifty two week high today after trading in a range of $31.03 to $54.28. Shares have not traded this high since 2000. With a share price of $54.84, Home Depot trades with a price to earnings ratio of 18.5. With analysts expecting earnings per share of $3.32, the company sees a forward price to earnings ratio of 16.5. Home Depot remains a solid play on baby boomers doing projects to houses and the current housing market. I would wait for a pullback to $50 before acquiring shares.
Disclosure: I have no positions in any stocks mentioned, and no plans to initiate any positions within the next 72 hours.