As investors pursue a search for dividend yield, there remains no end to the plethora of commodity-based master limited partnerships that have littered the scanners of income investment seekers. Established pipeline partnerships like Kinder Morgan Energy Partners, LP (KMP) or Boardwalk Pipeline Partners, LP (BWP) offer a reliable and steady source of income flow from their high-yielding distributions. Yet these companies remain highly polarized around the sector of oil and natural gas, and are constrained by the rules governing partnerships. Investors looking to further diversify their high-yielding income portfolios may want to consider the lucrative yields found in the following companies.
(click image to enlarge)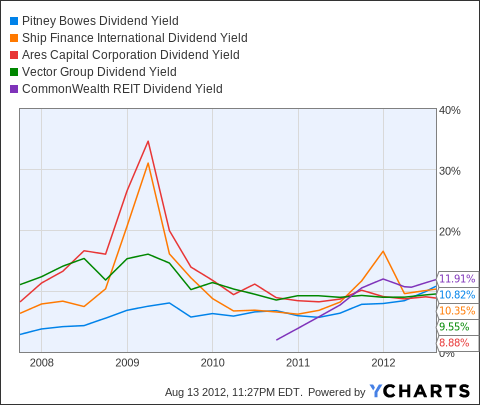 PBI Dividend Yield data by YCharts
Pitney Bowes (NYSE:PBI) operates in a sector that is widely seen as becoming ever more outdated. The company provides physical and digital communication business services, which also includes print equipment and mail systems. Yet despite the rapid decline of the company's stock over the last few years, I would contend that its ability to convert its leveraged funds into consistently paying cash flows is almost second to none. Undoubtedly, the company's yield has reached this level due to a seemingly consistent decline in its share price. However, recent insider purchases, along with a low price-to-sales ratio of 0.53, suggests that the company might be nearing some support at these levels. Now with a enterprise multiple (EV/EBITDA) of only 5.62, investors could be tapping into more supported valuations at these prices. The company supports a dividend yield of 11.07%.
Ship Finance International (NYSE:SFL) is the owner of a diversified shipping fleet that includes VLCCs, dry bulk shippers, container ships, offshore rigs, and even chemical tankers. While chartered shipping rates in certain sectors have fallen to unsustainable levels, SFL continues to earn meaningful cash flows due to its strategy of long-term charters and stable income. With a declared $4.9 billion in "locked-in" EBITDA over an average charter term length of 10.8 years for its fleet, SFL is a safer investment than many might consider it to be. With a current yield of 10.31%, this $1.19 billion company can serve as a diversifying means to add the high-yielding benefits of chartered shipping exposure. The company carries a dividend yield of 10.36%.
Ares Capital Corporation (ARCC) operates as a business development company that seeks to provide specialty finance solutions for private middle-market companies. The company's expertise lies in its ability to source low-cost capital and to originate debt financing for growing companies typically backed by venture capital firms. Ares Capital is managed by Ares Capital Management LLC, a wholly owned subsidiary of Ares Management LLC. As of April 2012, Ares Management LLC had approximately $52 billion of committed capital under management. Ares Capital Corporation currently trades with a P/E ratio of 10.29, carries a market capitalization of $3.82 billion, and maintains a dividend yield of 8.84%
Vector Group Ltd (VGR) operates as the manufacturer and seller of cigarette products in the United States through its subsidiaries. The company has also sought to diversify its revenues on several fronts. It does this by pursuing research in reduced risk cigarette products through its subsidiary Vector Tobacco Inc, by engaging in real estate brokerage services through its subsidiary New Valley LLC, and even continues to acquire additional investment properties for supplemental income. The company currently maintains a high yield of 9.5%, trades with a market capitalization of $1.37 billion, and a beta of 0.45. Yet despite its stability found in a low beta, the company does operate on a high P/E ratio of 65.7 that should serve as a sign of caution for investors adverse to risk.
CommonWealth REIT (NYSE:CWH) is an established office and industrial real estate investment trust with a history extending back to 1986. Since its founding, the company has paid out $3.4 billion in distributions to its investors through March 2012. The company maintains a healthy balance sheet, with the total debt to book capitalization of only 51%. Commonwealth has been taking full advantage of the low-interest environment in recent months, as it seeks to extend out and obtain low-interest financing. Since 2008, the company has been seeking to divest of its non-core suburban properties in the pursuit of higher quality properties found in central business districts. The company enjoys a high yield of 12.6% at its current price. With a market capitalization of $1.45 billion, investors appear to be significantly discounting the $3.7 billion of shareholder equity the company has on its books.
Disclosure: I am long CWH.