Daily Data: CME Group (NASDAQ:CME)
CME is a great company. If you think trading volumes increase over time, then you should think about owning this company for the long run. The best part of CME's business is that transactions (trading volumes from which the exchange receives fees) increase during hard times in the market (i.e. sell-offs), which generate more cash flows for the company. If you take a look below at CME's reported revenue since the final quarter of 2008 (listed in e*Trade as Q3) you can see that due to the massive volumes due to sell-offs in 2008, CME booked the largest revenues the company had seen until the 2nd quarter of 2011.

Click to enlarge
Fundamentally, the company is in great shape, EPS is expected to grow by 12.60% next year, and 11.27% for the next 5 years. The current P/E is 11, signifying that the company is trading at a slight discount/fair value. The company just beat EPS estimates for the quarter on July'26th 0.89 vs. 0.82. I think CME is looking very good going forward. Now, time to look at its historical returns in the July to September option expiration time period since inception (2003).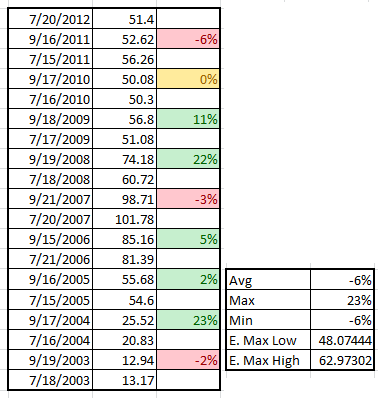 Above you can see that CME has posted some great returns during this time period with limited negative returns. I think this is a stock to seriously be considered for option positions since the max down is only -6% and that the stock will probably get some tailwinds since it just beat EPS estimates for the quarter. Additionally, for those of you that are worried a market sell-off is due...just remember CME revenues thrive in consolidation periods.
Based on the information above I suggest the following trade which we may enter this week:
Option Trade 1: CME - Sell Sept'21 48/46 put spread (Bull Put Spread)
(Sell 48 Put/Buy 46 Put)
Size - 10% of Option Spread Portfolio Size = (2 spreads)
Entry: Sell Limit: 0.15 (note: this premium is not available yet)
Stop Loss: 0.45
Exit Price: 0.00
Max Return: 8.10%
(Max Return Calculated on Return on Risk from my entry, not Return on Margin)
Disclosure: I have no positions in any stocks mentioned, and no plans to initiate any positions within the next 72 hours.