There is a substantial disconnect between ThinkorSwim Group's (SWIM) intrinsic value and current market value. ThinkorSwim has ranked as the #1 or #2 software-based online broker and "best for options traders" by Barron's for the past three years. The company has a best in breed trading platform with a differentiated approach to customer service (customer service staff comprised primarily of former Chicago Board of Options Exchange floor traders). Further, 80% of its daily average revenue trades are derived from the fastest growing and most recurring (think monthly expirations) source of retail trading: equity options. ThinkorSwim's existing account base has higher than average balances and trades more frequently than its peer group.
Despite these positive attributes, and others such as the highest revenue growth rate for the brokerage sector, and the lowest new account acquisition costs, ThinkorSwim trades at a significant discount to its peer group.
click to enlarge images

Click to enlarge
The revenue multiple disconnect shown above is supported by a cheap absolute valuation of the company which when including our forward cash flow estimates trades for only 4.0x our 2010 earnings estimate, or a 25% free cash flow yield. The analysis below simplifies ThinkorSwim's income statement by reducing the education division's sales and expenses into a single line item which reflects net marketing expenses created via investor education. Cash balance builds in 2008 and 2009 assuming no cash income taxes are paid due to a large net operating loss carryforward. Cash and book taxes are assumed to be 40% in 2010.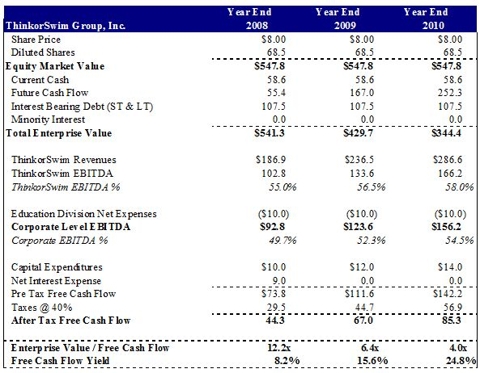 Click to enlarge
ThinkorSwim Group includes two divisions: 1) a retail brokerage, ThinkorSwim, and 2) a legacy investor education business that offers retail investor education products and workshops. The company's education unit, once a profitable standalone business, now serves as an attractive customer acquisition vehicle which results in extremely low customer acquisition cost.
During 2007, the ThinkorSwim brokerage unit acquired new accounts at a profit, when given credit for the education division earnings. The chart below demonstrates ThinkorSwim's customer acquisition cost advantage versus its competitors.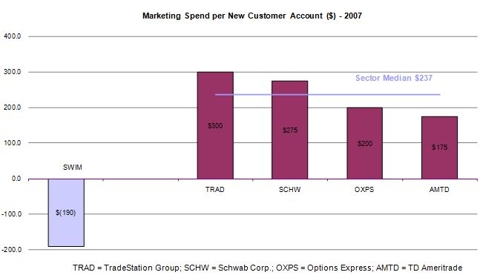 Click to enlarge
When the brokerage marketing budget is combined with the substantial education marketing budget, the combined marketing power of ThinkorSwim exceeds that of its competitors and is comparable to brokerages 10x larger (by market capitalization).
By deploying a relatively large marketing budget effectively and garnering more brokerage accounts, we expect the market capitalization gap between ThinkorSwim and its peers will narrow over time. See the chart below.
Click to enlarge
The large marketing spend continues to pay off in new account growth. During the month of April 2008, ThinkorSwim opened a record number of net new accounts of approximately 9,650. This figure is significantly greater than the 5,400 net new accounts opened by OptionsXpress which carries a market capitalization of more than twice ThinkorSwim.
The charts below demonstrate ThinkorSwim's account and trading volume growth relative to its peer group.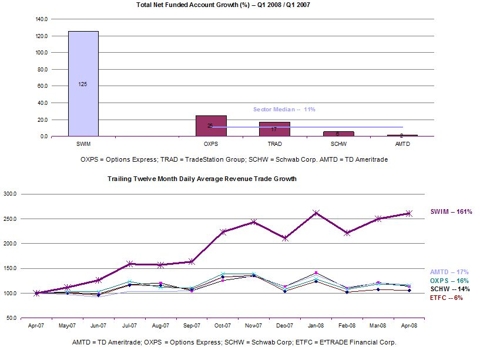 The investor education unit is simply not well understood by the investment community and up until now has held back the company's share price. Wall Street is focused on the declining profitability of the education unit and the informal SEC investigation.
Despite its perceived flaws as a standalone business, the education unit is a valuable strategic asset as a customer acquisition tool for the ThinkorSwim brokerage. The doom and gloom spread by Wall Street analysts after the company's first quarter results has been an overreaction. Losses at the education unit in the first quarter totaled only $3.5M on an operating basis. The degradation of the education unit's profitability reflects intentional price reductions by management in order to garner more potential brokerage customers. While profits at the unit are still possible, the investment community should view any losses at the unit as an inexpensive investment in new customer acquisitions.
Since education revenues help offset a significant marketing spend, greater awareness for ThinkorSwim brokerage is created than would otherwise be possible. For example, if the education unit spends $80 million annually on marketing while generating a $10 million net loss due to education revenues, ThinkorSwim accrues the benefit from most of the $80 million marketing budget while costing the company a mere $10 million. More significant losses at the education unit are unsustainable long term because the cost structure of investor education is primarily composed of variable marketing expenses, which can be shifted to more productive marketing channels if necessary. Significant cost cutting is already underway within the education unit and we understand that some 50 – 100 employees have already been let go.
No matter the profitability of the education division in the future, there will always be skeptics on ThinkorSwim Group who will say the education product is not worthy of its price. We have attended several of ThinkorSwim's seminars over the past two years and have found them informative and insightful, especially with regard to options and technical analysis. We believe the non-professional investor will increase their knowledge tremendously from taking classes. Will all attendees and graduates become multi-millionaires? No. But most women that purchase and adorn Victoria's Secret lingerie won't be mistaken for supermodels Gisele Bundchen or Heidi Klum either. That does not make the Victoria Secret product less desirable or relevant.
Finally, the outcome of the informal SEC inquiry is difficult to quantify. However, at the current share price we believe the market has fully discounted worst case scenarios. ThinkorSwim Group appears to be taking the appropriate action with regard to certain employees, and the reorganization that is already underway will give the ThinkorSwim brokerage more control over the educational classes and content.
Conclusion
We believe the company is extremely undervalued. The ThinkorSwim brokerage should generate over $235 million of revenues in 2009. Slower growing brokerage comparables trade at price to sales multiples of 4.4x to 5.6x. Given ThinkorSwim's aforementioned competitive advantages and superior growth rate, we believe the company's shares should be valued at the high end of the comparables range which would yield a $20 share price or some 150% upside from current levels. The 25% free cash flow yield on our 2010 enterprise value provides more than an adequate margin of safety, even if our projections are materially off.
Notably, our forecast does not assume we are entering another bull market. We would expect further upside to the company's share price and our forecast whenever the next bull market begins. Upside would be derived from the following factors:
Higher multiples assigned to brokerage stocks
Higher client account values
Higher revenues from more frequent trading activity
Increased interest income due to higher federal funds rates (e.g. SWIM will lose ~$15M of interest revenue in 2008 from recent Fed rate cuts)
Increased investor education attendance and a return to profitability
These events could result in a stock price well above our $20 price target.
Disclosure: David Makula manages accounts that hold this position long.