Forecasts by semiconductor companies for the next quarter have almost unanimously been lowered following Q2 earnings announcements.
Intel (NASDAQ:INTC) lowered its Q3 guidance, citing "a more challenging macroeconomic environment."
Taiwan Semiconductor (TSMC), however, expects to see a future dip in the company's earnings due to weakening economic conditions in the U.S., where job growth is weak, and in other countries including Europe, Japan and China, according to CEO Morris Chang.
Texas Instruments (NYSE:TXN) cut its third-quarter outlook as customers pulled back on orders for its wireless products.
Qualcomm (NASDAQ:QCOM) sees sales softening, lowering outlook, but is upbeat on year-end smartphone demand.
The semiconductor industry in 2012 through June is currently DOWN 5.4% over the same period in 2011 based on Semiconductor Industry Association's (SIA) 3-month moving average, as shown in the chart below.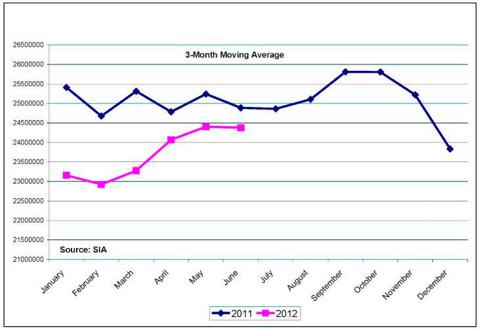 For this year, the most optimistic forecaster is Semico with a 6-8% growth forecast. IDC is forecasting 4.6%; IHS expects 4.3%; while Gartner (NYSE:IT) and Future Horizons forecast 4% and IC Insights is the lowest at 3%.
In looking at the chart above, all these organizations are betting on growth of about 10% over the next 6 months in order to average out a growth they predict.
We beg to differ. According to our Proprietary Leading Indicators, which we've developed over the past 17 years, the slight drop in the 3-month moving average according to SIA is the start of a downturn that will last over at least the next three months, and in light of increasingly dour macroeconomic forces, at least through 2012. Our PLLs peaked in the current cycle in February 2012, three months ahead of the peak in the SIA numbers in May 2012.
Our August 2012 chart is shown below. We see a continued decline in our PLLs since February followed by the decline in semiconductor sales. Note that our PLLs have consistently predicted the direction of the semiconductor industry by at least 3 months.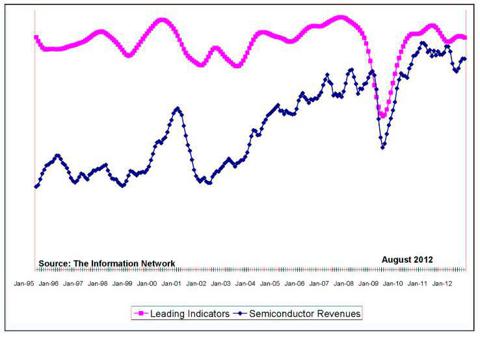 At issue is not the mobile space, memory, processors, tablets, customers, thin computers, iPhone5, or 28nm manufacturing. The problem is purely economic connected with the European crisis, the "wait-and-see" buying plans for high-tech items and automobiles, which contain the most semiconductors, and a plethora of other FUD (Fear Uncertainty Doubt) factors that influence purchasing habits. China's exports dropped to 1% in July from 11.3% in June for the very same reason, although on a broader product scale.
I pointed out in a April Seeking Alpha article entitled "When Will Semiconductor Revenues Stop Dropping?" that semiconductor sales are directly correlated with macroeconomics, including GDP.
In the meantime, investors need to focus on the fundamentals of a corporation such as low debt levels, proven operational history and broad diversification. Meanwhile, our PLLs will keep our subscribers tuned in to any macro changes with will eventually permeate through the semiconductor space.

Disclosure: I have no positions in any stocks mentioned, and no plans to initiate any positions within the next 72 hours.