After receiving some questions on our post about the re-balance of the MSCI Israel index, we would like to clarify the post. The post was based off an article that appeared in the Israeli paper Globes, and after checking with the author of the article and looking at the weighting of the index we were correct that Teva Pharmaceuticals (NASDAQ:TEVA) does make up 44.8% of the index.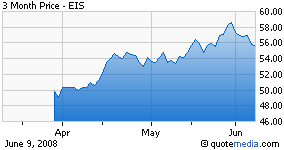 The index that the new Israeli ETF (NYSEARCA:EIS) is tracking is the MSCI Israel Capped Investment Market Index. There is very little information available on this index, and we were confused about which index was rebalanced.
The rebalancing that we spoke about was a different family of indices, but the same problem still plagues them all: With Teva's weighting so high, ranging from 22-45%, investors don't get enough true Israel market exposure.
Disclosure: The author's fund has a position in TEVA. He has no position in any other stock mentioned as of June 10, 2008.