Arena Pharmaceuticals (NASDAQ:ARNA) is up more than 11% as of this writing. At 2:02 pm Benzinga.com posted the following:
Hearing Unconfirmed Takeover Chatter in Arena Pharmaceuticals
While some ARNA longs may have taken this to be a sign of confirmation that a buyout was in the works, this really falls into the category of "irrational exuberance." Benzinga is reporting that they are hearing an unconfirmed rumor. In other words - there's really nothing to this story.
Whenever stocks make large moves, the news media and investors try to attribute the move to a single identifiable cause. This is partly our human nature to want to make sense of things, and partly the desire to identify patterns which, if one can trade ahead of them, can be exploited for profit.
Let's try to make some sense of likely reasons for ARNA's move.
Here is a chart of ARNA's stock price over the last month: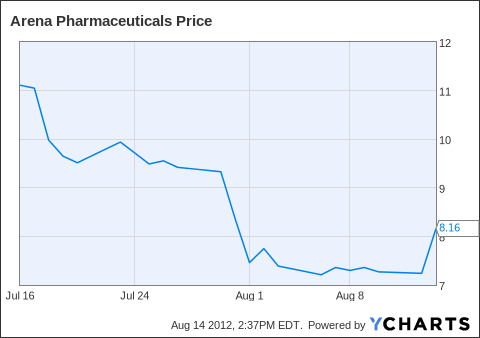 From over $11 per share, ARNA declined to a post-approval low closing price of $7.21 on August 6th. Momentum players exiting the stock were the main cause behind most of that drop since ARNA is basically in a holding pattern until DEA scheduling for its obesity drug, BELVIQ, is completed.
ARNA had its earnings conference call on Thursday August 9th. Investors learned that all of the Deerfield Warrants are now out of the picture, and that the company expects to have about $215 million in cash by the end of the year should DEA scheduling be completed by then.
Likely explanations for today's relief rally include:
1) Movement towards Max Pain
Max Pain is a theory in options trading that suggests that, around options expiration, traders will move a stock's price such that the maximum number of options contracts expire worthless. There are several max pain calculation sources around the web and a quick check of them suggest that, for August options expiration, Max Pain for ARNA is the $9 strike. A move toward Max Pain in the last week before options expiration is certainly a plausible explanation for today's large move.
2) Pending announcement of DEA scheduling for BELVIQ
There is a bit of confusion for some longs regarding the exact process for DEA scheduling. The FDA approved BELVIQ on June 27th; however, they recommended that the drug be scheduled as class IV under the controlled substances act (CSA). The DEA is responsible for scheduling drugs under the CSA. The DEA does an 8-factor assessment of requests to schedule or remove from scheduling any drug. FDA plays a role in providing scientific and pharmacological input into the 8-factor analysis. Typically, for new drugs, and especially for first-in-class drugs such as BELVIQ, DEA and FDA will begin conferring well in advance of FDA approval. Indeed, Belviq's FDA approval letter indicates that the DEA scheduling process was on-going at the time of FDA approval.
Once DEA has made a determination, federal law requires that they publish a "Notice of Proposed Rule Making" in the Federal Register. DEA will publish their 8-factor analysis and allow the public at large to comment, typically for 30 days. Once the comments are received, DEA must analyze and address the comments, and the final rule, including all comments received and DEA's response to them, are published in the Federal Register. The final rule goes in to effect 30 days after publication.
The current speculation would be that the first step of this process, the notice of proposed rule making, is about to occur. Why exactly this would cause a spike in share price of more than 10% is a little unclear since the process would still entail at least another 60 days before BELVIQ's final scheduling would take effect.
3) Progress on EU Marketing Authorization for Belviq
During the second quarter conference call, ARNA management clearly indicated that they have the list of 120 day questions, and that the company planned to respond sometime in the 3rd Quarter. This means that the status of EU approval for BELVIQ will not be changing for at least another 4 months. Therefore this is not likely to be the cause of today's movement.
4) Announcement of an EU or rest of world partner
ARNA indicated in the Q2 conference call that several parties have expressed interest in partnering for EU or the rest of the world (ROW)). Here's what Jack Lief, ARNA's CEO, said:
Well, we are talking with lots of -- you can imagine there are lots of companies that are excited about this opportunity, but right now, there's no rush. We're focused on doing the right transactions for Arena and BELVIQ and we'll report on that as appropriate.
Indeed, Jack Lief's tone on that exchange was particularly relaxed. It does not seem like ARNA is chomping at the bit to announce EU or ROW partnership news any time soon. It could happen, but our view is that such an announcement would coincide with either an EU resubmission, or more likely with further progress from the CHMP such as the day 180 List of Outstanding Issues or the day 210 final opinion.
5) Buyout
Of course, this is the tantalizing and exciting possibility that some longs crave. The profits on a buyout are nice, but for ARNA longs, a buyout would also be a validation of a long-held belief that BELVIQ is a great drug and that ARNA is a great investment. Investors love to trade war stories of stock trades they made - especially the multi-bagger short-squeeze big pharma bidding war beat the hedge funds at their own game kind of war stories. There is absolutely no way to confirm such rumors until the parties involved break the news. Of course, it doesn't help when sources such as Benzinga start reporting on "hearing unconfirmed rumors" since it merely feeds the frenzy of wild speculation. In this particular case, Eisai, ARNA's marketing partner, had a "company office holiday" for August 13th and 14th. Add to that the fact that Arena recently removed all job postings from their website, and you have the fuel for a great buyout rumor.
6) Institutional Accumulation
Arena's institutional ownership has historically been well below that of other biotech stocks. Indeed, prior to approval, part of the back and forth between die-hard ARNA longs and die-hard VVUS longs was that VVUS had institutional ownership in the 60% range and ARNA 's was less than 30% We reported previously on ARNA's filing of a prospectus supplement related to Deerfield selling warrants to BTIG. In that article we concluded. in part, that the fact that BTIG deals exclusively with hedge funds and institutions, indicates that institutions have begun paying more attention to ARNA. It is quite possible that an institutional player has come to the conclusion that, at current prices, being long ARNA carries more upside than being out of the stock. ARNA has removed the approval risk for BELVIQ, cleaned up its balance sheet, and has future catalysts in the form of first sales, EU approval and EU and ROW partnerships all within the next 12 months.
7) Price Discovery
For a company with an approved drug with a $1B or more annual sales potential within 3 years, a $1.5 billion market cap is certainly not the right price. After investors had a few days to process the information from the conference call, today's move could simply be the market discovering the "right" price for ARNA. Such a large move in a single day is not typical of simple price discovery, but one must recognize that a "none of the above" answer could be the right answer.
Conclusion
It is impossible to pinpoint the exact reason for a large run in the absence of major news. While it's fun to speculate about buyouts and partnerships, investors should take care not to get too caught up in such speculation. The long-term picture for ARNA is certainly bright as we have indicated in the past, but we caution longs not to get too excited about buyout possibilities based on "unconfirmed takeover chatter." As a general rule we do not recommend trying to speculate on buyout possibilities. If investors focus on the intrinsic value of the firm and its business prospects as a going concern, any buyout would simply come as an upside bonus to a well thought out investment.
Disclosure: I am long ARNA.