Our firm previously held a position in GASFRAC (OTC:GSFVF), the innovative well-fracturing company which has developed a patented waterless Liquid Petroleum Gas gel. The gel not only yields higher reservoir production, it eliminates concerns over water use in fracturing. Because we are mindful of the environment as well as concerned about rising prices for oil and natural gas, GASFRAC's LPG gel is appealing as an alternative to the water-based hydraulic fracturing (fracking) process that Nabors (NYSE:NBR), Calfrac (OTCPK:CFWFF) and Trican (OTCPK:TOLWF) use.
We had sold our position months ago because we saw that the company's shares were volatile and that even though the shares were off its unsustainably high all-time high of $15.05, we felt that there were near term challenges that the firm needed to work through. We remain impressed that GASFRAC has seen rapid growth as an organization and achieved its revenue growth without the aid of acquisitions. Although we expect that GASFRAC will be able to maintain strong revenue growth during this period, the company really needs to buckle down on its operational execution in order to start generating positive economies of scale.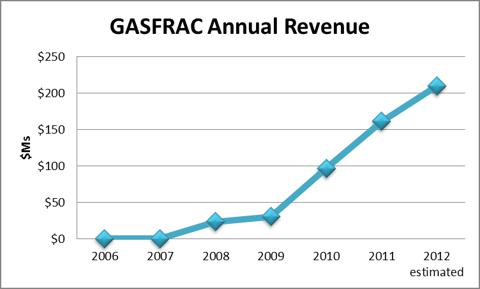 Click to enlarge
Source: GASFRAC Annual Reports 2008-2011 and Saibus Research estimates
In our previous report, we touched upon GASFRAC's rapid capital expenditure program. We were pleased that Q2 2012 CapEx had declined by over 30% on a linked quarter and year-over-year basis. We appreciate the theory that as a rapidly growing small cap, the company should reinvest its operating cash flows in growing the business. Unfortunately, GASFRAC has done that and then some. GASFRAC's CapEx was unsustainable and forced it to raise over $300M in capital from stock, bond and bank credit in order to cover this mad-dash to growth.
Q2 2012 saw disappointing results for the company. GASFRAC enjoyed an 18% year-over-year increase in revenues (C$17M in Q2 2012 versus Q2 2011). This was due to a 27% increase in revenue yielded per treatment partially offset by a 7% decrease in the number of fracturing treatments performed. GASFRAC's 155% revenue growth was partially offset by the stagnant revenue levels achieved in Canada. Wet conditions throughout the quarter prevented operations in many areas. The most significant impact for its Canadian operations was the delay of recommencement of operations for Husky from an original early June starts date into mid-July. Revenue was earned from 4 customers during the quarter with one of these customers representing 32% of the total revenue earned from Canadian operations.
The biggest concern for us was not the deceleration in year-over-year revenue growth during the period but rather the increase in operating expenses during the period. Operating expense for the quarter increased to $21.7M in Q2 2012 versus $15.4M in Q2 2011 and operating expenses as a share of quarterly revenue increased by 32% year-over-year. Cost of sales was $10.4M in Q2 2012 versus $8.1M of revenue in Q2 2011. The increase in the cost of sales as a percentage of revenue reflects one time product costs incurred in the USA for propane. Direct operating costs increased to $11.3 million in the second quarter of 2012 as compared to $7.3 million in the second quarter of 2011. This increase is comprised of staffing costs of $2.4 million for additional crews, added facility and related costs of $0.8 million for infrastructure for the Husky and Eagle Ford work, and $0.8 million of equipment costs. We can see why investors reacted so harshly to the news on August 9th, taking down GASFRAC's stock by over 25% that day. At least the stock bounced back 6% to $2.55 on August 10th.
Positive potential opportunities for GASFRAC include the fact that the projects deferred in the second quarter have the potential to be executed in the third quarter. One of those substantial projects was completed in July in the Niobrara Wattenberg field and by all signs so far GASFRAC was seeing very positive results. Several of its Canadian customers are seeing far superior results using GASFRAC and have committed additional stimulation programs in 2012. Of the 20 different customers GASFRAC has completed stimulation treatments for in 2012, 13 have committed additional jobs in 2012 giving it a 65% customer retention rate in North America.
In conclusion, we believe investors should keep GASFRAC on their watch list. We weren't disappointed that the company only generated 18% year-over-year revenue growth during the period. However, the rapid 44% in expenses excluding depreciation and amortization was the real concern for us, even though the causes were due to ostensibly non-recurring events. We were pleased that the company has at least throttled its CapEx back for another quarter. While in our opinion the stock enjoyed an unsustainably high price of $15.07 per share in March 2011, we believe that the stock is at a more reasonable level of $2.55 as of August 10th. We still like the rapid organic revenue growth of the company and its new management consisting of experienced energy services professionals and we are hoping that management realizes that it needs to manage its operations better (particularly in cost management relative to revenues). We also believe that as the drought in North America worsen, there offers potential for waterless fracking products and solutions to step in to fill the void for oil companies who are not necessarily able to obtain the water needed to perform fracking operations to drill for oil and gas. We believe that GASFRAC would meet the suitable and known interest tests primarily for well-diversified accredited investors ($200K annual income and $1M in liquid net worth) as opposed to general retail investors as we believe that such investors could tolerate the volatility better than typical retail investors.
Disclosure: I have no positions in any stocks mentioned, and no plans to initiate any positions within the next 72 hours.
Additional disclosure: Saibus Research has not received compensation directly or indirectly for expressing the recommendation in this report. Under no circumstances must this report be considered an offer to buy, sell, subscribe for or trade securities or other instruments.