Market Recap: The market continued to weaken today after an early rise on some good data and earnings. The market closed lower, though, as low volume moves continued to dominate the market. Things looked better after some decent GDP data was released from Europe coupled with solid retail sales from the US. France beat GDP estimates, and Germany was just slightly off expectations. The German ZEW Survey was off and did not look strong, and the market continues to wait for action from the ECB. The US got good data from Retail Sales with a 0.8% rise vs. 0.2%, while Home Depot (NYSE:HD) reported solid earnings. Yet, earnings from Dick's Sporting Goods (NYSE:DKS) were not as strong. Overall, though, the news went on few ears as volume remains low.
Tomorrow, we have some more earnings and data but expect another quiet day again unless something unexpected happens. August is the slow month, and it will continue to be that way tomorrow.
Two Trades
Two trades we like right now are Francesca's (NASDAQ:FRAN) for an earnings play as well shorting oil via United States Oil (NYSEARCA:USO). FRAN looks really solid into earnings at the beginning of September. We believe the company has completed its pullback, and it should start to see a nice move back into earnings. We are seeing good results from US upper-level retail companies like Michael Kors (NYSE:KORS), Polo Ralph Lauren (NYSE:RL) and others. We believe that FRAN is going to continue its upside, and we suggest adding to the position we suggested last week. Additionally, we like shorting USO. Oil has limited upside right now without action from the ECB or the Fed. The decisions from those institutions should float oil higher, but we believe a lot of that move is now priced into oil. The Middle East has offered some value, but we believe the real value in oil is inflated by "free money" that is not there yet. The market may start to turn over here, and we believe oil will lead the way.
Trade #1: FRAN, Long
Trade #2: USO, Short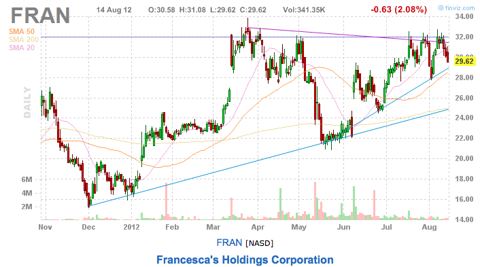 Click to enlarge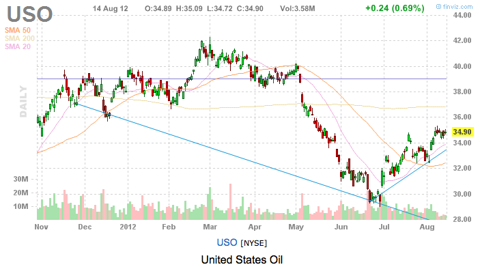 Click to enlarge
Tomorrow's Outlook
The market is going to be reacting to some data and earnings tomorrow, but low volume will continue to dominate the market. The lulls of August are definitely around us, and we expect another flat day overall with volatile movement in individual equities. We get NAHB Housing Market Index, Industrial Production, Crude Inventories, and CPI tomorrow. Altogether, these data points can move the market if all printing something similar. Additionally, we get some important earnings tonight and tomorrow morning that will impact the market. JDS Uniphase (JDSU) tonight will lead the way, while Target (NYSE:TGT) and Abercrombie & Fitch (NYSE:ANF) go tomorrow. The TGT and ANF reports can definitely be impactful on the market, especially the retail industry. Again, we do not expect a big move again tomorrow, but we could be up 50 or down 50 if data and earnings work together.
Our Moves
We had a nice day in the market as we were able to exit our long in Finish Line (NASDAQ:FINL) for a 10% gain. We took a large portion of our Target long off for a small gain. We added a short in Transocean (NYSE:RIG) as well as a bull put spread in Google (NASDAQ:GOOG). It has been a quiet week for us like most.
We have the following positions:
In our Short-Term Equity Portfolio we are long PPG (NYSE:PPG), Target, Carnival (NYSE:CCL), American Tower (NYSE:AMT). We are short Transocean, O' Reilly (NASDAQ:ORLY), Omnicare (NYSE:OCR), and Liberty Property (LRY).
In our Options Portfolio, we are long Google, Yum Brands (NYSE:YUM), Starbucks (NASDAQ:SBUX), United States Oil, Monsanto (NYSE:MON), Dollar General (NYSE:DG). We are short Eli Lilly (NYSE:LLY) and Adobe (NASDAQ:ADBE).
In our Earnings Alpha Portfolio, we are long Francesca's, Discover (NYSE:DFS), Apple (NASDAQ:AAPL) and American Eagle Outfitters (NYSE:AEO). We are short Dell (NASDAQ:DELL). We have a reverse iron butterfly in F5 (NASDAQ:FFIV). We have reverse iron condors in Coinstar (NASDAQ:CSTR) and Facebook (NASDAQ:FB).
In our Goldman Sachs Up/Down Paper Portfolio, we are long Cubist (CBST) and Coca-Cola (NYSE:KO).
Chart courtesy of finviz.com.
Disclosure: I have no positions in any stocks mentioned, and no plans to initiate any positions within the next 72 hours.