We published a full, comprehensive research report in which we analyzed and evaluated Teva Pharmaceuticals Industries (NYSE:TEVA) and we concluded that it is absolutely ridiculous that Teva should be trading at an adjusted 2012 PE of 7.5X earnings and a reported PE of 11X trailing earnings. Despite its stumbles under the previous CEO, Teva is still the industry leader in the generic drug segment. Despite the stumbles, we believe it offers a superior risk-reward scenario versus its competitors in the generic pharmaceutical space.
Because we added to our long position in the company in June, we have decided to expand on our previous research, analysis and evaluation of TEVA versus its peers and we are going to compare it to four of the biggest major pharmaceutical firms that focus on cutting-edge innovative blockbuster drugs. The four competitors we are comparing TEVA against include Johnson & Johnson (NYSE:JNJ), Merck (NYSE:MRK), Pfizer (NYSE:PFE) and Bristol-Myers Squibb (NYSE:BMY). As everyone knows, BMY was the former employer of Teva's new CEO Dr. Jeremy Levin.
The first metric we are going to compare TEVA against JNJ, MRK, BMY and PFE is the dividend yield. We can see that while TEVA has a decent dividend yield of nearly 2.5%, it is much smaller than that of its competitors. Teva's competitors had a median Dividend Yield of 3.72%, which is nearly 50% higher than TEVA's dividend yield. We believe that this is due to the fact that TEVA has a smaller dividend yield than its competitors because TEVA has been a historically smaller firm than the Big Four Big Pharma firms. Also Teva has a much lower payout ratio than its competition because the competition is at a more mature stage and has found less profitable capital investment opportunities for its free cash flows.
The second metric we will evaluate is dividend growth. We can see that TEVA significantly exceeds its peers in dividend growth. Because TEVA has grown rapidly up until last year and is still expecting above-average growth long-term, the company can provide strong growth in dividend payments through increasing its payout ratio, which is still significantly less than that of the larger drug makers. Bristol Myers pays 70% of its net income as a dividend to shareholders while Merck, J&J and Pfizer have payout ratios between 40-50%. Teva's payout ratio at 18.4% is much lower than the larger firms.
The third metric we will evaluate is EPS growth rates for FY 2012 and projected long-term growth rates. All these companies have seen significant slowdown from the growth heyday of the 1990s and in TEVA's case the 2000s and are now projecting single digit growth in EPS growth rates. TEVA's growth rates for FY 2012 and over the long term significantly exceed its peers. Pfizer and Bristol-Myers Squibb both have negative EPS growth rates expected for 2012 while Johnson & Johnson and Merck check in with a robust 2012 EPS growth rate of 1%. While TEVA's growth rate is more downbeat than in the past, at least it is still at 8%. Long-Term growth rates see a low growth of 1.8% for BMY, below 3% for Merck and Pfizer, 6.7% for JNJ and 9.2% for TEVA.
In conclusion, we are bullish on TEVA. We are stunned that TEVA's adjusted price-to-earnings ratio is less than that of JNJ, PFE, MRK and BMY, as well as its GAAP-reported PE ratio. We are amazed that TEVA's stock price has declined rapidly and seems to be stuck in the mud despite its continued growth and ability to generate $3B in free cash flows annually. We are also amazed at the mediocre performance of the Big Four Big Pharma firms from 2000-2012 because we remember those companies to be fast-growing innovators in health care during the 1990s. This mediocre performance is a shock because we would have expected the Medicare Part D reform passed in 2003 to have helped give the Big Four Big Pharma firms a revenue and profit boost.
Our shock is compounded by the fact that TEVA is still expecting to grow its EPS at a faster rate than the Big Four Big Pharma firms. We believe that even if ObamaCare is repealed, we expect to see faster growth in the generic drug sector versus the innovation blockbuster new drugs segment because the rising cost of health care will push third-party healthcare payer institutions like Medicare, Medicaid, the VA and Private Health Insurers to steer their patients towards lower cost drug treatments rather than the high cost brand name drugs.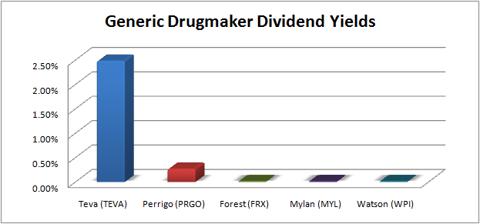 Source: Bloomberg LP
Disclosure: I am long TEVA.
Additional disclosure: Saibus Research has not received compensation directly or indirectly for expressing the recommendation in this report. Under no circumstances must this report be considered an offer to buy, sell, subscribe for or trade securities or other instruments.