I've been at IRCE for only 6hrs so far and the overwhelming theme around eBay I'm hearing is that eBay's feedback changes are NOT going well.
Here's why eBay sellers are upset about around feedback changes
Buyers are leaving manymore negatives/neutrals than they have historically.
UPI/NPB/Deadbeats are leaving negatives and eBay isn't doing anything to help.

eBay promised that if the buyer doesn't reply they would expunge negatives, buyers are smartly typing in something like 'do not want product' or 'didn't ship' or 'not as described' to get out of paying.

Buyers do not give sellers a chance to resolve things.
When buyers leave a neut/negative, the seller adds them to the blocked bidder list, the buyer comes back X days later and is upset because they can no longer buy from that seller.
What's the buyer experience like now?
Hearing all of this, I decided to go review the feedback process and there were lots of changes I wasn't aware of and you may not be either.
First, when you go to leave feedback, the entire screen blanks and you are shown this pop-up box: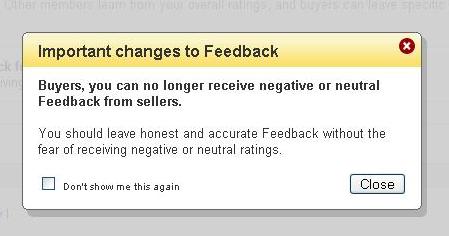 Many sellers have argued that this dialog is essentially eBay encouraging buyers to leave negatives/neutrals and drive more neg/neuts into the system.
Another change that's interesting I noticed when I went to leave negative feedback was this new buyer education checklist: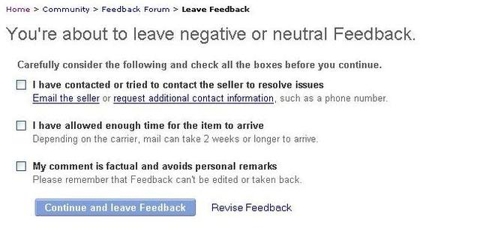 This buyer education is a good step, but what about the "make sure you paid for the item" checkbox???
This is setting up for a potentially painful eBay Live.
Given the tone from sellers here at a non-eBay event, I'm concerned eBay Live is going to be a really rough event next week. I'm hoping the folks at eBay have some good answers about why/how so many neg/neut UPIs are coming through the system and also that they are braced for an ear full.