Credit quality for U.S. electric utilities remains strong despite rising fuel and construction costs, according to Standard & Poor's.
Capital expenditure budgets are ratcheting upward, buffeted by double-digit increases in construction material costs and a tight labor market, S&P says in its latest Industry Report Card. "Additional cost pressure from rising fuel costs is a growing credit concern. To date, regulatory decisions have been supportive of the commodity pass-through via adjustments mechanisms. Still, the potential for regulatory fatigue is heightened as costs show no signs of abating in the near term and longer-term environmental compliance recovery will likely pressure customer rates.
Credit quality for the regulated U.S. electric utility industry is well positioned for the remainder of 2008, given supportive regulatory environments, strong liquidity positions, and market access and appetite for debt securities for the sector as a whole.
The outlook momentum, both positive and negative for sector is in equilibrium, excluding pending transactions.
The electric industry is going to be faced with some new environmental compliance mandate, enacted perhaps as early as 2009 with a likely phase-in period to follow. The key to credit quality will be the prospects of recovering these new compliance costs, especially the when and how, S&P says.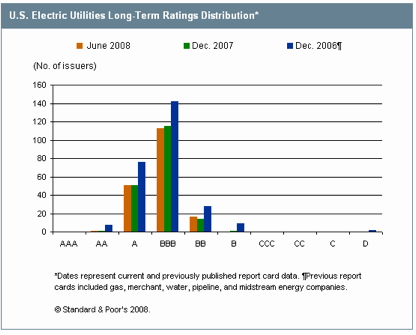 Momentum for building new nuclear generation in the U.S. has been gathering, buoyed by a series of favorable developments on the regulatory and legislative fronts. States, such as Florida, South Carolina, and most recently Mississippi, have enacted legislation that provides a fairly clear and transparent framework that can enable companies to pursue construction of new nuclear plants while having a fair degree of certainty in terms of cost and investment recovery.
Recovery of pre-construction costs, approval of the proposed plant, gradual approval of proposed capital spending every year, expedited recovery of financing costs in base rates (usually through a recovery clause), and provisions for rapid recovery of investment that is abandoned without disallowance review are all important risk mitigants to prevent rate shock and preserve balance sheet integrity.
SCANA Corp. (NYSE:SCG) is the first investor-owned utility to actually file for a certificate of need and once approved will request recovery of financing costs during the construction period. Georgia Power Co (GPW) also plans to build two new units at an existing site and has filed with the Georgia Public Service Commission for recovery of pre-construction costs. Unlike Florida and South Carolina, Georgia does not have explicit legislation that provides for a cost recovery framework but rather relies on the approval by the Commission of the company's integrated resource plan. In addition, Georgia currently does not provide for recovery of financing costs on a current basis, S&P says.
Analysis of individual utilities is available in S&P's Industry Report Card.