Baidu (NASDAQ:BIDU) recently upgraded its cloud storage "Net Disk" user interface to make it more intuitive and user friendly. The upgrade is part of Baidu's push of becoming a leading cloud computing company in China.
Baidu's Net Disk is very similar to that of Dropbox in that it allows users to seamlessly transfer documents, videos, MP3, and photos on their cloud storage. In addition, each Net Disk account has 5 GB of free storage and an option to upgrade to 10 GB of space.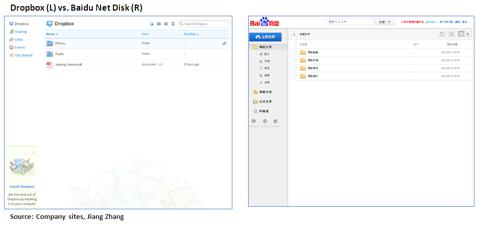 Although the Net Disk is currently free to use, I believe that it has the potential to become a highly successful monetization platform once it reaches scale, given:
The proliferation of low-cost web-connected devices such as smartphones, netbooks and tablets in China
The increasing need of Chinese users to consolidate and organize their files on a single platform, and access them from multiple devices
Net Disk has the potential to be valued at as much as Dropbox, which was most recently valued at $4 billion, or approximately 10% of Baidu's current equity value.
The key is for Baidu to expand the Net Disk user base to a critical mass by offering the current free version and then gradually charge a monthly fee from users once they developed a high switching cost.
According to China Internet Network Information Center, Baidu has approximately 93% penetration rate of China's 513 million internet users. Assume that 25% of Baidu users are consistent Net Disk users and that Baidu charges an affordable RMB 5 per month, I estimate Baidu could generate over $1 billion, or a third of its 2012e revenue, from its cloud business.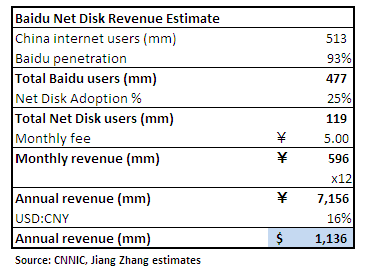 RMB 5 per month fee for a cloud storage is highly affordable to the average Chinese internet users, in my view. Under a more bullish scenario in which I assume 45% Net Disk adoption rate, Baidu's cloud storage revenue could easily topple $2 billion annually.

Baidu's Net Disk has tremenduous potential in China's nascent cloud computing industry. However, execution will be the key because Baidu will need to 1) make its users aware of Net Disk's existence, and 2) educate them the benefit of Net Disk over rivals, such as Dropbox, which is also operational in China.
Disclosure: I have no positions in any stocks mentioned, and no plans to initiate any positions within the next 72 hours.