EBay Inc. (NASDAQ:EBAY) has grown to become a $56.7 billion market-cap provider of online commerce platforms. The company's online auctions, fixed price offerings, and PayPal payment system have become a popular way for individuals and businesses to perform online transactions.
The company reported positive results for Q2 2012, with a revenue increase of 23% and an earnings per share increase of 16%. Earnings per share for the quarter were $0.56 which exceeded estimates by 1.8%. This was the third quarter in a row that eBay exceeded its earnings estimates. This is also the third consecutive quarter where more than half of eBay's PayPal revenue came from outside the U.S. PayPal now accounts for over half of eBay's market-cap and is the company's primary driver of growth.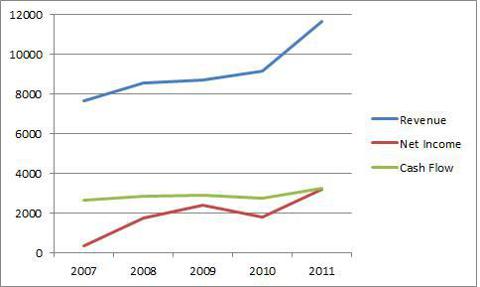 Channel Advisor just reported that eBay's same store sales growth increased 28.2% for July. Strength was in the fixed-price category which increased 33.1% and eBay motors (parts & accessories) which increased 36%. This is another positive sign that the company is picking up momentum.
The company is fairly valued with a forward PE ratio of 16.6, a PEG of 1.41, and a price to book ratio of 3. EBay has a high profit margin of 28.67% and an operating margin of 20.34%. For the past twelve months, the company has raked in $3.09 billion in operating cash flow and $1.06 billion in free cash flow.
The balance sheet looks great as the company has about 2.8 times more total cash than total debt. It also has nearly twice the amount of current assets than current liabilities with a current ratio of 1.95.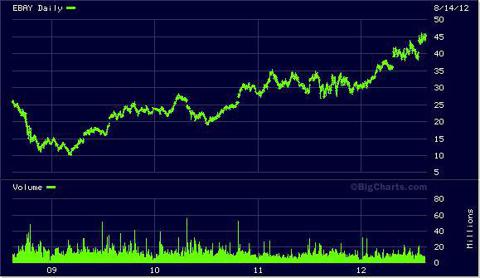 The company is expected to grow earnings annually at 13.25% for the next five years. This is sufficient to outpace the performance of the average S&P 500 company. This growth rate should allow the current stock price of $45 to increase to over $80 in five years.
EBay has created a more convenient and positive experience with its mobile application. Users can access eBay from their smart phones/mobile devices for optimal convenience. The company added 600,000 new users in Q2. Although, the company doesn't know exactly how many users were added as a result of mobile, PayPal's CEO John Donahoe stated that there has been an accelerated growth rate of new users in the last nine months.
The company has also been adding about 1 million new PayPal consumers per month for the past 3 years. This growth is 2 to 3 times faster than the e-commerce market. This is another example of how eBay is benefiting from a growth industry.
Overall, eBay looks like a solid long-term investment. The company should continue to benefit from the growth of mobile and worldwide usage. An investment in eBay is an investment in the entrepreneurial dynamic of the new economy. Investors will reap the benefits of the transactions of millions of buyers and sellers throughout the world.
Disclosure: I have no positions in any stocks mentioned, and no plans to initiate any positions within the next 72 hours.