Contango Oil & Gas (NYSEMKT:MCF) is a company that has impressed me over the years, though there was one thing that always held me back: Reliance on a single individual. In the case of MCF, Ken Peak (aged 67) has served as CEO and Chairman since founding the company in 1999.
Tragically, the company disclosed on August 14th after the close that Mr. Peak has taken a medical leave of absence, apparently for further tests related to a diagnosis of a brain tumor. The press release indicates that the diagnosis is only preliminary, and I sure am thinking of Mr. Peak and wishing for a speedy recovery. Unfortunately, I think that this news could be materially negative for the company.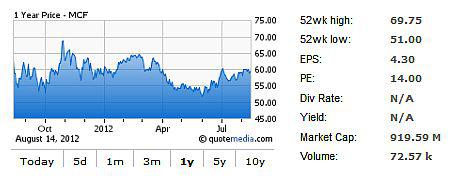 For those not familiar with MCF, it is a rather remarkable company, with only a few employees. It outsources almost everything. Its website explains it fairly well: The core competency is capital allocation, and MCF outsources data collection, prospecting, selection, drilling and production.
The company has gas production of 87mm cubic feet per day (equivalent), yet it has only 10 full-time employees. MCF will likely report its FY12 (June) results at the end of August. In FY11, it had sales of $204mm and net income of $65mm, making it one of the most profitable companies per employee on the NYSE. Through Q3-12, year-over-year sales had declined 9% due to lower volumes and 22% lower prices on natural gas (with increases on oil and NGLs).
There is so much to like about MCF, including its strong balance sheet consisting of no debt and $105mm in cash ($7 per share roughly), a business model that consistently generates positive Free Cash Flow (pretty rare for this industry!), consistent share repurchases that have kept share-count roughly flat over the past six years and very high insider ownership (16.8% as of the proxy in October, mainly Peak at 15.4%). For more info, MCF's presentation at Enercom (8/14) details some of these points as well as many other interesting ones. One former positive point that I used to put near the top of the list but had to scratch out is executive compensation. Peak used to work for a low salary ($150K) in 2009. No longer. He pulled in a salary of $950K (not so abnormal for this industry), but a cash bonus of $6mm in FY11. His cash compensation of almost $7mm dwarfs the combined $2.7mm in cash comp to the next four highest paid people, a red flag in my view.
So, what is a shareholder supposed to do when the CEO and Chairman, who represents 1/10 of the company's employees but so much more in terms of his impact, is facing a potentially life-threatening challenge? I am afraid that there is downside risk, and I would recommend hedging or selling.
Before I share my thesis, let me first address an obvious objection: The stock sure looks cheap, at least on the surface. Keep in mind that the company isn't widely followed. In fact, there is just one analyst, perhaps none. According to the system I use (Baseline), there is a single analyst with an estimate of EPS of $9.22 for June 2012 and $13.86 for June 2013. These estimates are stale (no change in a year) and most likely fiction. I checked Yahoo Finance and saw the $9.22 as well. From there, it appears that the estimates date back early 2011.
The $9.22 figure is definitely fiction, as through the first three quarters, the company reported earnings of $3.23 (continuing operations, $3.18 including discontinued). In the last quarter, earnings fell 10%. It seems like the FY12 results will be closer to $4. One has to wonder how many investors think the stock trades at 6 P/E! Still, given that it is debt-free, 14 PE or so isn't so bad.
In a case like this, where the company is highly dependent on a single individual, it's important to understand what the company might be worth in the absence of being a going concern. What would investors pay for the assets? I have to profess a lack of proficiency here - there could be some excess value. It's hard to imagine, though, as gas prices have declined so precipitously over the past year. Just looking at the book value (as of Q3), it works out to be $30, or about 1/2 the current price.
According to the press release, long-time external partner Brad (John B.) Juneau was named President and Acting CEO. The company had made a major disclosure in April that it had materially changed the nature of the relationship with Juneau and his firm, Juneau Exploration ("JEX"). Juneau joined the Board, and JEX will be paid $167K per month (plus 1% of the profits and other potential royalties and carried interests) instead of $250K per prospect generation. The company's strategic shift from land to the Gulf of Mexico apparently drove the move. It's also worth noting that the company recently made a large strategic investment in some producing reserves in Wyoming (initially $41mm in April, increasing to as much as $81mm over 5 years), and Juneau is serving on the board of subsidiary Exaro.
So, we have an outsider now running the company, though clearly Mr. Juneau is intimately involved with a portion of the company's business. I read enough 8-K filings to know that "standard operating procedure" is to share a bio, but MCF failed to do so when announcing the new director. It did so in Tuesday's press release, detailing his BS in petroleum engineering from LSU, formation of JEX in 1998 following a decade with Zilkha Energy, three years with Texas International and unspecified time with Enserch. We go from having a guy with major skin in the game and a record of success to a relative unknown with no known holdings (I checked the form 4s subsequent to April). Mr. Juneau was also named President and Acting CEO of Contango ORE, a recent spin-off.
I mentioned earlier that the ownership is quite concentrated. The other employees actually own very little. The CFO, for instance, had 23K shares at the time of the proxy, but he exercised and sold 20K shares (at $64.38 in February - nice!), leaving him with only 3K in holdings. The relatively new Controller owns less than 1K. The relatively new VP Operations owns 1800 shares purchased on the open market at $54.42 in May, and the 60-year old COO (who was NOT named interim CEO) has 8250 shares only after exercising and selling 25K in February at $64.66.
The market always seems to overreact, so it's hard to predict how it will discount this heightened risk. Given the deteriorating fundamentals (sales and earnings fell sharply in the prior quarter, and production is in decline), the fact that the earnings consensus is significantly overstated and we have a one-man show without the main man, it could get ugly. To frame things, it would seem that book value would serve as a floor ($30) should Mr. Peak not be able to return to work.
While some may think that my predictions are too dire, I think that the right way to think about this is like a hedge fund. Would you pay more than book value for a hedge fund if the main guy left? It would really depend upon the team. In this case, there doesn't appear to be much of a team. The company had to reach to an outsider to run it on an interim basis. The rest of the team has almost no equity ownership (and the new interim CEO apparently none).
I have no position in the stock and wish only the best for Ken Peak, but I would advise caution if you have a position in the stock or are considering establishing one.
Disclosure: I have no positions in any stocks mentioned, and no plans to initiate any positions within the next 72 hours.