The Bank of England's latest Inflation Report (August 8th) included two items that I found particularly interesting:
The Bank of England (NYSE:BOE) expects the squeeze in take home pay in the United Kingdom to finally end. This squeeze was the UK's longest in almost 100 years.
Productivity is abnormally low for a recovery, and the BoE is struggling to explain it.
A recovery in take home pay should lead to increased consumption. To date, the stubborn stagnation in income has accompanied a similar stagnation in consumption. Consumption remains near post-recession lows.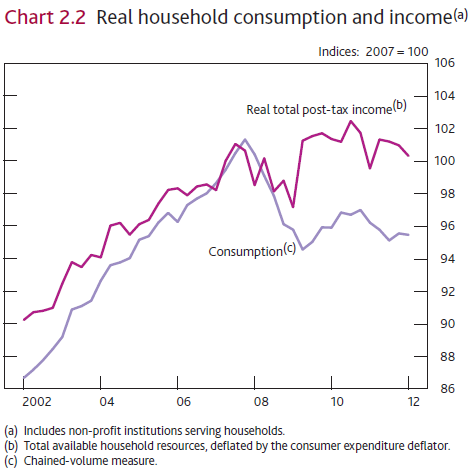 Real household consumption and income
Source: Bank of England, Inflation Report, August, 2012 (p7)
The prospect for a recovery in take home pay is a positive for an otherwise tepid outlook for GDP growth that includes a projection for a return to pre-recession levels of output only in 2014. The BoE expects growth to finally increase starting this quarter - a projection that generated skepticism from several attending reporters including Ed Conway from Sky News:
"Governor, just to clarify you have cut your growth forecasts for this year, but you're expecting a rebound over the following quarters and years. And this is precisely what the Monetary Policy Committee, what the Bank of England has been forecasting in previous years, ever since 2008 you were forecasting a big bounce back for the economy and you've been proven wrong."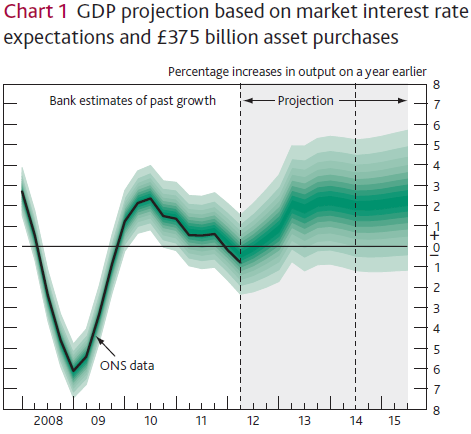 GDP projection based on market interest rate expectations and £375 billion asset purchases
Source: Bank of England, Inflation Report, August, 2012 (p6)
The recovery in take home pay is arriving on the heels of "puzzlingly robust" employment growth:
"Despite the fall in output, private sector employment increased strongly in 2012 Q1 while the unemployment rate edged lower. Private sector productivity is still below its pre-crisis level. Annual private sector regular pay growth remains around 2%, held in check by elevated unemployment and the weakness of productivity. Companies' unit wage costs continue to increase at close to their average historical rate." (p7)
Combined with flat output, this strong employment growth has created a "productivity puzzle" that the BoE has yet to solve.
"…what we are seeing in terms of the behaviour of productivity is way out of line with the behaviour of productivity after previous downturns…The thing that was really puzzling and has continued to puzzle is this juxtaposition of really reasonably firm employment growth coupled with very weak output growth. Output has been broadly flat over the past two years yet employment has grown pretty strongly…

…there's a real puzzle here, why are businesses apparently taking on labour when demand is so weak?…So we really are in a genuine - where there is a genuine economic puzzle that we don't really understand. We're doing lots of work trying to dig deeper into the data, looking into what's going on in different sectors, but I have to say I don't think we have the explanation and I don't think anybody else out there does yet." (p23-24 of the transcript)
The BoE cannot explain this dynamic with data errors or sectoral differences in the job market between low-skilled and high-skilled work. The extended duration of weak demand undercuts any explanation that businesses are expecting a pick-up in demand in the future. Of course, if they are following BoE forecasts, businesses SHOULD expect an imminent rebound! If output does not rebound as the BoE expects while wages do rebound, this productivity puzzle will worsen and place even more pressure on corporate profits. I would look to short iShares MSCI United Kingdom Index Fund ETF (NYSEARCA:EWU) under this scenario.
The European sovereign debt crisis continues to cast a pall across the UK economy:
"The outlook for UK growth remains unusually uncertain. The greatest threat to the recovery stems from the risk that an effective policy response is not implemented sufficiently promptly in the euro area to ensure that the adjustments in the level of debt and competitiveness required by some member countries occur in an orderly manner. Even if an effective set of policies is implemented, the scale of the necessary adjustments points to a sustained period of sluggish euro-area growth and heightened uncertainty." (p5)
Europe's weakness has contributed to a fall in exports out of the UK.
"Exports fell over the four quarters to 2012 Q1, reflecting both a broad-based slowing of global demand growth and the United Kingdom's lower share of world trade." (p5)
Weak exports continue to thwart the BoE's attempts to rebalance the UK economy away from domestic demand. Overall, the near-term economic dynamics in the UK remain relatively weaker than those in the United States. As a result, I expect a continuation in the slow weakening of the British pound versus the U.S. dollar (NYSEARCA:FXB), particularly against the U.S. dollar over time. Indeed, the Inflation Report notes that leading into August "options prices also suggest that there is a greater likelihood of sterling depreciating than appreciating against the US dollar."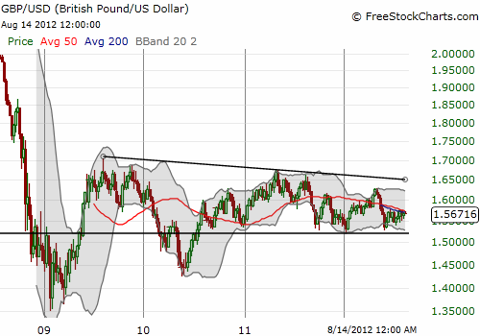 The pound has very slowly drifted downward against the U.S. dollar over the last three years
This very slow drift in the exchange rate between the British pound and the U.S. dollar means that it has made a lot of sense to conduct range-based trading on the GBP/USD currency pair. Currently, shorting the pair as it tags the 200-day moving average (DMA) or buying the pair after an extended sell-off has worked very well since mid-May.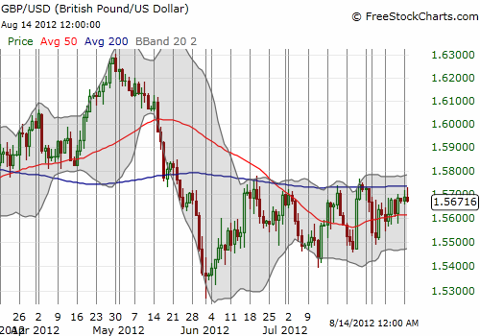 GBP/USD has bounced around in a wide trading range for three months
Source for charts: FreeStockCharts.com
Note that at some point, GBP/USD will likely break resistance at the 200DMA and launch another rally toward the top of the extended range. Under this scenario, 1.60 becomes the first trading target.
Be careful out there!
Disclosure: I have no positions in any stocks mentioned, and no plans to initiate any positions within the next 72 hours.
Additional disclosure: In forex, I am short the British pound.