Every 6 months, the European Central Bank issues a state of the union report on the financial system called the "Financial Stability Review" (see posting on the last edition).
The stated purpose of the report is:
…to promote awareness in the financial industry and among the public at large of issues that are relevant for safeguarding the stability of the euro area financial system. By providing an overview of sources of risk and vulnerability for financial stability, the review also seeks to play a role in preventing financial crises.
As usual, June's edition (released on Monday) makes some interesting observations about hedge funds and their potential role in "financial crises"…
Hedge funds use relatively little leverage
According to Merrill Lynch data cited by the ECB (chart, right), hedge funds use markedly less leverage than is often assumed in the media. In fact, only a small portion of hedge funds reported having a gross exposure of more than 200%. Commented the ECB:
The use of leverage is also an important feature that distinguishes hedge funds from traditional investment funds and makes them substantially similar to banks. However, the leverage of a hedge fund is rarely comparable to or as high as that of a bank.

…A large part of forced or voluntary deleveraging has probably already occurred, so the risk of further selling pressure may have declined since the finalisation of the December 2007 financial stability review.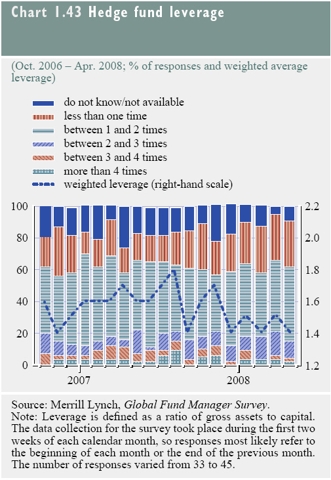 Managers less enamored with idea of start/managing a hedge fund
Are funds blowing up, giving investors their money back to simply sail off into the sun-set? Everyone has a theory about changes in hedge fund attrition. However, there seems to be little doubt that the rate of new fund development is waning (chart, below).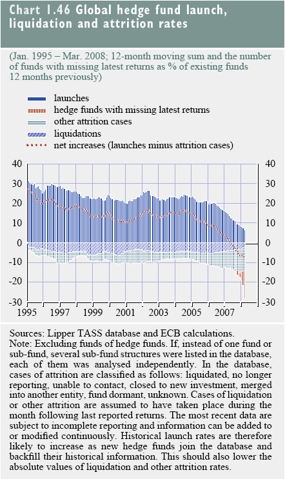 To compound the problem, fund closures are increasing. But contrary to what some might assume, they're not blowing up. According to the ECB, many managers are simply throwing in the towel when they fall too far below their high water mark:
There are at least two important factors that may have an adverse impact on the viability of some hedge funds. First, at the end of March 2008 many single-manager hedge funds suffered substantial draw-downs relative to their previous peaks of cumulative returns due to weak latest performance results. Nevertheless, not all hedge funds apply highwatermark provisions, which stipulate that incentive fees are paid only if cumulative returns recover any past shortfalls, and therefore could benefit sooner from an improvement in returns in the period ahead.

Second, weak recent returns may also contribute to higher liquidation rates due to the specifics of hedge fund manager compensation contracts. Quite often incentive fees are accrued throughout the year, but paid out only once at the end of the financial year. This partly explains why hedge fund liquidations tend to increase in January after the amount of incentive fees has been determined based on returns in the preceding year. Weak year-to-date returns in 2008 mean that the prospects of receiving any incentive fees are lower and may encourage some hedge fund managers to discontinue their operations, particularly in those cases where incentive fees account for a large share of all fee income.
Interestingly, the ECB finds that both hedge fund launches and closures tend to happen at quarter-end (chart, below). Says the report:
Liquidations, as well as other attrition cases, also tend to increase after the end of each quarter. This is most likely due to the higher impact of redemption activity, since monthly and quarterly redemptions coincide for a large number of hedge funds.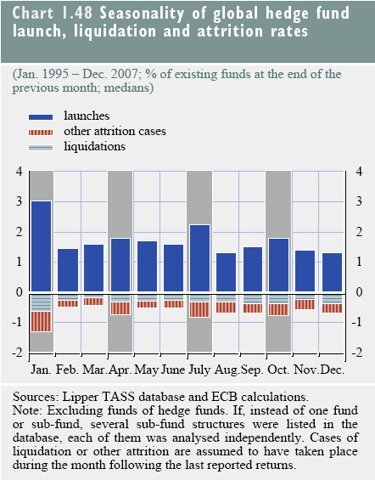 Less than half of hedge fund managers co-invest in their funds
Although manager co-investment is often cited as one of the unique benefits of hedge funds, the ECB finds data that suggests two-thirds of hedge fund managers may not do so (chart, below). Says the report:
…the practice of joint ownership of the hedge fund's capital under management does not seem to be as widespread as is often claimed.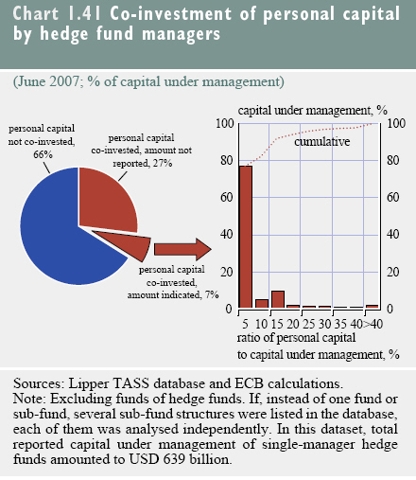 Co-investment is a complex issue, however. Often a manager invests much of his or her wealth in the management company itself - creating what is essentially a leveraged play on his or her own fund. In addition, the portion of a fund's assets represented by the manager is not as important as the amount of the manager's liquid assets invested in the fund (or management firm, as indicated above). Even then, the manager's alignment of interests depends on the marginal utility of those dollars. In others words, putting $10 million at risk when you have a net worth of $20 million can be a lot easier (or harder) than putting $500k at risk when all you have is $1 million.
Despite the ECB's sanguine view of hedge funds, it warns in conclusion that:
…hedge funds have been undergoing a challenging period and it is not clear yet in what shape they will resurface after the market turmoil subsides. With the exception of larger investor redemptions…most other endogenous vulnerabilities of hedge funds, including investment risk, leverage and the stability of bank funding, have resulted in serious difficulties…Moreover, many hedge funds still remained vulnerable to tougher lending stances of prime brokers and a further deterioration in financial markets. Further deleveraging and forced sales in credit and other asset markets cannot therefore be excluded.
(Note: Pages 49 to 55 and page 113 of the report contain some more interesting data - some of which we have not seen before.)