Nanosphere, Inc. (NSPH) develops, manufactures, and markets the Verigene System that enables genomic and protein testing on a single platform. This System includes a bench-top molecular diagnostics workstation with nanoparticle technology that provides the ability to run multiple tests simultaneously on the same sample. The Verigene System is used for testing infectious disease assays, human and pharmacogenetic assays, and ultra-sensitive protein assays. An assay is an investigative procedure in laboratory medicine for qualitatively assessing or quantitatively measuring the presence or the functional activity of a target entity.
Nanosphere's lead product, The Verigene System, is differentiated by its ease of use, rapid turnaround times, and ability to detect many targets on a single test, referred to as "multiplexing." It provides lower cost for laboratories already performing molecular diagnostic testing and enables smaller laboratories and hospitals capabilities to perform genetic testing without advanced diagnostics.
The ability to detect proteins, which can be as much as 100 times more sensitive than current technologies for certain targets, may enable earlier detection of and intervention in diseases associated with known biomarkers as well as the introduction of tests for new biomarkers that exist in concentrations too low to be detected by current technologies.
The company's test menu is designed to fulfill the following unmet hospital laboratory needs:
The conversion of microbiology to molecular methods to more rapidly pinpoint infectious diseases;
Point-of-care pharmacogenetics to ensure that appropriate therapies are prescribed.
Earlier detection of life threatening disease through ultra-sensitive protein assays.
The Verigene System is comprised of a microfluidics processor, a touchscreen reader, and disposable test cartridges. Certain assays, such as the Warfarin metabolism and hyper-coagulation tests, were cleared by the U.S. Food and Drug Administration ("FDA") for use with the original Verigene System processor. Subsequently, Nanosphere developed and launched a second generation Verigene System processor that handles the same processing steps as the original processor and incorporates sample preparation.
Some of its current customers continue to use the original processor for hyper-coagulation testing and Warfarin metabolism testing. Nanosphere's development plans are focused on expanding the menu of tests that will run on the Processor SP, and it plans to develop and seek regulatory approval of all future assays on the Processor SP.
As an NBC News article points out from just two days ago, the Verigene Gram-positive Blood Culture Nucleic Acid Test is the first system approved by the FDA to quickly identify certain bacteria responsible for bloodstream infections -- and whether some are resistant to the top drugs used against them.
As mentioned in the above article, without this molecular testing, hospitals are left to a 'guess and check' treatment. Without knowing which bacteria they are fighting, they cannot properly fight the infection. For every hour that passes, the Sepsis mortality rate increases by 6.7%. This 'guess and check' approach leaves the hospitals open to potential litigation. With the Verigene machine, hospitals can more efficiently treat infectious disease while minimizing the liabilty risks. This reason alone should create demand from hospital networks when coupled with accurate results. Costs should be reduced, and it's feasible to believe that every hospital will have one or more Verigene machine in the future.
Instead of the three days required for a traditional blood culture panel, results from the Verigene test come back within three hours, identifying up to a dozen specific bacteria known to cause Sepsis, including strains of Staphylococcus, Streptococcus, Enterococcus and Listeria.
Plus, the test can tell whether the germs are Methicillin-resistant Staph aureus, MRSA, or vancomycin-resistant Enterococci, some of the toughest pathogens around.
"That's a big change," said Nathan Ledeboer, medical director of the clinical microbiology and molecular diagnostics laboratories at the Medical College of Wisconsin. "We don't have to wait three days any more to get appropriate antibiotics on board."
Because of this change in treatment, lives will be saved as well as dramatically decreasing the risk of amputations as the young girl featured in the NBC article had to go through. Most people probably would not know about the disease she acquired called Sepsis -- despite the condition requiring about 1.6 million hospitalizations per year. This infection, also known as septicemia or bacteremia, can be sudden, capricious and difficult to identify, masquerading as a minor injury or illness that erupts into full-blown, whole-body organ failure within hours or days.
The considerable awareness and demand for this assay is driven by the fact that sepsis is the leading cost of inpatient stay in the U.S. at over $15 billion annually, carrying a mortality rate of one in six patients.
Nanosphere has the only assay on the market that can provide broad identification of bacteria and drug resistance and a sample to result on-demand test. Recently cited publications demonstrated the benefit of reduced mortality in the intensive care unit from one in two patients to one in 10 as well as a 6.2 day reduction in length of stay saving over $21,000 per patient.
There are medications currently on the market designed to treat patients with Septicemia such as GlaxoSmithKline's (GSK) Ancef, which is indicated for the treatment of infections due to susceptible organisms. It is effective in the eradication of streptococci as well as skin structure infections which Nanosphere can diagnose. Bristol Myers Squibb's (BMY) Bristopen (Oxacillin sodium), which is now available in generic form, is a narrow spectrum beta-lactam antibiotic of the penicillin class. It has been used particularly in the treatment of Staphylococcus aureus infection, and resistant strains may be called oxacillin-resistant Staphylococcus aureus.
Nanosphere is obviously focused on the diagnosis of several diseases like this very quickly which would only make the prescription drug part of the equation more effective.
Income Statement

Revenue (TTM):

4.03M

Revenue Per Share :

0.09

Qtrly Revenue Growth (yoy):

164.20%

Gross Profit :

713.00K
| | |
| --- | --- |
| Total Cash (mrq): | 23.73M |
| Total Cash Per Share (mrq): | 0.54 |
| Total Debt (mrq): | 0.00 |
| Total Debt/Equity (mrq): | N/A |
| Current Ratio (mrq): | N/A |
| Book Value Per Share (mrq): | 0.69 |
As we can see above, the company has plenty of cash on hand to properly fund its operations. Also note the year over year growth -- bullish.
Share Statistics

Avg Vol (3 month):

991,588

Avg Vol (10 day):

1,051,080

Shares Outstanding:

43.72M

Float:

24.07M

% Held by Insiders:

32.97%

% Held by Institutions:

38.50%

Shares Short (as of Jul 31, 2012):

2.49M

Short Ratio (as of Jul 31, 2012):

1.40

Short % of Float (as of Jul 31, 2012):

8.50%

Shares Short (prior month):

2.28M
We can see that there is good institutional support for a stock selling for under $3.50 a share. Insiders also own a nice chunk of the company, coming in at 38.5%.
Insider Transactions Reported - This Year
| | | | | | |
| --- | --- | --- | --- | --- | --- |
| Date | Insider | Shares | Type | Transaction | Value* |
| Jul 18, 2012 | SLEZAK MARK Director | 1,000,000 | Indirect | Purchase at $2.40 per share. | 2,400,000 |
| Jun 14, 2012 | SLEZAK MARK Director | 229,746 | Indirect | Purchase at $2.05 per share. | 470,979 |
| Jun 13, 2012 | SLEZAK MARK Director | 79,329 | Indirect | Purchase at $1.98 per share. | 157,071 |
| Jun 12, 2012 | SLEZAK MARK Director | 40,000 | Indirect | Purchase at $1.95 per share. | 78,000 |
| Jun 11, 2012 | SLEZAK MARK Director | 10,000 | Indirect | Purchase at $1.98 per share. | 19,800 |
| Jun 10, 2012 | SLEZAK MARK Director | 5,000 | Indirect | Purchase at $1.95 per share. | 9,750 |
| Jun 7, 2012 | SLEZAK MARK Director | 20,000 | Indirect | Purchase at $1.96 per share. | 39,200 |
| Jun 6, 2012 | SLEZAK MARK Director | 13,116 | Indirect | Purchase at $1.90 per share. | 24,920 |
| Jun 5, 2012 | SLEZAK MARK Director | 15,000 | Indirect | Purchase at $1.85 per share. | 27,750 |
| Jun 4, 2012 | SLEZAK MARK Director | 317,500 | Indirect | Purchase at $1.75 per share. | 555,625 |
| Jun 3, 2012 | SLEZAK MARK Director | 25,000 | Indirect | Purchase at $1.75 per share. | 43,750 |
| May 31, 2012 | SLEZAK MARK Director | 88,900 | Indirect | Purchase at $1.71 per share. | 152,019 |
| May 30, 2012 | SLEZAK MARK Director | 30,000 | Indirect | Purchase at $1.69 per share. | 50,700 |
| May 29, 2012 | WHITE WILLIAM T Director | 54,729 | Direct | Statement of Ownership | N/A |
| May 28, 2012 | SLEZAK MARK Director | 10,000 | Indirect | Purchase at $1.69 per share. | 16,900 |
| May 24, 2012 | SLEZAK MARK Director | 5,505 | Indirect | Purchase at $1.70 per share. | 9,358 |
| May 23, 2012 | SLEZAK MARK Director | 35,000 | Indirect | Purchase at $1.71 per share. | 59,850 |
| Feb 23, 2012 | PATNO TIMOTHY Officer | 40,275 | Direct | Sale at $2 per share. | 80,550 |
As we can see above, insiders are very bullish about their company. Director Slezak this year alone has bought over 2 million shares. It is always a good sign when insiders buy their own company, as it shows they are willing to take the same risk as any other investor would.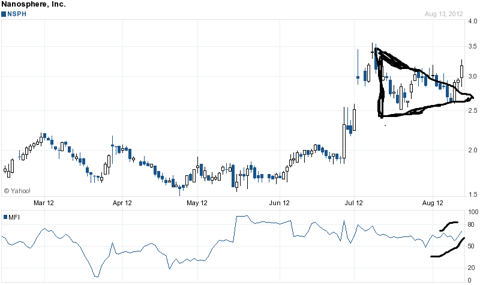 My crude drawing above clearly shows a symmetrical continuation triangle bullish formation setting up.
A symmetrical continuation triangle converge trend lines of support and resistance giving the triangle pattern its distinctive shape. This occurs because the trading action gets tighter and tighter until the market breaks out with great force. Buyers and sellers find themselves in a period where they are not sure where the market is headed. Their uncertainty is marked by their actions of buying and selling sooner, making the pattern look like an increasingly tight coil moving across the chart.
As the range between the peaks and troughs marking the progression of price narrows, the trendlines meet at the "apex," located at the right of the chart. The "base" of the triangle is the vertical line at the left of the chart which measures the vertical height of the pattern.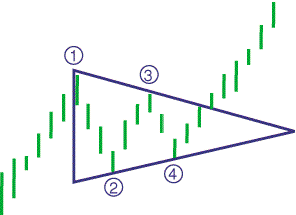 A symmetrical triangle shows two converging trend lines, one is ascending; the other is descending -- creating a sideways symmetrical triangle. The formation occurs because prices are making both lower highs and higher lows. Elaine Yager, Director of Technical Analysis at Investec Ernst and Company in New York and a member of Recognia's Board of Advisors, notes that the pattern should display two highs and two lows, all touching the trend line as -- a minimum of four reversal points is necessary to draw the two converging trend lines. The diagram has these points noted.
Although the lines I added to the Nanosphere chart are crudely drawn, we can clearly see there are 4 points on the chart - nearly identical to a classic symmetrical continuation triangle. Also worth noting is the money flow index, which is also bullish as I show in crude black lines drawn below the triangle in the chart. Based on both technical and fundamental reasons, notwithstanding the trending increased volume, I believe a breakout is about to occur with the stock.
I believe Nanosphere is poised to become the leader in the Blood Stream Infection diagnostics market space. Cepheid (NASDAQ:CPHD) saw a 1.4 billion dollar appreciation in market cap following the launch of their MRSA panel, which market penetrated 300 sites. Nanosphere plans on having the same number of target sites by Q4 2013. Similar appreciation could put the Nanosphere pps above $40 in the long term, provided management stays its current course and executes its plan correctly.
Life Technologies Corporation (NASDAQ:LIFE) was able to build its cell labeling and detection business into an 8.18 billion dollar market cap company in 13 years. Life Technologies over this time period has grown into a giant in the industry, with a Molecular Biology Systems division offering molecular biology-based technologies, including basic and real-time PCR, RNA interference, DNA synthesis, sample preparation, transfection, cloning and protein expression profiling, protein analysis, and thermo-cycler instrumentation technologies. It is certainly within the realm of possibility, that Nanosphere could see the type of success that Life Technologies has had -- in the very long term horizon.
Nanosphere also has a nice investor presentation for those who wish to do more DD on the company.
My price target opinions:
Short term: 1 day to 3 months - $4.25.
Mid term: 3 to 11 months - $6.00
Long term: 1 to 5 years - $12 to $40
Disclosure: I have no positions in any stocks mentioned, and no plans to initiate any positions within the next 72 hours.
Additional disclosure: Family member holds NSPH stock. Disclaimer: This article is intended for informational and entertainment use only, and should not be construed as professional investment advice. They are my opinions only. Trading stocks is risky -- always be sure to know and understand your risk tolerance. You can incur substantial financial losses in any trade or investment. Always do your own due diligence before buying and selling any stock, and/or consult with a licensed financial adviser.