I recently read that Dan Loeb, head of Third Point LLC, drills the concept of finding stocks to short based the criteria of them being "fads, frauds, or failures."
The benefit of finding stocks than can be successfully shorted is that the returns aren't correlated to the market, allowing the investor to achieve significant risk-adjusted Alpha; the primary goal of anyone managing their own portfolio.
For each category, I'll describe some historical examples and then some modern day ideas from which to begin your research.
Fads
Fad stocks are often good shorts for two reasons: 1) the "newness," or perceived originality of the product(s) adds an unreasonable valuation premium to the share price and 2) the products are often particularly sensitive to economic slowdowns and slight changes in highly dynamic consumer tastes.
I find that fad companies often have many of the following characteristics:
A parabolic explosion in the share price, driven by media hype ("the next big thing!")
Products that either aren't protected by patents or are easily recreated without violating patent protection
Products that seem "cool," but that you wouldn't actually purchase
Rapid revenue growth, without subsequent earnings growth
Management that talks about an idea (i.e. "changing the world," "social missions," and similar phrases that have nothing to do with shareholder returns)
Products that aren't economically viable in the long-term. If you can buy a similar product elsewhere, eventually the shine will wear off of the fad and you will consume the cheapest alternative (Not always true - I'll explain more later)
Limited product offerings: fad companies oftentimes only sell one product
New technology that is actually the "new big thing." Generally, in an industry where such rapid change is possible, the company will probably lose out when the next wave of change occurs
"Momo" stocks: equities that are traded and supported by momentum traders are often traded as such because investors are trying to take advantage of an ascendancy in hype, rather than actual business performance
Historical Examples
There have been countless fads in the history of the business world, each leaving the gullible among us holding the bag.
The most recent and well-known fad company is probably Crocs (NASDAQ:CROX). Having gone public in February, 2006 with an equity raise of about $20 million, it didn't take long for investors to get inappropriately giddy about the company's growth prospects.
Even at the time there were plenty of critics, with one 2006 article from Forbes question the company's staying power:
Crocs is a variation on this theme. Its sector, footwear, is established and raises a basic question: What could possibly be new?

Crocs has what it thinks is a winning response: brightly colored plastic shoes. But this raises a key question: How long will its product line remain fresh and attractive to buyers?

Crocs designs, manufactures and markets footwear for men, women and children. The company uses what it calls a proprietary "closed-cell resin material" called Croslite to create pliable, lightweight, nonmarking and odor-resistant shoes that mold to fit the wearer's feet. The shoes sell for $30 to $60 a pair.
The conclusions are as follows:
Nothing was particularly new, just an original fashion trend that was bound to change with time. Retailers deal with this all the time, but their companies usually aren't 100% dependent on one style
It wouldn't take long for buyers to move on, more specifically right when the consumer started to feel the pinch just prior to the popping of the financial bubble. Buying a premium priced, weird looking shoe is difficult to justify when you're concerned about losing your job or making next month's rent
At $30 to $60 per pair, Crocs was highly susceptible to low-cost knockoffs or legal imitators
Sure enough, knockoffs and imitators began to flood the market, cutting into margins
While the initial reaction from consumers was positive, some people began to realize how ugly they were, generating a social stigma against wearing the shoes
Crocs traded as a classic high short interest momentum stock, parabolically rising to nearly $70 only a year after its IPO: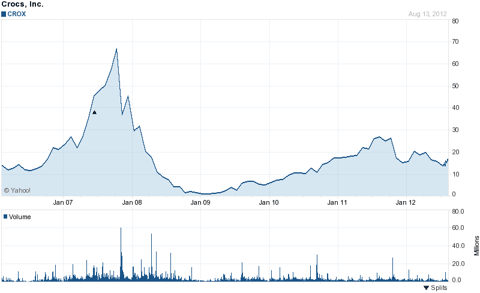 Other historical examples include:
Heely's (NASDAQ:HYLS): The maker of the roller-skate shoes that kids wore for a few years and then realized were absolutely ridiculous.
Build A Bear Workshop (NYSE:BBW): Once again, kids loved it until they didn't. It's tough to see any sort of lasting economics in a business like that.
Jones Soda (NASDAQ:JSDA): Though the product is in fact interesting and tastes good, selling soda at a premium to distinguished offerings like Coke (NYSE:KO) and Pepsi (NYSE:PEP) proved extremely difficult in the long-term.
Today's Fads
Groupon (NASDAQ:GRPN): Since topping out at over $31 per share shortly after its IPO, Groupon has sunk down to nearly $6. The enthusiasm for GRPN, at least in retrospect, really made no sense. While the "daily deal" business has a lot of demand, there are essentially no barriers to entry, and its not very profitable as a stand-alone business.
Zynga (NASDAQ:ZNGA): As a student, I can attest to the fact that literally everyone I knew was playing Zynga games on their iPhones for a little while in late-2011. Scramble with Friends, Draw Something, etc. were classics. I also saw that the games were free, there was little or no advertising, and no one bought the game add-ons. Additionally, Zynga burns through its cash by purchasing start-ups with temporarily hot games like the maker of Draw Something - OMGPOP. Not exactly a desirable model. Over time, Zynga will continue to lose money since its model simply cannot be meaningfully monetized. The games that it puts out are fun for a few weeks, are mostly free, and wouldn't be paid for anyway.
Pandora (NYSE:P): With the exception of the premium service, monetization of the product is minimal and it doesn't appear to have staying power. The fad aspect of Pandora is that similar products are available (Spotify, Sirius XM) and more will continue to pop up over time. While Pandora is probably the leader in the customized music streaming business for now, it's an unforgiving and dynamic industry that will leave the company with sustained losses.
Disclosure: I have no positions in any stocks mentioned, and no plans to initiate any positions within the next 72 hours.