Agnico-Eagle Mines (NYSE:AEM) is one gold-mining company that seems to be defying industry trends. Unlike competitors Goldcorp (NYSE:GG) and Barrick Gold (NYSE:ABX), Agnico saw some of its production rise to record highs in the last year.
Gold production at four of Agnico's six operating mines shot up by 11% in the second quarter of 2012. Production at the Pinos Altos mine in Mexico increased by 24% in the last year, and production at the Meadowbank mine in Canada's Nunavut Territory went up by an astonishing 66%. The Kittila mine in northern Finland also saw its production increase by 14% in the last year.
The increased production enabled Agnico-Eagle to report a profit of $43.3 million, or 25¢ a share. Yet this profit was down from 2011 when the company reported a profit of $68.8 million, or 40¢ a share. The reason that Agnico's profits have fallen is obvious; the company's expenses went up by 17% in the second quarter alone. Agnico-Eagle's own website shows a 2012 production cost of $594 an ounce. That means it is not escaping the industry wide trend of increased gold mining costs.
Agnico-Eagle Hurt by Goldex Mess
Agnico's bottom line has also been affected by the fiasco at its Goldex mine in northern Quebec. The Goldex shut down last October after the mine was flooded by uncontrollable water seepage. Agnico wrote off a $161.5 million loss because of Goldex last year. Until the shutdown, Goldex had been one of Agnico's most profitable properties with mining costs of just over $400 an ounce.
Agnico CEO Sean Boyd told the Montreal Gazette newspaper that he hopes to reopen the Goldex early next year. Unfortunately, production at the Goldex will be lower and costs will probably be higher, Boyd admitted. He said that the new production costs at the Goldex will be between $565 and $660 an ounce. Boyd didn't provide any new production figures for the Goldex.
Agnico-Eagle has some impressive profits and production figures, but it also has some problems. That, of course, makes it looks like a good value stock, a company that generates cash but has seen its share value fall because of problems, some of which are beyond its control.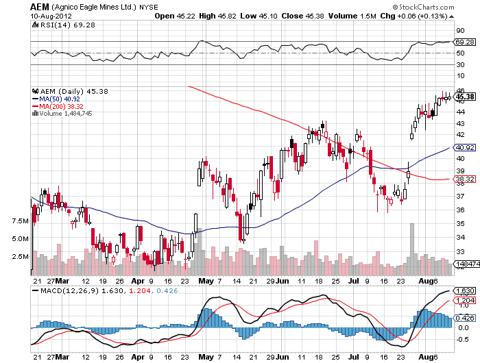 The market thinks that Agnico is a value buy. Its share price has shot up from a low of just under $37 on July 23 to $45.38 at the close of business on August 10, 2012. But is this growth in margin value warranted or not?
On the surface, this seems to be justified by Agnico's ability to maximize production at its mines. The company has demonstrated that it can increase production at its newer operations in Finland, Mexico, and Quebec. Unfortunately, it seems to have lost the Goldex, and production seems to be falling at its La Ranche mine in Quebec. Boyd told the Montreal Gazette that two-thirds of the ore produced at La Ranche comes from deeper levels, which are more expensive to mine.
Beyond its troubles at the Goldex and La Ronde, with rising costs, Agnico-Eagle's growth potential seems limited. The company currently only has two development projects in the pipeline: Meliadine in the Nunavut Territory and La India/Tarachi in Mexico. Both of these projects are only in the feasibility study stage. That means they are not producing any gold or generating any cash.
Expansion Prospects Are Limited
Agnico Eagle is also conducting some exploration work in Colombia with Miranda Gold (MAD), Boyd told the Montreal Gazette. Interestingly enough, this exploration work is not mentioned on Agnico-Eagle's website. Miranda's website does not mention any sort of a joint venture with Agnico-Eagle either.
Exploration is also going on at some of Agnico's existing mines, including Kittila, which is considered to be one of the largest gold deposits in Europe. Agnico Eagle estimates Kittila's reserves to be 5.2 million ounces of gold. It also admitted that the mine has high operating costs of $650 an ounce.
Agnico-Eagle also has some potential for the expansion of its La Ronde mine in Quebec. The company will try to expand production at La Ronde from the current 157,500 ounces projected for 2012 to 250,000 ounces in 2013 and 2014.
Another problem that Agnico-Eagle faces is that its Lapa mine in Quebec could close as early as 2015. The mine's estimated life is 2009-2015, and 2015 is less than three years away. The shutdown of the Lapa would cut Agnico's yearly production by about 100,000 ounces a year. Yet it could reduce the company's expenses because production costs at the Lapa are $750 an ounce.
Agnico-Eagle has demonstrated an impressive ability to keep gold production high, but it has not shown that it can contain operating costs. The rising operating costs are an obvious threat to the company's profits. The costs appear to be higher because Agnico-Eagle operates in developed countries with higher labor costs, and it operates a disproportionate number of underground mines, which are more expensive to operate. This puts it at a disadvantage to companies like Freeport-McMoRan (NYSE:FCX) and Newmont Mining (NYSE:NEM), which concentrate their operations in developing countries with lower labor costs.
There is one outside factor that can help Agnico-Eagle overcome its high operating costs: the price of gold. Boyd told Bloomberg that he thinks the price of gold might reach $3,000 an ounce sometime in the next two years. He thinks this will happen because he thinks paper currencies are being debased. Unfortunately, Mr. Boyd did not present any evidence to back up his speculation.
Agnico-Eagle's rising production figures, and not Mr. Boyd's speculation, are what to pay attention to. This company has shown that it can increase production at a time when gold production seems to be falling. That will certainly translate into a higher cash flow for this company.
Disclosure: I have no positions in any stocks mentioned, and no plans to initiate any positions within the next 72 hours.