As indicated in Tuesday's Financial Post, Rogers Communications Inc. (NYSE:RCI) stands to be the big winner when the iPhone finally makes it to Canada on July 11. However, without any monthly pricing plan announcements, what does this mean for Rogers' average revenue per user [ARPU] and capital expenditure?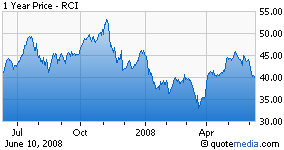 On Tuesday, Genuity Capital Markets telecom analyst Dvai Ghose said in a note that if Rogers Wireless pursues the same monthly plan employed by AT&T Wireless (NYSE:T), the resulting ARPU could be very accretive.

On Monday, AT&T Wireless announced that consumers who sign up for an IPhone will pay $30 per month for unlimited data and email on top of a minimum voice plan of $40 per month, totaling a consumer ARPU stream of $70.00. AT&T's business users are being offered unlimited data and corporate email for US$45 per month implying minimum ARPU of at least $85 per month, depending on voice ARPU.
Mr. Ghose said:
We note that Rogers Wireless' current postpaid ARPU is around C$72.00 implying that iPhone ARPU could turn out to be north of C$100 if Rogers enjoys AT&T's ARPU success with iPhone. 
Furthermore, churn should also be lower for Rogers Wireless if they manage to sign customers for a 3-year contract if they want to purchase an iPhone for the listed prices of C$199 for the 8 GB model and C$299 for the 16 GB model.
But, will Rogers stay the exclusive iPhone carrier in Canada? With a spectrum auction about to yield new carriers as well as incumbents Bell (NYSE:BCE) and TELUS (NYSE:TU) moving to a GSM-overlay, Mr. Ghose said Rogers would lose its GSM exclusivity in Canada over time.