As an owner of Activision Blizzard (NASDAQ:ATVI) stock since early 2012, I have been slightly frustrated that despite the great pipeline for the year, the stock just doesn't seem to be going anywhere (I can only imagine the frustration of those who bought in 2008-2009).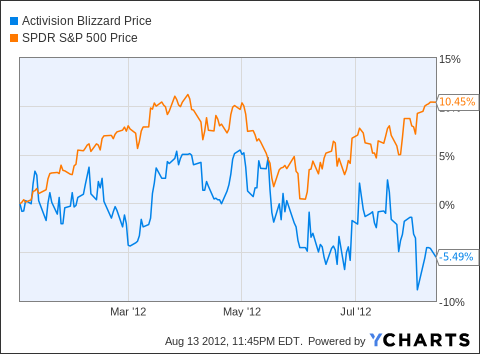 However the major point that was calming me down was the company's use of capital. Activision Blizzard is one of the very few companies in the videogame sector that is sitting on a massive pile of cash ($2,8B at the moment of writing, 23% of the market cap), is actively buying back it's stock and actually pays a dividend.
Between the dividends and the share buybacks, the company has previously sported a free cash flow payout ratio of over 90% for a while. After the recent quarterly results release, a fellow SeekingAlpha reader brought the following tidbit to my attention:
From Q2 Earnings Call:
Dennis Durkin: "We expect a tax rate of 26% and a diluted share count of about 1,15 billion, both of which can be used in each of the remaining quarters."
According to the Q2 financial data released by the company, at the end of 2012 Q2 there were 1,115 billion shares outstanding. If we are to expect there to be 1,15 billion shares in Q3 and Q4, this would imply that not only has the previously announced $1B share buyback program been cancelled, but that the company in fact intends to issue new shares!
It is no secret that the shares have traded in the narrow range of 10-14$ for the past 4 years and one of the main things supporting them has been return of capital in the form of dividends and share buybacks. With the company returning more than 90% of it's free cash flow to shareholders during the past couple of years and the dividend sporting a mere 25% payout ratio, the lion's share of capital returns were indeed in the form of share buybacks.
A fair amount of investors have been holding on to their shares despite the narrow trading range and their failure to break above 14$ for years mainly due to the company's commitment to return capital to shareholders. If it turns out that the share buyback has been put on hold and investors catch on to this, the share price could very well suffer a steep decline.
It's not entirely clear if the share buyback has indeed been silently cancelled or whether the CFO of the company misspoke in a very very big way. I have submitted a question regarding this to Activision Blizzard's IR department on August 4th, but as of August 14th I am still yet to receive any reply.
Disclosure: I am long ATVI.