It has been a year since I wrote my first article on Apple (NASDAQ:AAPL) here at SA wherein I said:
I've often been asked...if you could buy just one stock for your kid and hold it for at least 5 years, what would that stock be and why? Without blinking, I would always say Apple .
My main motivation to write then was solely to debunk the following prevailing myths at that time. They were:
A portfolio should be diversified...
It would be hard to make money on a stock priced at $400...
Steve Jobs is dying; without him...
With a Global recession in place, no one can afford their pricey products...
How can they keep on making cool products?
The $50,000 portfolio that was suggested then is now worth about $90,208 (AAPL had a low of $602.72 at the time of writing) or about an 80% annual rate of return.
"Luck is what happens when preparation meets opportunity" - Seneca
Before any haters insist that I was lucky again with Apple with an 80% return after riding Research in Motion (RIMM) down with at least a 70% return, may I humbly suggest you go through a few of my past articles. The pieces will also give you the logic behind debunking the myths as they came along. Here is a sampling:
Against the backdrop of the Greek debacle and Steve's resignation wherein I wrote, "An Apple never falls far from the tree":
maybe, just maybe, Steve leaving is what it takes for the market to gradually discover that AAPL is indeed NOT a one man show and that Tim is as great of a manager as he is (after all, an AAPL never falls far from the tree!).
Remember when Steve passed away and the "experts" were worried about who was going to replace him? In "Apple: Connecting the dots backwards", I wrote:
Let's face it, Wall Street doesn't care who died; it only cares about making money. As long as Apple keeps on performing, it will be business as usual. That is the UglyTruth.
Remember when bashers were "disappointed" with the 4S launch in the fall of 2011? In "Apple's latest quarter - what miss?", I wrote:
By the end of October, it will be sold in 22 countries. I think Apple will sell more than 30M units easy for the quarter.
It went on to sell 37M units in Q1! I trust I've kept my end of my bargain in keeping you in the game!
So, where do we go from here? Can we get at least another 50% return till next August? Before we delve into the topic, please bear with me as this article will be a bit longer than usual. As my regular readers would know, I like to connect the dots. Here are the "dots" that we know:
1. Apple continues to be a victim of histrionic headlines. Apple recently reported Q3 2012 results that were above the company's estimates but fell short of Analyst and Independent bloggers estimates; shares sold off by at least $30 the day after (it has since recovered). There were no shortage of dramatic headlines such as:
Wednesday, July 25, 9:22 AM "Our sense is that Apple's management spent more time discussing macro pressures than in any other quarter over the past decade" save for Q3 '08, says Goldman's Bill Shope. Shope was also bothered by the magnitude of the iPhone slowdown (affected by inventory shifts) and Apple's gross margin drop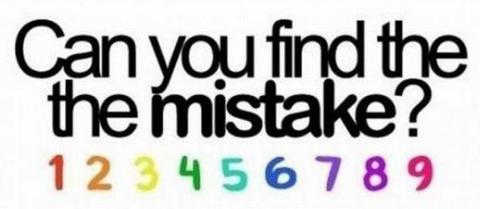 Did you find the mistake? The gong show that resulted after the earnings "miss" from the estimates from the so called "experts" was enough to make me feel like I was teleported back to when I wrote "Apple's latest quarter: What miss?". Was this "miss" really a surprise given that the Elephant was served up during the last conference call?
Katy Huberty - Morgan Stanley, Research Division

As it relates to the June quarter revenue guidance, it implies a sequential downtick that is worse than the guidance message you provided over the last 3 years. So can you just talk about some of the headwinds sequentially you see on the top line in the June quarter relative to March?
However, if you read and re-read the answer Peter Oppenheimer gave in Crayola, the answer was right there staring at us. Why was this missed? There is never a shortage of authors seeking attention. Ever read an article whining about the iPhone having a new dock connector instead of asking why?
2. The "trial of the century" has begun; unless you think there are no subtleties in "rectangles" and that they are all alike (which seems to be Samsungs' contention), it would be difficult to appreciate the ramifications of the outcome.
You can view the top selling cellphones since 1990 here. The best selling Samsung phones that you can see here and here sure looks like the original iPhone doesn't it?
Before you conclude that all rectangles are alike, I'd encourage you to visit this site and read it from the very first post with an open mind.
Is it really "just about rectangles" or does the UI matter? Of course, one can chose to be willfully ignorant to argue that rectangles are alike and ignore that Apple is really suing Samsung for copying its "trade dress".
Who knows what the outcome will be given our wonky judicial system; if Mike Daisy could fool most of us with a lie (and make money along the way) in his "passion to be heard", I wouldn't be surprised if this case ends up with a whimper.
Food for thought: If the patent system was perfect and Henry Ford was as obsessive about intellectual patents as tech companies these days, what would the automobile industry look like today?
Why isn't Samsung stepping up to the plate when it comes to the health concerns of their workers? Why isn't the New York Times picking up this story?
The notion that Apple's overzealous defense of its patents is hindering innovation is preposterous. What did the laptops look like before the MacBook Air? What does this gadget look like? Shameless? Nah, it is all about Money!
I wonder if there is a correlation between those who are offended that we "export" jobs abroad and those who think Apple's stance on their patents is frivolous.
3. The "Rashomon Effect" continues; the stock continues to trade at market multiples...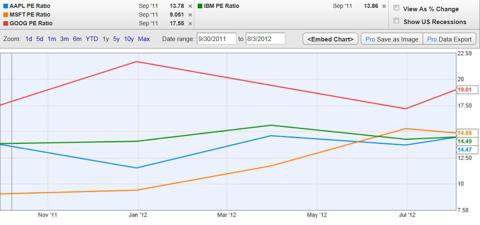 ...despite having a better growth profile.

Who would have thought that Apple , despite having a better growth profile, would continue to be trading at the same boring multiple as IBM (NYSE:IBM)?
4. The "Cult" of Mac continues to be misunderstood. This phenomena continues to baffle haters after more than two decades i.e. they cannot understand why Fanboys are willing to shell out big bucks to buy premium priced products when a comparable one with twice the specs is available.
5. Regardless of the Global economic gong show, Apple continues to perform. I will let the picture tell the story....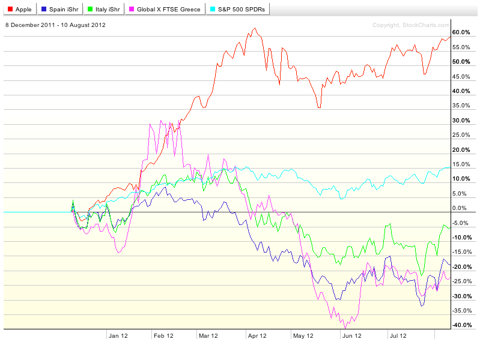 What can we expect from Apple in the next 12 months? I'll temper my adjectives but I'll be surprised if we don't see $880 (barring any 2008 type Global Financial meltdown). Here are my reasons why: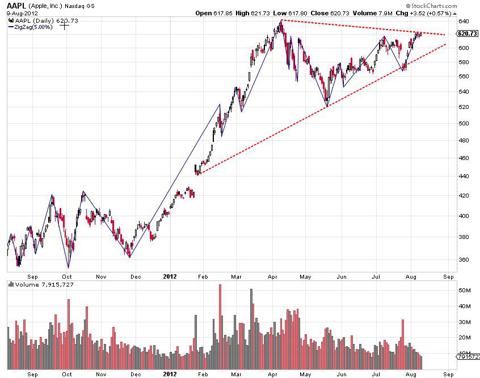 From a "technical" perspective (yes, sometimes, I do read tea leaves), I would expect Apple to trade within the red dashed lines with volatility expansions that may come from macro economic factors. Ceteris Paribus, an Ascending Triangle is in the works. The trading signal we got here is still valid and has been confirmed by another buy signal (to scale in)...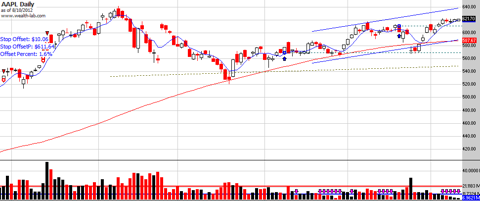 Any dips into the $580's would be a great chance to add more Jan 2014 LEAPs.
From a Fundamental perspective, aside from the "dots" that I've shared in "Apple: Gearing up to go Thermonuclear in 2012?", here are some additional "dots" that may transpire...
Ever wonder why the new iPad with Retina display was plainly just marketed as the "new iPad"? I know, much ado has been made that Apple was truly losing its "magic" when this years' iPad was simply named "the new iPad". Humor me for a moment...what if Apple did this because they knew that an iPad mini (as I've written here) was inevitable?
"An 8GB $299 mini iPad wouldn't be a surprise, it follows the strategy of "containment" - controlling the opponents' advance while expanding itself."
If true, there will be the "iPad", the "iPad mini", and the "iPad Nano" (aka iPod Touch - thanks rubicon59). Conceivably, Apple will now be able to cover the price points from $199 to $899. Here was the price chart I posted:

While Asia (China in particular) represents Apple's biggest opportunity, it also presents unique challenges - corruption and shameless disregard for intellectual property (unless it is theirs). Asian countries, historically speaking, due to its advantages in labor costs (and our appetite for goods with lower prices) have always excelled in producing quality "knock offs". Should Samsung win its court battle with Apple, will it pave the way for the likes of Huawei, Meizu, or OPPO to copy Samsungs' strategy in China?
Apple made an error not to expect Samsung, who is their strategic partner, to betray them. Samsung, thinking that they supplied too much key materials to Apple, didn't think Apple would sue. Apple better be used to dysfunctional "partnerships" like this as success will almost always attract parasites err...droids. Imagine this...a jury made up of US citizens finding a foreign company technically not guilty of trade dress and IP infringement. Remember the $60M Apple paid to Proview; what was that for?
Will iPhone 5 deliver on its expectations? What will September 12, 2012 bring? Assuming it does deliver the iPhone 5 and/or the iPad mini, history will suggest that the naysayers will be unimpressed again. This time, they are complaining about a smaller "dock" that isn't compatible with all the iDevices that we now own. Pretty myopic thinking don't you think?
All I care about is looking for Apple to announce that its sales have surpassed the previous generation by "x" factor. Will the iPhone 5 double the 1 million pre-order units that the "lame" 4S generated (it was 600,000 units for the iPhone 4) in the first 24 hours?
I'm in love with Marissa Mayer! She is blonde, slim, smart, ex-Google bigwig, very pregnant, and is the newly minted CEO of Yahoo (NASDAQ:YHOO)! We can speculate all we want on why she left Google (NASDAQ:GOOG); however, "hell hath no fury like a woman scorned". Yahoo's contents are world class; I wouldn't be surprised if it finds its way intertwined with Siri and Safari.
In conclusion, I expect Apple to trade sideways for a few months and for the mainstream pundits to worry about a softer Q4 2012 results. If we are lucky, we may get a few decent retracement before December that will provide us an opportunity to pick up of Jan 2014 LEAPs of your choice.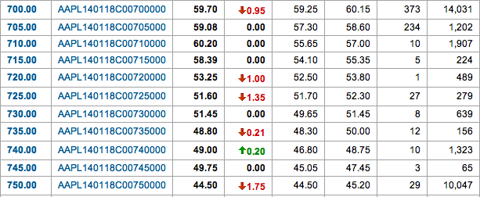 I'd suggest the following trade for our $90,208 portfolio...
Keep the Jan 325C 2013 LEAP (ACB = $99.60).
Sell 52 shares of Apple at $602.72 = $31,341 cash.
Buy 2 Jan 700C 2014 LEAPS @60.15 = $12,030
We will put the remaining $19,311 cash to work in due time.
About a year ago, I wrote...
"In the end, you can only connect the dots backwards. My "gut" tells me that Apple is about to reinvent our world again starting with Siri.
Ever spent an extended time with a MacBook Pro with Retina Display? My gut tells me that the "pixels" in our world is about to take a quantum leap. More doors just got opened...
Till then, enjoy what is left with the Summer.
Disclosure: I am long AAPL.