An article by Stone Fox Capital about Clean Energy Fuels Corp (NASDAQ:CLNE) stimulated some great conversation about the small natural gas company. There were many good points to both the pros and cons of investing in the up-and-coming fuel supplier. As it is one of the largest holdings in my portfolio, I decided to re-evaluate the investment. After debating in the comments section of Stone Fox Capital's article and a close reading of the latest earnings call, I continue to believe Clean Energy is a worthy holding.
Natural Gas
Compressed natural gas (CNG), liquefied natural gas (NYSEMKT:LNG), and the engines they burn in are cleaner for the environment than gasoline or diesel. Hydraulic fracking is the method used to draw the gas out of the ground. This method has been subject to environmental concerns, blamed to be harmful to groundwater. However, the concerns are just that; concerns. There is no shortage of fracking these days. With the rise in nat gas prices and more efficient drilling techniques, the shale formations in which the gas is found have been on a roll.
The United States consumes more than 25% of the world's oil…no wonder we are in mind-boggling debt. Ever since I learned about natural gas, I've wondered why the in the heck we aren't utilizing it. It could reduce our debt, increase our GDP, and reduce our dependency on foreign countries. We claim to be the #1 country, yet our every-day lives depend on the Middle East's supply of oil. Why are we not taking advantage of the huge reserves of natural gas believed to be right under our feet? Democrats and republicans are constantly debating on taxes, government spending, and health care to try and fix our debt crisis when a simple solution is right in front of them. I'm not suggesting that using natural gas is some kind of panacea, but it does make sense for the economy.
Clean Energy's Advantage
As outlined in Stone Fox Capital's article, Clean Energy's selling point is America's Natural Gas Highway. The goal is to be able to provide truckers a nat gas supply to get them from coast to coast without gasoline or diesel. A novel idea, yes; but easier said than done. The company has been spending like crazy to build this highway, so the profits are yet to be seen.
A great point brought up in the comments was the competition that Clean Energy faces. It's $1.2 billion market cap pales in comparison to the likes of Exxon Mobil's (NYSE:XOM) $406.8 billion and Chevron's (NYSE:CVX) $222.3 billion market caps. The argument I made is that, while these companies are behemoths compared to CLNE, they have not made much of a splash in the nat gas markets. CLNE has a jump on them, with many stations already built in partnership with Pilot-Flying J Travel Centers. So what's stopping the big blue chips from coming in and taking over? Nothing. However, I believe their entrance into the market could be welcome by CLNE. An easy way to for them to do that could be to simply buy Clean Energy. These companies could easily reach into their wallets and scoop up the company. Another reason they could be welcomed, as Stone Fox Capital so wisely pointed out, is that Clean Energy cannot expect to supply the entire nation with natural gas themselves. They simply do not have the money for it. If an Exxon, Shell, or Chevron decided to hop on board the nat gas train, it would just elevate the market. Do any of these companies supply every American with gasoline? No. Most of us fill up our tanks at all of them. That's not to say they do not compete with each other, but that we consume so much oil that all of them can be very profitable in the same market.
The Stock - What we're really here for
Politics aside, CLNE is a volatile stock with a relatively small market capitalization. It comes with a 2.1 beta and swings that would scare plenty of investors away. I am in this one for the long haul though, so I don't focus too much on the daily moves. From a technical standpoint, CLNE is in somewhat of a double bottom formation (I usually like to see the first bottom lower than the second, but oh well). It is also trading below its 40-day moving average.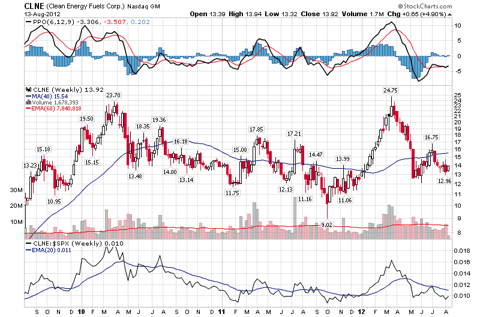 Conclusion
I continue to believe in the Clean Energy story. While CLNE does pose substantial risk, its potential seems to be worth it. As I don't expect them to be an over-night sensation, I am willing to hold on through the swings and volatility. They have the strong support of T. Boone Pickens, who is a powerful man to have on your side. I think natural gas is a key component to our country's well-being, and CLNE seems to be headed down the right path to profit from it.
Disclosure: I am long CLNE.