While Activision (NASDAQ:ATVI) is the leader in the video game market, it is not necessarily an admirable position. In fact, I would argue that this leaves room for additional downside risk in the stock relative to its peers over the next one to two years.
The Activision Advantage
The traditional video game industry has underperformed the market drastically due to concerns about its sustainability in the face of social, mobile, and tablet gaming.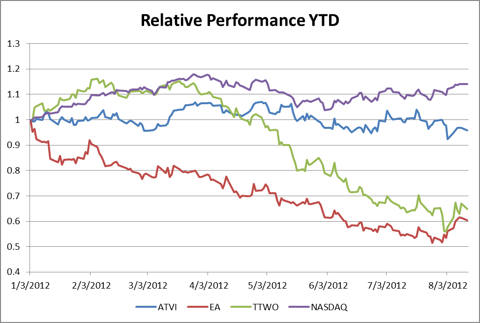 Activision, however, has outperformed its closest peers -- Electronic Arts (NASDAQ:EA) and Take Two Interactive (NASDAQ:TTWO) -- by upwards of 30% YTD. This performance buffer is largely a product of its consistent development of genre-defining franchises ("Call of Duty," "World of Warcraft," and "Skylanders") and the resulting best-in-class margins:
| | |
| --- | --- |
| | Operating Margins (FY 2011) |
| Activision | 30.3% |
| Electronic Arts | 10.3% |
| Take-Two Interactive | -6.0% |
Source: Non-GAAP information in company press releases.
If Activision fails to sustain these margins, we would therefore expect mean reversion in the stock as the performance gap between the company and its peers closes. In other words, the trend in Activision's margins can be seen as a key driver of its stock price.
Key Margin Drivers
Looking out at the next one to two years, maintaining the status quo seems improbable due to the polarized nature of the market's concerns about the future survival of the industry. Thus, Activision is likely to experience either margin compression or expansion depending on whether investor concerns are validated or rebuffed.
If it turns out that the video game industry continues to grow, then all companies in the industry are going to experience significant rallies as revenues grow and margins expand. If the industry is indeed maturing and declining, focus will shift to the strength of individual franchises as a shrinking base of gamers spends money on fewer titles. In this environment, Activision may see margin erosion due to the performance of its franchises:
"Call of Duty" sales have been flat. The "Elite" digital service is still hovering around 2.3 million paying users which, at just $50 per year, is unlikely to achieve the scale necessary to meaningfully lift margins. Additionally, the new "Bungie" game isn't slated for release until late next year, leaving four to five quarters of a deteriorating franchise.
"World of Warcraft" is in a much more precarious situation. While management attributed the steep decline of subscribers from 10.2 million to 9.1 million to cannibalization from "Diablo 3," this fails to explain why the majority of losses came from Asia. The bottom line is that "World of Warcraft" is not being properly recognized as a declining franchise. Management has done this before; "Guitar Hero" was canceled in Q4 2010, cutting short a release from just a couple months prior and scrapping another game in the pipeline slated for 2011. In my opinion, this suggests that management is either unwilling to acknowledge that a franchise is maturing or prone to hide it from investors. Either possibility is frightening. I would not be surprised if "World of Warcraft" declines in a fashion similar to "Guitar Hero." The likely deterioration of this key margin-generating franchise will be a critical blow to Activision's profitability.
"Skylanders" is Activision's one bright spot. With above-average operating margins close to 40% (Goldman Sachs' research estimate), the growth of this franchise seeks to replenish any declines in "World of Warcraft." However, "Skylanders" simply is not large or profitable enough to replace "World of Warcraft." With projected revenues of $500 million and margins below "World of Warcraft's" 50%-plus (Goldman Sachs' research estimate), Activision is unlikely to maintain its margins, much less expand them as expected by the Street.
More than anything, "World of Warcraft" is a scale business. Losing an incremental subscriber is more damaging to profitability than losing a customer of "Skylanders." This effectively means that Activision is leveraged to the performance of "World of Warcraft," which is concerning due to its roughly 30% share of non-GAAP revenues and even higher proportion of operating income.
Recommended Action
Since consistently increasing margins and impressive earnings over the last three years have failed to move the stock up, I recommend shorting Activision if it comes close to its resistance level of $13. I don't see any upside risk until there is much more clarity on the demand for the next generation of HD consoles, and steeply declining "World of Warcraft" subscribers in the meantime would be materially negative. In other words, this is a company whose best-in-class margins provide significant room for a downside move while secular headwinds prevent a meaningful upside rally.
Disclosure: I have no positions in any stocks mentioned, and no plans to initiate any positions within the next 72 hours.