Steelcase (NYSE:SCS) has certainly been delivering the goods back to its shareholders. In fact, its owners received a combination of $482 million in Fiscal 2008 through a combination of cash dividends of $317 million ($0.60 in regular dividends and a $1.75 special payout) as well as share repurchases of $165 million (matching nearly 30% of its current market cap of $1.65 billion) .
Although SCS has been around for almost a century, it only recently became a public company in 1998, with its IPO priced at $40. These past ten years, the shares have been in permanent nosedive mode, losing almost 75% of their value, dropping as low as $9 before rallying modestly to their current price tag of $12.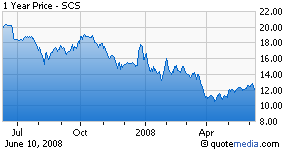 The shares appear cheap with a forward multiple of 13 times '09 estimates of $0.95. The dividend yield is a juicy 4.7%. Management has deemed the dividend secure, having just raised the payout 33% from $0.45 to $0.60. SCS has indicated that it believes its shares are a compelling value at this juncture, having embarked an aggressive stock buyback plan totaling $515 million to take advantage of this fact ($272 million remains for further repurchases). Insiders are validating this as outside director Peter Welch recently purchased 50,000 shares.
The balance sheet is in good shape. The company has $264 million in cash and only $258 million in debt, which is minimal debt for a company that generates sales of $3.4 billion per annum. Steelcase owns 16 manufacturing properties (8 US and 8 foreign) and it's probable that those properties have incurred substantial appreciation resulting in a market value higher than what is currently recorded on the books. Book value is $6.57.
Steelcase has been attempting to get lean and mean. The company has taken steps to reduce costs such as implementing employment and capacity reductions. These actions are starting to gain traction as SCS's 4th Quarter 2008 "cost of goods sold" decreased from 68.7% to 67% on a year to year basis. Steelcase has already reaped bottom line benefits from these cost cutting initiatives, as a 10% increase in 2008 sales translated into a 25% increase in earnings from $107 million to $133 million.
There are approximately 135 million shares outstanding. Insiders substantially hold all of the 56 million Class "B" shares which contain preferential voting rights while the remaining class "A" shares have substantial institutional ownership. Fifth Third Bancorp is the single largest shareholder with nearly 44 million shares.
First quarter earnings are due out at the end of the month and analysts are expecting earnings of .22 on revenues of $812 million. I anticipate we could see a nice upside surprise, as SCS management could be offering guidance that "under promises" so that they can "over deliver" on the actual results – exactly the way the game is supposed to be played.
Both Matrix Research and BB&T Capital Markets provide research coverage on SCS and have forecasted a somewhat optimistic one year price target of $21.50. The chances of that much appreciation is minimal, however a rally to the $15 vicinity seems more likely than not. For those value players that don't mind being paid a nice fat dividend while they wait for the goods to be delivered, this might be just the spot to park some money.
Disclosure: long SCS