On Friday, I had the pleasure of speaking with Judy Meehan, Vice President of Investor Relations at retailer American Eagle (NYSE:AEO). The company released quarterly earnings about two weeks ago, and reported May sales figures last Thursday, so this was a great chance to get some lingering questions answered and better understand what's behind the numbers of this company I closely track.
One of my main sources of concern was the same-store comps number, which looks pretty bad at -9%. Sales overall were modestly higher though, and with the great growth seen by the online business (+29%) in the prior quarter, I felt that there had to be some transition from in-store sales to online sales that was responsible for the decline. Judy confirmed that this exists to some extent, but that the nature of online sales makes it difficult to track exactly and pin an amount on. With about $240 million in online sales against roughly $3 billion in total sales over the last four quarters, the direct business is becoming a larger contributor to the company's sales profile. Judy did add that online sales provide much better operating leverage and margins, which are undoubtedly a positive given the rapid growth of the segment.
Another area I've been keying on is the breakdown between the men's and women's sales figures; men's has been a source of strength for the company and it looks like their merchandising efforts there are paying off. On the other hand, women's sales have been weak, led by declines across several categories of "bottoms."
At first, I suggested that this might be somewhat due to classification, as shifting in-store displays between traditional American Eagle stores and specialty stand-alone aerie shops could be partially responsible. In a really candid display, Judy said that aerie isn't a material enough segment to do that to overall numbers, so while the aerie display square footage is pared back significantly in AE stores when a standalone aerie store opens nearby (i.e. from 1,000 sq. ft. to 150 sq. ft.), the replacement displays usually do just as well and don't result in marginal sales declines. The poor women's results, Judy said, are simply the result of being slightly off on the fashion cycle and too aggressive in ordering. This last quarter required markdowns to clear out inventories and position the company more conservatively, and those were done more aggressively on the women's side.
In terms of geographic weakness, I was pressing to see if the areas harder hit by home sale price declines (i.e. California, Florida, etc.) were showing any follow-through in terms of reduced teen spending, as I would consider that a particularly ominous sign about the trickle-down effects of reduced (paper) wealth. Instead, Judy singled out the Northeast in particular for weakness, with school break times being pushed back likely translating to less store traffic, as well as some non-summer weather that hurt sales of shorts, in particular – echoing J. Crew's (JCG) CEO Mickey Drexler, who expressed similar sentiments during his company's earnings conference call.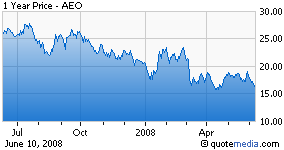 Judy did, however, point back and say that only so much blame can be given to the macro environment, and that American Eagle knows they need to change things up to improve execution. Along those lines, Judy pointed to the new floor sets that will be hitting stores the second week of July, but cautioned that until then there will be no dramatic merchandising changes at the company, so June sales are likely to mirror recent results.
The last area I wanted to hit was the issues surrounding the company's auction-rate securities [ARS], of which the company has approximately $350 million vested. The ARS market has turned illiquid of late, forcing American Eagle and others to reclassify those assets as long-term investments. American Eagle also took a $5 million temporary charge (did not affect net income) as a result of ARS liquidity issues. While the earnings press release from the end of May notes that a small portion of the securities were called away, Judy said that a definite lack of liquidity remains in the market, and as of now there is no suggestion that would change in the near future. One noteworthy change in cash flow expenditures year-over-year was the drop in share repurchases.
I asked Judy if this was a function of the large amount of cash tied up in the ARS portfolio or whether the company would return to being an active repurchaser of its own stock, and she said that after an extremely aggressive share repurchasing program last year (>$400 million stock repurchased), the company was going to proceed slowly with further buying. Still, the Board of Directors stands behind the share repurchasing program, and sees it as a way to effectively return cash to shareholders.
All in all, I take this all to mean that we shouldn't be expecting large-scale buybacks from American Eagle until the ARS market begins to loosen. With an ARS portfolio equal to over 10% of the company's market cap and a beaten down stock price, I believe unlocking the liquidity puzzle of ARSs will do a great deal toward boosting American Eagle stock.
Disclosure: I own shares of AEO.