In retrospect, the recent announcement by National Oilwell Varco (NYSE:NOV) that it will acquire Robbins & Myers (NYSE:RBN) really shouldn't come as much of a surprise. The real surprise, rather, might be that the deal didn't come sooner than it did. Maybe NOV decided it would have been poor form to have moved earlier given that R&M only completed its transformational acquisition of T3 Energy Services a little more than 18 months ago.
Regardless of the factors behind the deal's timing, NOV picks up in R&M a number of products and services that fit well with its already expansive set of offerings. But it's R&M's blowout preventers (BOPs) and related pressure control products and services, along its artificial-lift/tubulars lineup, that seem to us to be at the heart of the deal.
Help in BOPs
Despite Cameron Int'l (NYSE:CAM) receiving a public-relations black eye from the role of its equipment in the Gulf of Mexico Macondo incident, the company's BOPs continue to be the ratings leader in EnergyPoint's customer satisfaction surveys. Its ratings certainly outpace NOV's in the category.
With customer scores that are much more competitive, R&M could provide NOV a boost in both customer perception and market share when it comes to BOPs. In fact, to the extent NOV's management can bring itself to do so, it might be smart to allow R&M's management team to call the shots across its entire pressure control unit. If so, we could look back on the acquisition as the marking point in NOV's emergence as a more substantive challenger to king-of-the-hill Cameron.
We also note that the R&M deal beefs up NOV's BOP offerings and capabilities at a time when Cameron Int'l is taking aim at NOV's stranglehold on the integrated equipment market. Cameron recently completed acquisitions of LeTourneau Technologies and TTS Groups' energy unit, greatly expanding its rig and rig-related equipment offerings.
Leveraging the Organization
Regarding R&M's other product lines, we suspect most will be impassively merged into NOV's existing units. A primary intent will be to capture production efficiencies. Pushing product through NOV's vast distribution network, which now (unbelievably) includes both Wilson Supply and CE Franklin as a result of recent acquisitions, will be an objective as well.
In short, the deal does seem to make strategic sense. The real question is whether the marketplace a year from now will view it as a lasting upgrade to NOV's product line and organization. If not, it's just another market-share grab that offers little in the way of true romance.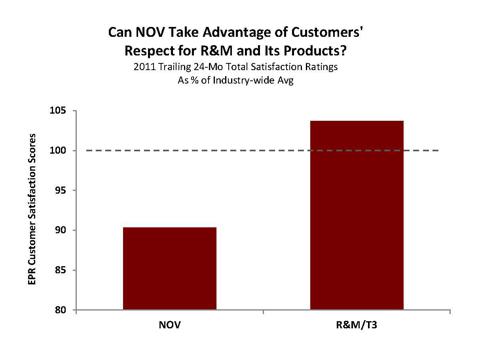 Disclosure: I have no positions in any stocks mentioned, and no plans to initiate any positions within the next 72 hours.