Yamana Gold Inc. (NYSE:AUY) offers a potential buying opportunity as a result of its increasing mine production, development of new mines, sustainable dividend yield, and inexpensive valuations. Although recent quarterly results were a disappointment considering the company's previous strong operating performance, we expect AUY to rebound and be a source of capital appreciation for its investors, in addition to being a dividend haven. Recently, the company announced an 18% quarter-over-quarter increase in its dividends, which is a healthy sign. AUY is currently trading at approximately $15, while its NAV-based target price is $21.
Company Description:
Yamana Gold Inc. is a gold producer, but the company also engages in mining of copper and other precious metals like silver. It operates in five major geographies: Brazil, Chile, Argentina, Mexico, and Canada.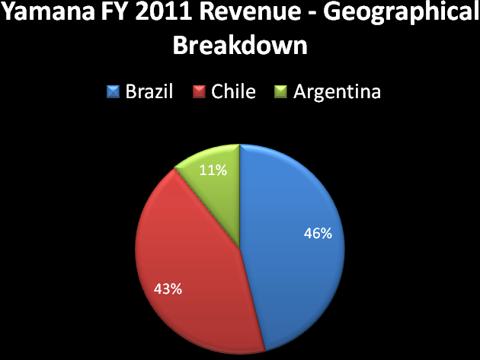 Latest Earnings Review:
AUY announced its 2Q2012 results last Wednesday, according to which its profit fell to 6c per share from 26c per share a year ago. Excluding one-off special items, earnings dropped by 28%, from 25c to 18c, as a result of lower metal prices and declining copper concentrate sales. Revenue also dropped by 7% to almost $536 million. Both EPS and revenues missed analyst consensus estimates of 21c per share and $553 million respectively.
Although gold production rose by 4% and gold sales by 2% due to an increase in its realized price of 6%, cash costs rose by almost 19%, to $536 per gold-equivalent ounce (GEO), from $451 per GEO last year, as a result of operational problems at the Minera Florida project in Chile and the Jacobina mine in Brazil.
The industry is suffering from cost inflation, especially with regards to labor and fuel, which has increased exploration expenses. Consequently, operating margin has squeezed from 44.4% to 26.7%.
Bullish Factors:
New Mines and Increased Production
Yamana is expecting its C1 Santa Cruz and Ernesto/Pau-a-Pique mines in Brazil to start by 2012 end. They are expected to start their commercial production by mid-2013. Another Brazilian mine, Pilar, is scheduled to start up in 2013.
The company has also announced its production guidance range to be 1.2-1.3 million gold equivalent ounces, a year-over-year increase of 13%. The bulk of this increase is attributable to its Mercedes mine in Mexico, as its production increased following the completion of its commissioning.
Sustainable Dividend Yield
Although AUY's dividend yield is not the highest among its competitors, it has the ability to sustain that yield historically. Consequently, it is a valuable stock for those investors who seek safe dividends. In addition, the company has recently announced an 18% dividend increase in Q3 relative to Q2 (or a 117% increase relative to 3Q2011), which is a healthy sign for dividend-seeking investors.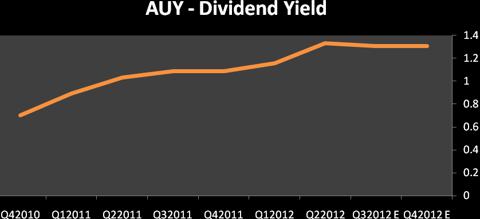 Bearish Factors:
Dip in Free Cash Flow Yield
Historically, AUY's free cash flow yields were high, but the dip experienced in recent quarters is primarily attributable to AUY's focus on expanding its mineral resource base through strategic acquisitions and exploration of new mines, where expenses have increased as a result of cost inflation. It is scheduled to buy Extorre Gold Mines Limited in a cash-and-stock deal (the transaction is expected to close by August 21). AUY's CEO Peter Marrone said,
It is a relatively small transaction in that it represents only 3 percent of Yamana's market capitalization, yet it could ultimately deliver more than 10 percent of our total global equivalent production.

Margins Declined this Quarter
Yamana's margins saw a steep decline this quarter, primarily as a result of those factors described in its latest earnings review. However, this decline is not expected to continue in the upcoming quarters.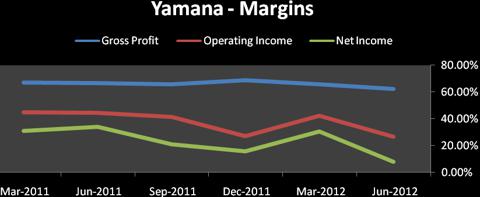 Market Performance And Valuation:
While the share price of all of its peers has declined on a YTD basis, AUY is an aberration, as its stock has climbed by more than 4% during the same time period. This is primarily due to its lucrative growth potentials, as a result of expected increase in production due to acquisitions and start-up of commercial production of its new mines.

Source: Google Finance
| | | | | |
| --- | --- | --- | --- | --- |
| | AUY | (NYSE:ABX) | (NYSE:NEM) | (NYSE:GG) |
| Forward P/E (1 year) | 11.05 | 6.89 | 9.65 | 13.39 |
| P/OCFa (FY2012) | 14.1x | 11.9x | 21.9x | 21.0x |
| EV/EBITDA | 10.4x | 6.2x | 11.7x | 10.7x |
| Dividend Yield (%) | 1.5% | 2.3% | 3% | 1.5% |
| NAV based TP | $21 | $35 | $56 | $46 |
Source: Yahoo, Finance, Credit Suisse
On a forward P/E basis, AUY is not the cheapest among its peers, but it's still not trading at a very high multiple (11x). Credit Suisse (NYSE:CS) analysts have now started to use P/OCFa (price per adjusted operating cash flow), in addition to the traditional NAV-based valuation, for the valuation of gold equities. In P/OCFa, operating cash flows are adjusted for "non-growth related or sustaining CAPEX" and reflect near-term returns for short-term investors, as against NAV valuation, whose primary focus is on long-term growth potentials. AUY seems a cheap buy as its P/OCFa of 14x lags behind all its peers except ABX. AUY also offers a reasonable dividend yield of 1.5%, although it is not the best of the lot.
Disclosure: I have no positions in any stocks mentioned, and no plans to initiate any positions within the next 72 hours.