Enterprise Products Partners (NYSE:EPD) is taking advantage of the dynamics in the oil and gas industry in order to build the world's largest propane dehydrogenation unit. The new unit is expected to produce 1.65 billion pounds of polymer grade propylene (PGP) per year. PGP is a petrochemical feedstock used in plastics manufacturing. High prices for oil combined with low prices for natural gas have created an opportunity in the propylene market. Enterprise Products Partners new propane dehydrogenation unit is supported by long-term fee-based contracts with 75% of capacity currently subscribed and is expected to begin commercial operation in the third quarter of 2015. (Investor Presentation July 18, 2012 (pdf))
A large quantity of propylene is produced by oil refiners as a byproduct, which oil refiners can choose to sell if the price for propylene is attractive, or refine back into gasoline, if the price is unattractive. The next largest source of propylene is a byproduct of cracking natural gas, but crackers are transitioning to lighter natural gas liquids due to the abundance of natural gas derived from shale, which in turn produces less propylene when processed. Due to high oil prices and less propylene being generated from natural gas, the production of propylene has decreased which has resulted in tight supply, and an opportunity, which Enterprise Products Partners plans to take advantage.
Enterprise Products Partners is the largest publicly traded energy partnership in the U.S. and a leading provider of energy service in North America. In the propylene market, Enterprise Products Partners will be competing with existing manufacturer PetroLogistics (NYSE:PDH) and a number of new entrants jumping into the market such as Dow Chemical (NYSE:DOW), LyondellBasell (NYSE:LYB), Formosa Plastics, as well as Williams Companies (NYSE:WMB), which is in the process of considering an entry into the market.
As long as the price of oil remains high and the price of natural gas remains low, the market for propylene processed via propane dehydrogenation looks like a winner. However, a decrease in oil prices combined with a rise in natural gas prices could create a bump in the road for companies jumping into the propylene market segment.
Enterprise Products Partners stock price has gone ballistic over the last year as shown below: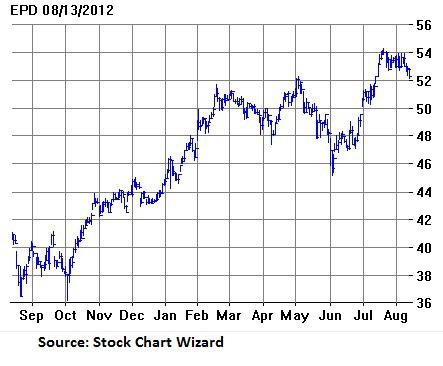 The company's stock price recently peaked at $54 and has pulled back to around $52.
Enterprise Products Partners has a very attractive Price-to-Sales ratio of 0.9, which puts it into the value category. The company's Price-to-Earnings ratio of 19 is comparable to its competitors, but nothing to write home about. Enterprise Products Partners' dividend yield is very attractive at 4.9%.
With the company's foray into the propylene market, the outlook for Enterprise Products Partners is bullish, but with the company's prospects tied to the price of oil and natural gas, a protective option strategy might be considered, as it takes off some of the edge associated with oil and gas price movements. A protective option strategy to consider is the married put, as it provides unlimited upside and limited downside. The married put may be entered by purchasing a put option against the stock. Typically, married put positions are chosen further out-in-time in order to reduce the "insurance" cost per day.
Using PowerOptions, a variety of married put positions are available for January and March of 2013 as shown below: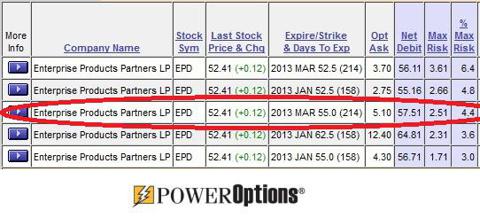 The maximum potential losses shown in the table above do not take into account dividend payments. For example, when considering dividend payments, the maximum loss for the third position in the table is reduced from 4.4% to 2.3%. So, even if the stock price drops to zero, the maximum loss which can be sustained is 2.3%. Yet, the position continues to take advantage of an increase in the price of the stock. All of the positions shown in the table are attractive, and could be considered, however the third position is selected as it has an attractive timeframe and maximum potential loss. The third married put position may be entered by purchasing a 2013 Mar 55 put option for $5.10.
Married Put Trade
EPD stock (existing or purchased)
Buy 2013 EPD Mar 55 Put at $5.10
A profit/loss graph for one contract of the married put position, including dividend payments, is shown below: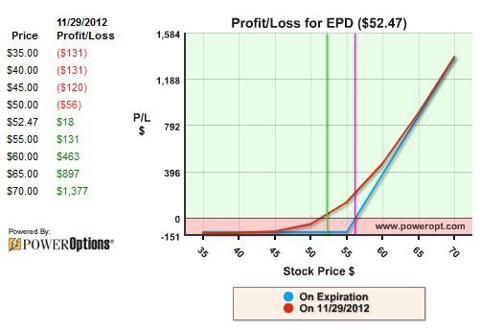 If the price of the stock increases to above the $55 strike price of the put option, then income methods can be applied for receiving income and reducing risk as described by RadioActiveTrading.com.
Disclosure: I have no positions in any stocks mentioned, and no plans to initiate any positions within the next 72 hours.