Fellow SA member Seductive Dividend Stocks (SDS) recently emailed me a link to a 2012 research paper on Rebalancing and the Value Effect (Chaves, D. and Arnott, R., Research Associates, LLC). The authors analyzed how value and growth portfolios achieved their performance, and the impact of rebalancing.
Not surprisingly, value portfolios tended to have higher dividend income, and the average growth stock had faster dividend growth than the average value stock. However, a surprising result was that the value portfolios experienced higher growth in dividends than the growth portfolios. This was found to be a consequence of the rebalancing rules for growth and value portfolios. The graph below illustrates long-term total returns for the market, growth, and value portfolios, and the income component of their respective returns.
(click images to enlarge)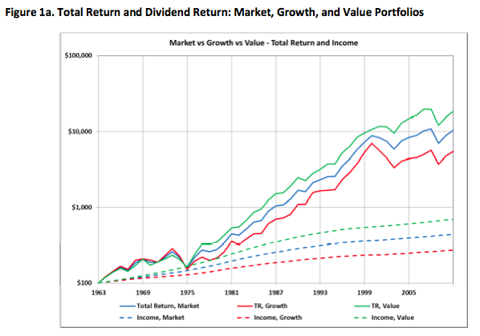 For value portfolios, rebalancing replaced lower-yielding stocks with higher-yielding replacements, leading to improved dividend income. For growth portfolios, the opposite occurred. Higher-yielding growth stocks were being replaced with lower-yielding (but faster growing) stocks, reducing the growth rate for dividend income from the portfolio. The table below shows the difference in pre/post-rebalance yields for the portfolios, and the long-term total returns by component. Rebalancing benefited the value portfolio in both cases, while negatively impacting the growth portfolio.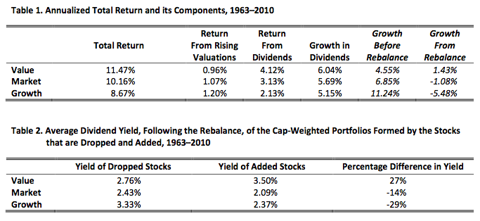 Here is a visual representation of the total return for the value portfolio and its components. Though small relative to dividend growth and dividend income, rebalancing does have a positive impact on total return, on par with the return achieved from valuation levels.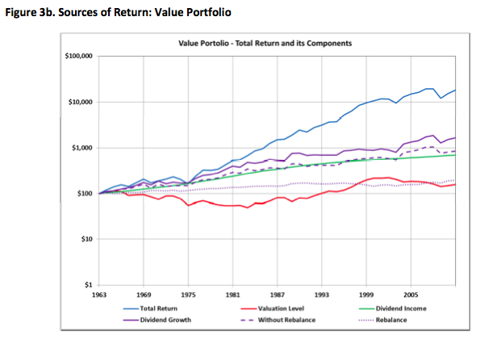 Since I recently rebalanced my High-Yield, Low-Payout Dividend Growth model (DG-HYLP), which is a value-focused portfolio based on its criteria, I was curious to see how the rebalance has impacted results after five weeks. Luckily, I had kept the pre-rebalance virtual portfolio intact, so I could do a direct comparison.
Pre- vs. Post-Rebalance Results for DG-HYLP
The rebalance occurred on July 3, 2012, when the portfolio was at $326,069. As of August 10, 2012, the original DG-HYLP was at $332,315 (+1.9%) and the rebalanced DG-HYLP model was at $336,877 (+3.3%), for a difference of $4,562 (+1.4%) in favor of the rebalanced portfolio. Granted, it has only been five weeks, but this is in line with the research. The next step was to identify the sources of this increase. I have chosen to do this through general categories, versus a stock-by-stock review.
Reallocation of Funds
The rebalance only replaced 11 of 30 stocks. The other 19 were the same in both portfolios, however after six months, some had appreciated handsomely while others lagged. The rebalance reset each stock to have the same amount of invested dollars, locking in gains from the winners and applying them to the stocks that had not appreciated as much. Because of the High-Yield, Low-Payout criteria, the impact reflects that of the research study. The yields on stocks that had appreciated went down relative to the non-appreciators and their P/Es went up. Shifting funds to the non-appreciator group had a net effect of raising the portfolio yield and investing more in lower P/E stocks, which theoretically are better values, assuming earnings have not fallen. Note that a change in earnings would have also impacted the payout ratio, but these stocks still qualified as low or medium payout.
The table below summarizes the results for the 19 stocks in this group. I compared whether the stock received a higher or lower allocation of funds, and the performance of those stocks since the rebalance. Interestingly, the rebalance only had a negative portfolio impact for three of the 19 stocks (16%), and for two of those, the result was still positive, just not as positive as it could have been. Overall, the rebalance helped to both raise the yield of the portfolio and resulted in a higher return.
| | | |
| --- | --- | --- |
| As of Aug 11, 2012 | Positive Return | Negative Return |
| Higher Allocation | 10 - these stocks received more funds and have delivered a positive return, increasing the impact of the rebalance. (+7% on avg) | 2 - Safeway (NYSE:SWY) and Southside Bancshares (NASDAQ:SBSI) received more funds, but have since declined (-11% and -6.4% respectively); negative impact. |
| Reduced Allocation | 1 - Darden (NYSE:DRI) had appreciated and was trimmed, but has continued to rise (+4.1%) | 6 - these stocks had appreciated, so they were trimmed, and have since declined, so losses were reduced. (-1.5% on avg) |
The Replacement Stocks
Next, I examined the 11 stocks that were removed from the original portfolio and replaced. Seven of these stocks had positive gains through the first six months, causing their yields to fall enough that another stock from the screened list had a higher yield and overall score to take the spot in the portfolio. A few had slight earnings declines that shifted them to the medium-medium (payout/yield) group, which disqualified them from the portfolio. There were also some slight sector weighting changes that caused a few stocks to get bumped.
The other four stocks had negative returns for the first six months. Tower Group (NASDAQ:TWGP) was overdue for the dividend raise. Eaton Vance (NYSE:EV) was overtaken by other financials with higher yields and lower payout ratios. Travelers (NYSE:TRV) and Owens & Minor (NYSE:OMI) shifted to the medium-yield/medium-payout group and were removed. Note that this portfolio has a conservative bar for "low payout" at 45%. The table below summarizes the changes.
Removed Stocks

Replacement Stocks

Walmart (NYSE:WMT)

Travelers

Eaton Vance

Tower Group

Owens & Minor

Novartis (NYSE:NVS)

Illinois Toolworks (NYSE:ITW)

Harris Corp (NYSE:HRS)

Greif Inc (NYSE:GEF)

China Mobile (NYSE:CHL)

UGI Corp (NYSE:UGI)

Ameriprise (NYSE:AMP)

Coca Cola Enterprises (NYSE:CCE)

Molex Corp (NASDAQ:MOLX)

Nippon Telegraph &Telephone (NYSE:NTT)

Occidental Petroleum (NYSE:OXY)

PartnerRe Ltd (NYSE:PRE)

Rogers Communications (NYSE:RCI)

A Schulman Inc (NASDAQ:SHLM)

Teva Pharma (NASDAQ:TEVA)

Target (NYSE:TGT)

Tompkins Financial (NYSEMKT:TMP)
Since July 3, 2012, the average total return for each Removed stock is +1.1%. The average Replacement stock has increased +4.7%. Again, the rebalance had a positive impact on the portfolio by adding replacements that were at better valuations and had higher yields. The portfolio's yield increased from 3.57% to 3.73%, a 4.5% increase in the income stream.
Application for Income Investors
Some investors focused more on income may be reluctant to perform semi-annual or annual rebalances to their account. If their income stream is solid and growing, there may be less reason to change anything. While the appreciation gains may be secondary considerations, income investors can still benefit from this process. Switching from lower yielders to higher yielders can increase the income stream.
I'm not talking about yield chasing -- I'm talking about using a disciplined set of criteria to measure current holdings against potential replacements. Income investors could set higher thresholds (e.g., the yield improvement must be 0.5% before switching) to minimize trading. Also, if the account is taxable, be sure to use after-tax amounts when determining the new income stream, assuming taxes for capital gains on the stock to be sold.
At the least, going through the motions of a rebalance and searching for prospects will help to identify potentially overvalued holdings and new options that could enhance the portfolio. I don't replace every stock I own just because it is or is not on "the list," but the process makes me confirm why I am holding each stock and think about whether there is a better alternative, both for dividends and for longer-term capital gains.
Next Steps
I plan to continue monitoring the difference between the pre- and post-rebalance DG-HYLP portfolios. I am considering whether my DG-Income Growth model portfolio should perhaps be rebalanced semi-annually to boost yield and redistribute funds to more attractively valued stocks. I need to review the selection criteria more, as it currently does not factor in payout or earnings growth like the DG-HYLP model. With a few tweaks, I think it would be closer to a value fund than a growth fund, and therefore, the research findings should apply. For now, that model will carry on as is until its annual rebalance. I may run a rebalance process though, and post some potential candidates that turn up from it.
Disclosure: I have no positions in any stocks mentioned, and no plans to initiate any positions within the next 72 hours.
However, I do own other DG-HYLP holdings: COP, ARLP, CSX, INTC, and BBL.