Since my last article urging readers to buy Sprint (NYSE:S), the company delivered blowout second-quarter results on July 26. Among other positives, revenues increased 6%, despite the continued shutdown of the Nextel platform (Sprint platform revenues increased 16%), Sprint platform post-paid churn hit a record low of 1.69%, and ARPU hit a record high of $63.38. Apple (NASDAQ:AAPL) iPhone sales held up much better than they did for Verizon (NYSE:VZ) and AT&T (NYSE:T), and adjusted OIBDA guidance for 2012 was increased from around $3.9 billion to $4.5 billion to $4.6 billion.
In light of these results, shares have increased 48% (as of Tuesday's market close), prompting calls from many that the run-up has been overdone. While such a reaction of caution is natural, following a large share price increase over a short period of time, I believe that the share price reaction has actually been too limited.
Putting Recent Gains Into Perspective
While Sprint's share price has gone up 48%, a lot of that increase is attributable to Sprint's high gearing (net debt/total capitalization) -- largely because of the company's previously depressed share price/market capitalization -- and the resultant leveraging effect of an appreciating asset.
To illustrate with an example, assume you buy a $100,000 home with 20% down and 80% financed through a mortgage. A year later, if your home price goes up 10%, your home is worth $110,000 and your equity value has increased 50% (from $20,000 to $30,000). In such an example, you would typically equate your home price appreciation with the change in your home's value and not the return on your equity. While this intuitively and logically makes sense, many in the stock market simplistically focus on stock price appreciation over enterprise value.
With respect to Sprint, the share price has increased 48%; however, incorporating net debt and the total enterprise value, the company's value has only increased 20%. Furthermore, if you back out the 5% market appreciation (using the S&P 500 as a proxy) over the same period, Sprint's EV outperformance over the equity market, since results, is only 15%. To put that in perspective, with the results, year-end adjusted OIBDA guidance was increased 17% (assuming the top-end of previous guidance and mid-range of the new guidance), so Sprint's enterprise value hasn't even outperformed commensurately with the improved guidance for this year.
Closing share price
Sprint
S&P 500
July 25th (close before earning's day):
3.37
1,337.89
Aug. 14th:
4.99
1,403.93
Change:
48.1%
4.9%
Over(under)performance
43.1%
July 25th
Aug. 14th
Change
% Change
Sprint's Net Debt:
14,502.0
14,502.0
-
-
Sprint's Market Cap:
10,120.0
14,990.0
4,870.0
48.1%
Sprint's EV:
24,622.0
29,492.0
4,870.0
19.8%
Over/underperformance:
14.8%
Source: Company reports and Yahoo Finance
Rounding differences may occur.
What's so attractive about Sprint's leveraging effect is the fact that it was largely due to the depressed equity/market capitalization rather than over-leverage. As I addressed in my most recent article on Sprint (linked to above) and despite many claims to the contrary, I believe that Sprint's debt levels are very manageable -- providing a catalyst for further share appreciation with only moderate associated risks.
Sprint's Valuation Remains Attractive
While Sprint's recent run-up seems dramatic, also bear in mind that the share price remains over 73% below its five-year high and substantially lower than its peers. Consider that AT&T -- which basically offers the same wireless product and services across the same geographies -- trades at an enterprise valuation of over 9 times that of Sprint (and a market cap of over 14 times) . Not that I expect total convergence (and AT&T does have a substantial fixed-line business to consider), but nothing even remotely close to that is required in order for Sprint to double -- and I do expect some convergence.
Click to enlarge image.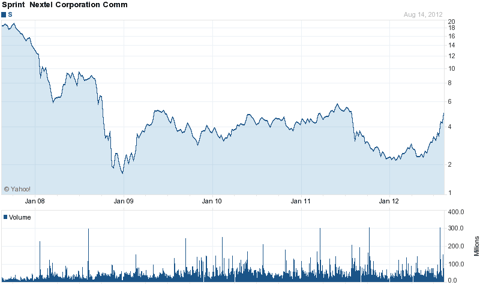 Click to enlarge
Why Some Convergence Seems Likely
With a level playing field for products and services (as is essentially now the case with Sprint, Verizon, and AT&T ), maintaining high market share for the big players can prove very difficult. Constant customer churn (which is inherently high in the cell phone industry) means that the big guys have to maintain a disproportionately higher number of gross adds (or much lower churn levels) in order to maintain their higher market shares. Long term, that's a tough task for these bigger operators when they no longer have a better product offering (and have arguably had worse service). For that reason, I continue to expect the market share numbers for the big three operators to gradually converge over time.
Furthermore, I also expect margins among the three major operators to converge. Sprint has a detailed plan in place to improve its margins and I see no logical reason why Sprint's margins won't migrate toward the levels of its competitors over time. By 2014, Sprint's management expects a 400 to 600 basis point margin improvement from "network vision" initiatives and an additional 400 to 600 basis point improvement from other operational improvements, which would give Sprint 800 to 1,200 basis points in total margin expansion.
Conclusion
Sprint's shares have had a nice run-up recently; however, I believe that there is much more upside to come. While the company's recent share price appreciation has been substantial and rapid, much of it was due to a leveraging effect. Taking that into consideration, as well as the oversold levels where the shares began, I believe that the stock remains substantially undervalued. I continue to view Sprint as one of the most attractive risk/reward opportunities in the market today.