In the classroom environment, one is taught that a U.S. treasury bond represents a risk-free rate of return. The premise behind the notion is that the U.S. government is the least likely entity to default on its debt obligations.
In the real world, however, the majority of investors (excluding the Federal Reserve) own their U.S. treasuries through mutual funds or exchange-traded bond funds. And neither the mutual fund nor the exchange-traded vehicle offer the risk-free nirvana that so many crave.
If your 25+ Year Treasury Bond ETF has earned you 35% in a 12-month period, common sense should dictate that the same investment could lose -25%, -30%, -35% or more. Unfortunately, many justify their larger-than-life bond exposure with the erroneous belief that "IOU" assets must always be safer than "ownership" assets. (Besides, those 1, 3 and 5 year treasury bond returns are pretty awesome, aren't they?)
Click to enlarge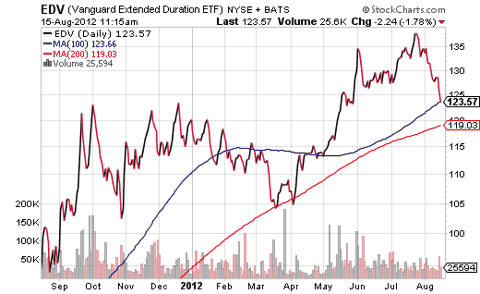 Click to enlarge
In spite of the 35% year-over-year performance, the last few weeks for long-maturity treasury funds have been hellish. Since breaking to new 52-week highs in late July, both Vanguard Extended Duration (NYSEARCA:EDV) as well as Pimco 25+ Year Zero Coupon (NYSEARCA:ZROZ) have slipped below a 100-day moving average. Percentage drawdowns across the intermediate to longer-term treasury horizon have raised eyebrows.
Are Treasury Bond ETF Investors Losing Their Resolve?
% Off The 52-Week High (Adjusted Price)
Pimco 25+ Year Zero Coupon (ZROZ)
-11.7%
Vanguard Extended Duration Treasury (EDV)
-10.7%
iShares Barclays 20+ Year Treasury (NYSEARCA:TLT)
-7.4%
Vanguard Long-Term Government Bond (NASDAQ:VGLT)
-6.4%
iShares Barclays 10-20 Year Treasury (NYSEARCA:TLH)
-4.0%
I've made the case on numerous occasions that the emotional love affair that investors have with U.S. treasuries will someday end badly. Very badly.
On the other hand, the recent selling activity is not likely to be the precursor to the bursting of a treasury bond bubble. For one thing, investors are still seeking out premier safe havens in government bonds. For example, the Wall Street Journal recently ran a piece on the popularity of triple A-rated Australian debt.
Secondly, profit-taking and/or rebalancing from bonds to stocks is hardly unprecedented. Vanguard Extended Duration (EDV) corrected 15% between December and the end of March this year. It follows that one should anticipate funds like EDV pulling back a similar amount, testing its 200-day trendline. (See above)
Third, and perhaps most importantly, the eurozone crisis will flare-up at some point between now and late September. Each of the component economies for the PIGS (i.e., Portugal, Italy, Greece, Spain) are currently in recession and further contracting. Greece may not even get approval for additional loans, whereby a "Grexit" from the European Monetary union may come sooner than the global community is prepared for. Equally troubling, Spain is almost certain to require additional dollars itself.
It follows that safe haven seekers are still likely to repurchase prominent proxies like iShares Barclays 20+ Treasury (TLT) on the next scary eurozone headline. And while I firmly believe that the Treasury Bond ETF phenomenon will eventually witness extraordinary losses similar to stocks in 2001-2002 and commodities circa 6/08-3/09, I do not expect the reversal to occur here in 2012.
So should owners of Treasury Bond ETFs rest easy? The best approach is to have a precise plan for protecting principal through hedges, stop-limit loss orders, as well as low-correlating holdings.
Disclosure: Gary Gordon, MS, CFP is the president of Pacific Park Financial, Inc., a Registered Investment Adviser with the SEC. Gary Gordon, Pacific Park Financial, Inc, and/or its clients may hold positions in the ETFs, mutual funds, and/or any investment asset mentioned above. The commentary does not constitute individualized investment advice. The opinions offered herein are not personalized recommendations to buy, sell or hold securities. At times, issuers of exchange-traded products compensate Pacific Park Financial, Inc. or its subsidiaries for advertising at the ETF Expert web site. ETF Expert content is created independently of any advertising relationships.