Leading video game retailer Gamestop has a lot of fans on the buy and sell aside alike. On the back of new console releases and attractive growth story, the stock has been hot. But recently, the stock has seen some technical slippage and we think this is the beginning of a further meltdown, rather than a hiccup that will quickly correct itself.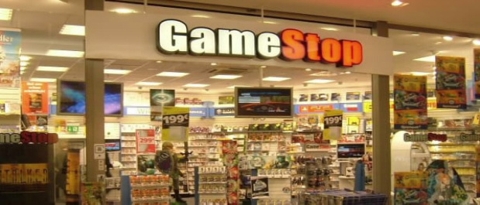 Out of the 16 analysts that follow GME, only one has an underperform rating. We find the bullishness on GME excessive and a sign that the sell side has fallen into confirmation bias mode, which is a behavioral finance precept that says investors choose to emphasize everything that supports their prior convictions while downplaying any negative news. In the case of GME, which is already down 28% this year, there have been plenty of defense machinations playing to the company's longer term prospects (diversified business model, robust merchandise mix, etc).
On the last conference call, it was all fireworks: The Company noted that the installed base of video games grew 31% in 2007, "the highest incremental growth in the history of the business," and he says hardware unit sell-through should match those levels in 2008. The company said it opened 210 new store in Q1, and is shooting for as many 600 new stores in 2008.
But not many GME followers have really given much consideration to the following:
Even after the recent beating, Gamestop still trades at a 30% premium to the market. This is as the main product cycle is winding down: big games have already been released, and the tough consumer environment is likely to stick around a bit longer than anyone expected. Certainly, when we ramped up on Dicks Sporting Goods, we did not imagine $135 oil. Specialty retail didn't see the poor economy effect until recently, and Dick's got destroyed after a missing slightly on the top line. Gamestop is looking at tough comps ahead and analysts are likely to ratchet down their expectations and possibly "kick down to a hold stance," as one of our buy side contacts puts it.
In a move that would put it in direct competition with GameStop, Blockbuster (BBI) recently introduced expanded game sections in its stores, with a focus on selling game consoles and new games in addition to renting games and selling used titles. Unlike GameStop, however, Blockbuster is focusing on the casual, mainstream buyers as opposed to hard-core gamers, and gunning them down with attractive packages. One such bundle for $499 included a Sony PS 3 game console, an HDMI video cable, remote control, a copy of the Spiderman 3 Blu-ray movie, a copy of the PS3 Transformers game and a 12-week PS3 game or Blu-ray movie rental card.
Most of the sell side seems to think that Blockbuster is in no way going after Gamestop's core franchise. Many expect BBI to take market share from mainstream retailers such as Wal-Mart instead. However, Blockbuster is desperate and could eventually go more aggressively after the used games market, which carries margins that far supersede those on consumer electronics. Right now, used games account for 40% of GME's profits. In other words, if the Blockbuster/Circuit City deal falls apart, and it becomes clear GME is itself not a target for Blockbuster (GME has several anti-takeover provisions in place: poison pills, golden parachutes, and a staggered board), we'd expect Gamestop to sell off further given the belief that Blockbuster will beef up its video game pursuits to make up for the inability to close in on Circuit City. You add this to the fact that online delivery of games is becoming increasingly feasible and you have a scenario where portfolio managers are calling in their analyst into the conference room to decide if its time to let go of GME.
Bottom line: GME is a well run company (with 1/5th of the market) and a monster of a stock. But there is some near term challenges the company will be facing. Long term, you can argue all day that owning the name is the best way to play the secularization of gaming (families and females joining the young male core base), but the near term window is presenting a shorting opportunity; management insists the download threat is "way down the road," but they'll have to be a bit more specific at some point – and soon.  
If not, there is no way all those outperform ratings on the stock will stay in place. A test of the $40 level will likely be the next move.
Disclaimer: The author did not hold a position in GME at the time of publication