Toll Brothers (NYSE:TOL) is scheduled to report its Q3 2012 results on Aug. 22, 2012, after the closing bell. The Street expects EPS and revenue of $0.18 and $508.98 million, respectively.
In this article I will recap Toll Brothers' historical results, its latest EPS estimates vs. surprises, the latest news from the company, and news from its closest competitors.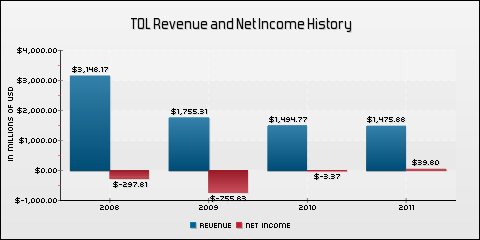 Recent EPS: Actual Vs. Estimates
In the last quarter it reported EPS of $0.10, beating analyst estimates of $0.04.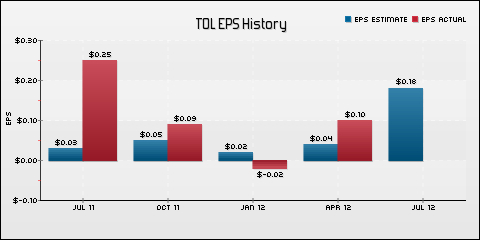 The consensus EPS estimate is $0.18 based on 20 analysts' estimates, down from $0.25 a year ago. Revenue estimates are $508.98 million, up from $394.30 million a year ago. The median analyst target price for the stock is $31.75.
Average Recommendation: Overweight
Source: MarketWatch.
Analyst Upgrades and Downgrades
On June 12, 2012, Compass Point reiterated Neutral rating for the company.
On Feb. 23, 2012, RBC Capital Markets reiterated Sector Perform rating for the company.
Latest News
On June 19, 2012, Toll Brothers and Shea Baker Ranch LLC, a member of the Shea family of companies, announced a partnership to develop Baker Ranch, a master-planned community approved for over 2,000 new homes in Lake Forest, Calif. -- one of south Orange County's desirable markets.
On May 23, 2012, Toll Brothers announced results for earnings, revenues, contracts and backlog for its second quarter and first six months ended April 30, 2012. The company reported FY 2012 second-quarter net income of $16.9 million, or $0.10 per share, compared to a FY 2011 second-quarter net loss of $20.8 million, or $0.12 per share. FY 2012's second quarter included a net tax benefit of $1.2 million, compared to a net tax benefit of $10.7 million in FY 2011's second quarter.
On Feb. 17, 2012, Toll Brothers Finance Corp., a wholly owned subsidiary of Toll Brothers, announced that it has extended the early participation date relating to its registered offer to exchange new 5.875% Senior Notes due Feb. 15, 2022, (the New Notes) for any and all of its currently outstanding 6.875% Senior Notes due 2012 (the 2012 Notes) and 5.95% Senior Notes due 2013 (the 2013 Notes and, together with the 2012 Notes, the Outstanding Notes) to 12:00 midnight, New York City time, on March 2, 2012 -- the same time as the expiration date for the exchange offer.
Competitors
Hovnanian Enterprises (NYSE:HOV), KB Home (NYSE:KBH), PulteGroup (NYSE:PHM), Ryland Group (NYSE:RYL), and Standard Pacific (SPF) are considered major competitors for Toll Brothers. The table below provides the key metrics for these companies and the industry.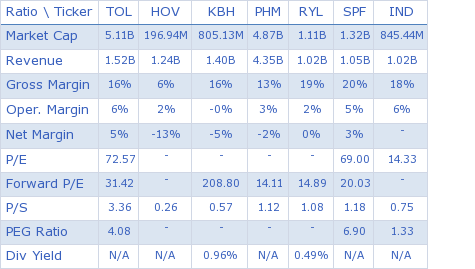 The chart below compares the stock price changes as a percentage for the selected companies for the last one-year period.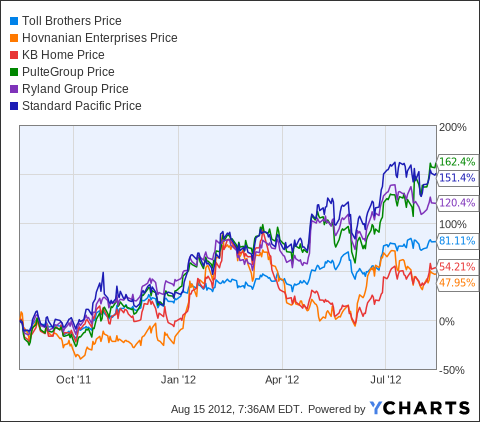 Competitors' Latest Developments
Technical Overview
The stock has a market capitalization of $5.11 billion and is currently trading at $30.48, with a 52-week range of $13.16 to $31.34. The stock's year-to-date performance has been 49.27%. It is currently trading above 20-day, 50-day and 200-day SMAs.
Data sourced from Yahoo Finance, Google Finance, MarketWatch, Finviz, and Reuters.
Disclosure: I have no positions in any stocks mentioned, and no plans to initiate any positions within the next 72 hours.