Baupost Group's Seth Klarman is well regarded as one of the better value investors. His margin of safety selections rarely undergo significant changes, and he has written and stated that he, like Warren Buffett, believes the ideal length of time to hold a good investment is forever. Nonetheless, he sometimes does sell out of positions.
According to Baupost's latest 13F-HR, during the second quarter of 2012, Klarman's fund made a few new additions to the firm's holdings. I have listed them below in position-size order, from largest to smallest.
Baupost's largest new position is in Oracle Corporation (NASDAQ:ORCL). Baupost listed holding 15.8 million shares of the database and applications software giant at the end of the second quarter, making it one of the firm's largest equity holdings, currently valued at about $495.3 million. Oracle shares have performed exceedingly well recently, appreciating about 5.5 percent since the end of the second quarter, and about 15 percent over the last three months. See a recent performance chart, below:
(click images to enlarge)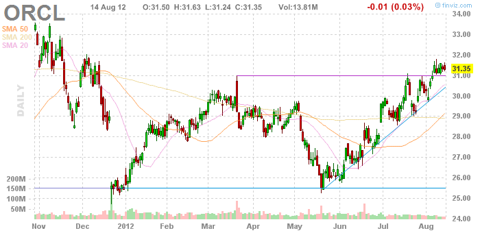 Click to enlarge
Baupost also added Genworth Financial (NYSE:GNW) to its portfolio in the second quarter. Genworth is an equity that Baupost has both added and dropped in the recent past, contrary to Klarman's normal practice. Baupost listed holding 15 million shares of Genworth, which primarily provides life insurance and wealth management services, making the position currently worth about 73.5 million. Baupost had established a position in Genworth in late 2011, but sold out of it in early the first quarter of 2012, likely after financials had an exceptionally strong January. In fact, Genworth appreciated by 40 percent within the first month of 2012, but subsequently declined to prices below its 2012 starting price.
Apparently, Baupost thought Genworth had overheated in early Q1 and got out, only to later re-enter it at a more opportune price. Genworth has performed well in August, but is still likely below Baupost's re-entry price, so investors could still emulate this investment, and possibly get into Genworth at a more opportune price if it soon corrects to the downside after a strong first two weeks of August. See a recent performance chart, below: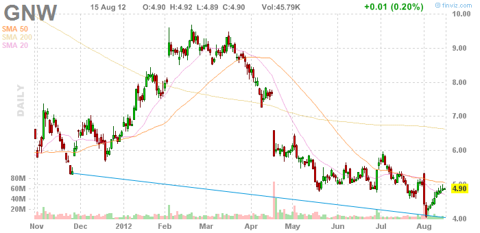 Click to enlarge
Baupost also added Hess Corporation (NYSE:HES), the large energy company, during the second quarter. Baupost listed holding one million shares of HES, currently worth about $49 million, making it a relatively small position for the firm. Hess is currently trading at about its median price throughout the second quarter, where it traded between about $40 and $60 per share. Baupost may be accumulating Hess, just as it has been accumulating shares of BP (NYSE:BP), and so this position could become more substantial in the coming quarters. At this point, Baupost's strategy is still unclear. See a recent performance chart, below: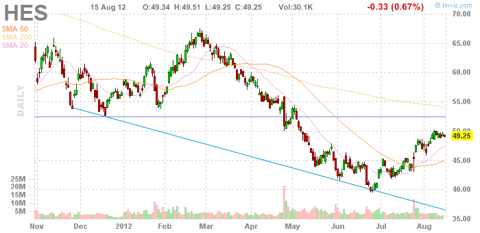 Click to enlarge
The only other new addition noted on Baupost's 13F was Novacopper (NCQ), a small-cap copper miner that was spun off from NovaGold Resources (NYSEMKT:NG) at the end of April. Baupost owned 10 million shares of NovaGold going into the second quarter, and listed adding another six million shares of the prospective gold miner, so this position in Novacopper should not be seen as an investment made actively in the company so much as a spin-off dividend from the fund's investment in NovaGold. Still, according to Klarman's book, Margin of Safety, small spin-offs from larger companies are often unloved and not followed by Wall Street, giving them a likelihood of becoming undervalued. To this end, Novacopper has declined by about 64 percent since it was spun off.
Baupost's investment in Oracle is part of a more recent trend of large investments in large-cap technology companies for Klarman and Baupost, while both Hess and BP are part of the fund's growing investments in natural resources. Of the above-mentioned investments that Baupost listed on its 13F, Genworth appears to be the most appealing at its current price.
Disclosure: I am long NG.