Windstream (NASDAQ:WIN) offers technology and communications solutions to U.S. customers. The company was formed in 2006 as a spin-off from Alltel's landline business and as a result of a merger with the Valor Communications Group. Since then, it has been incredibly aggressive in making acquisitions and expansions. In 2007, Windstream separated its directory publishing business and acquired CT Communications. Windstream made four further acquisitions over the course of 2009 and 2010. These acquisitions included Iowa Telecommunications Services and D&E Communications. Aggressive acquisitions and expansions have increased the customer base, and it now operates in many different arenas. While these markets provide opportunities to diversify its revenue-generating opportunities, it also allowed for the deterioration of the balance sheet.
Along with the acquisitions, Windstream has also been paying a steady dividend of $1 a share annually. It has an extremely attractive dividend yield of 10%. Paying out such high dividends with these acquisitions does look like a great feat, but will the company be able to keep these dividends in the future? In this article, I try to assess earnings, cash flows, debt, and the business of the company and come up with a conclusion whether it will be able to maintain its dividends or not.
Earnings
Windstream revenues went up by 49% for the second quarter as compared to the same period last year. However, while revenues showed this significant growth, earnings painted a grim picture as net profit came down 44%. The company blamed the Paetec acquisition for the lower earnings, as restructuring expenses brought down the net profit; in total, the Paetec deal cost Windstream $2.3 billion. It is evident from the quarterly report that Windstream lost revenues in the consumer department, as well as in wholesale and business. The cost of its products also increased, but the company was able to decrease selling, general and administrative expenses. A decrease in SG&A expenses was derived from downsizing efforts undertaken by the company, in which it attempted to trim the management size by 3% of the total work force. With such measures, Windstream seems to be moving in the right direction, with regard to the administrative expenses.
Cash Flows
At the moment, Windstream cash flows seem to be steadying. During the last year, Windstream showed operating cash flows of $1,229 million, which represent an increase of almost 13% from the previous year. Windstream capital expenditures have also been rising in recent period, which consequently decreases its free cash flow. In fact, during the last three years, Windstream's free cash flow have declined from $823 million to $527 million. I expect cash flow to come down further in 2012 due to recent capital expenditures.
Windstream has recently paid $558 million in interest expenses. The company carries heavy debt, which could prove troubling if the firm experiences a barren quarter. Windstream may therefore struggle to generate enough cash flows to pay dividends to shareholders.
Debt
Windstream has a total long-term debt of about $9 billion; with a market cap of just over $5 billion, the company is carrying a massive amount of debt compared to its market cap. Meanwhile, over the previous five years, the company's interest coverage has been deteriorating. Furthermore, interest on the company's exorbitantly high debt levels has been costing almost half of Windstream's net income and, in some periods, even more. High debts and high interest expenses will limit Windstream's ability to pay high dividends.
Windstream stands in a particularly negative position, when compared to its peers, in terms of debt-to-equity ratios. The recent acquisition of PAETEC increased Windstream's ratio of debt-to-OIBDA (operating income before depreciation and amortization) to 3.66. With such high debt and interest payments, Windstream will need to be able to borrow at lower rates, but a high debt-to-OIBDA ratio could create problems.
Competition
Windstream faces fierce competition from AT&T (NYSE:T), Sprint (NYSE:S), and Verizon (NYSE:VZ). While recent acquisitions have helped the company diversify into the fast-growing cloud computing and broadband markets, they have also opened Windstream to intense competition. Although the company is currently trying to exploit the broadband market, its principal focus remains the landline network, which is in decline. Windstream therefore faces considerable challenges, namely a declining core business and intense competition in its other areas of operation. Stiff competition may lead to Windstream performing poorly in the near future.
| | | | | | |
| --- | --- | --- | --- | --- | --- |
| | P/S | P/B | P/E | Yield | Debt to Equity |
| Windstream | 1 | 4.2 | 31.7 | 10.50% | 6.6 |
| AT&T | 1.7 | 2.1 | 49.8 | 4.70% | 0.6 |
| Verizon | 1.1 | 3.4 | 44.1 | 4.50% | 1.3 |
| Frontier | 0.9 | 1.1 | 44.1 | 12% | 1.8 |
| Sprint | 0.4 | 1.6 | -3.9 | 0.00% | 2.3 |
Summary
After exploring Windstream cash flow analyses and the company's primary risk factors, my opinion is that Windstream will have to decrease its dividends in the near future. Windstream may have to go down the same path as Frontier Communications (NYSE:FTR); for the long-term sustainability of the company, it may have to sacrifice high dividends.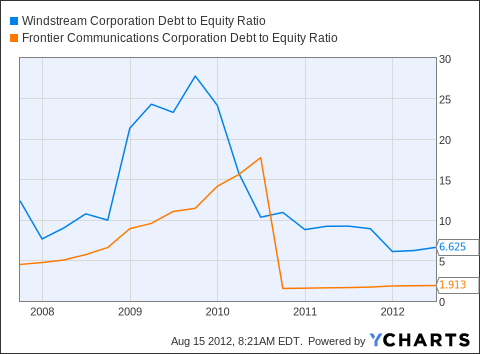 Current high levels of debt, accompanied by decreasing profits, will make it difficult for Windstream to pay any high dividends. Furthermore, if cash flows also take a hit, the company will actually need to borrow to pay any dividends. More borrowing will lead to more problems, bringing the company's very sustainability into question. Windstream is already paying more than it earns. Windstream's triple-digit payout ratio will be hard to sustain, since it cannot possibly pay more than it earns every quarter.
Disclosure: I have no positions in any stocks mentioned, and no plans to initiate any positions within the next 72 hours.