As many readers know, I have been writing that the housing market is recovering - not gangbusters, but a slow recovery (some prior articles here, here and here). Today we received further evidence that this is occurring through the NAHB's Builder Confidence Survey.
From the survey:
Builder confidence in the market for newly built, single-family homes improved for a fourth consecutive month in August with a two-point gain to 37 on the National Association of Home Builders/Wells Fargo Housing Market Index (HMI), released today. This gain builds on a six-point increase in July and brings the index to its highest level since February of 2007.
Every HMI component posted gains in August. The components gauging current sales conditions and traffic of prospective buyers each rose three points, to 39 and 31, respectively, while the component gauging sales expectations in the next six months inched up one point to 44. All were at their highest levels in more than five years.
Regionally, builder confidence rose nine points to 42 in the Midwest and two points to 35 in the South, but declined nine points to 25 in the Northeast and three points to 40 in the West in August. For the August HMI release, NAHB is introducing an alternative trend comparison of regional HMIs by also showing a three-month moving average of each region's index. The current three-month moving averages show a two-point decline to 29 in the Northeast, a five-point gain to 35 in the Midwest, a three-point gain to 32 in the South and a three-point gain to 38 in the West.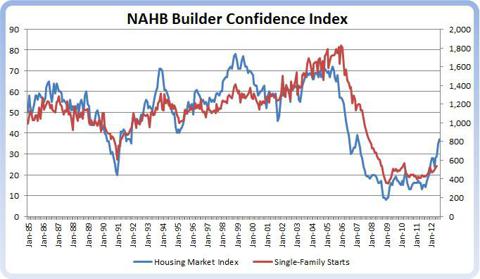 Source: NAHB
As the above graph shows, Builder confidence continues to recover from the 2010-2011 trough. This is part of the reason that homebuider stocks have performed well this year. Looking at PulteGroup (NYSE:PHM), Toll Brothers (Toll), DR Horton (NYSE:DHI) and Lennar (NYSE:LEN) we see the following price changes year-to-date.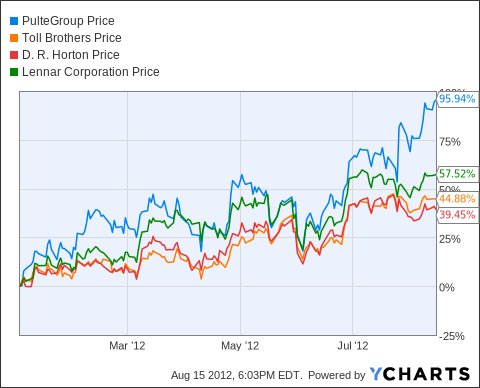 While I understand the rationale for the increase in prices given the beginning of the recovery in housing and home prices, homebuilders' prices are now at their 2008 levels. While still well below their 2005-2006 levels, they should be given the massive change in the environment.
Bottom Line: My thesis that housing has begun the slow climb out of the hole created by the credit contraction continues to be reinforced by the data. Investing in real-estate is still attractive and there are still bargains to be had. I expect that we will continue to see growth in the overall market, with some of the hardest hit regions having the best returns. This is also the reason we see Two Harbors (NYSE:TWO), KKR (NYSE:KKR) and Blackstone (NYSE:BX) investing in these markets.
Disclosure: I have no positions in any stocks mentioned, and no plans to initiate any positions within the next 72 hours.
Additional disclosure: This article is for informational purposes only, it is not a recommendation to buy or sell any security and is strictly the opinion of Rubicon Associates LLC. Every investor is strongly encouraged to do their own research prior to investing.